It's a recipe for true Keto Chocolate Truffles. The recipe is made of rich chocolate and real cream for one luscious low carb chocolate truffle recipe.
True chocolate truffles are one of life's most decadent and satisfying pleasures. They are a timeless classic and despite how indulgent they are, they are actually quite simple to make.
The secret is chocolate ganache, a staple recipe that every cook should have in their repertoire. Once you master ganache you will be amazed at all the impressive desserts you will be able to make.
Keto Chocolate Truffles
A good ganache requires only two ingredients chocolate and cream. Yet it seems people often feel intimidated by the idea of making it. It also seems to be one of those recipes that is still somewhat of a trade secret.
But once you've made your own you will never go back. Ganache can be used as a glaze, a frosting, a filling, and as you will see here, the foundation of chocolate truffles.
Use The Highest Level Of Chocolate
To make these easy keto chocolate truffles, you will first need a good quality dark chocolate that is at least 65% cocoa and of course for our purposes sugar-free or very low in sugar is called for.
Disclosure: Some of the links below are affiliate links, meaning at no additional cost to you, I will earn a commission if you click through and make a purchase.
Such as Lily's stevia sweetened dark chocolate or Lindt 90% dark chocolate. Ganache is the essence of chocolate, so if your chocolate isn't good, your ganache won't be good either. I am using a mixture of Lily's chocolate and chocoperfection raspberry chocolate in this recipe to give the truffles a raspberry flavor just for fun.
Keto Chocolate Ganache Ratios
To make these easy keto chocolate truffles, all you need to know is the proper ratio for the ganache. The ratio of chocolate to cream varies depending on what you are using your ganache for and what kind of consistency you would like it to have. You can also vary the texture depending on how you handle it.
A whipped ganache will give you a thicker texture appropriate for frosting cakes. A ganache that isn't whipped will maintain a silky, glossy texture perfect for glazing.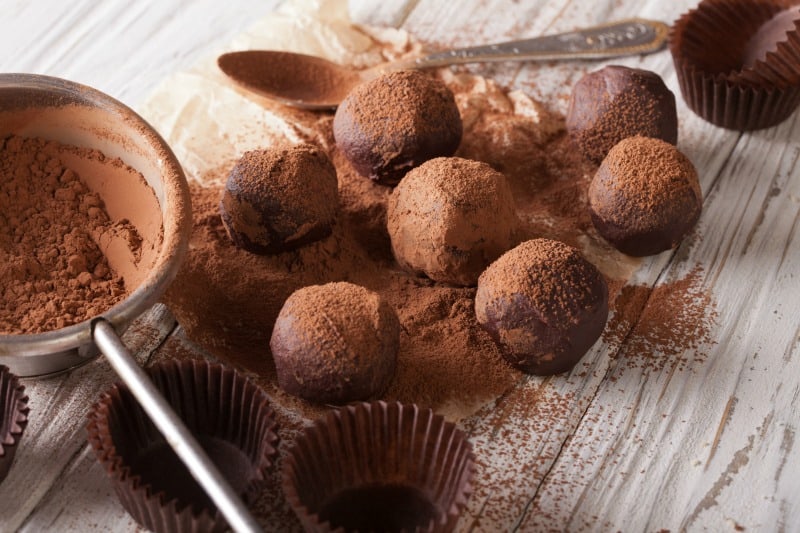 You may also use it warm to pour it over your favorite keto ice cream or a bowl of berries for an amazing treat. Fold whipped cream into some ganache and you will have a remarkable mousse.
Ganache is also the base of truly decadent hot chocolate, whisk warm cream or coconut milk into it for a demitasse sized portion of the richest hot chocolate you will ever try. You can even add it to your coffee for the ultimate mocha.
Keto Truffles The Soul Of Chocolate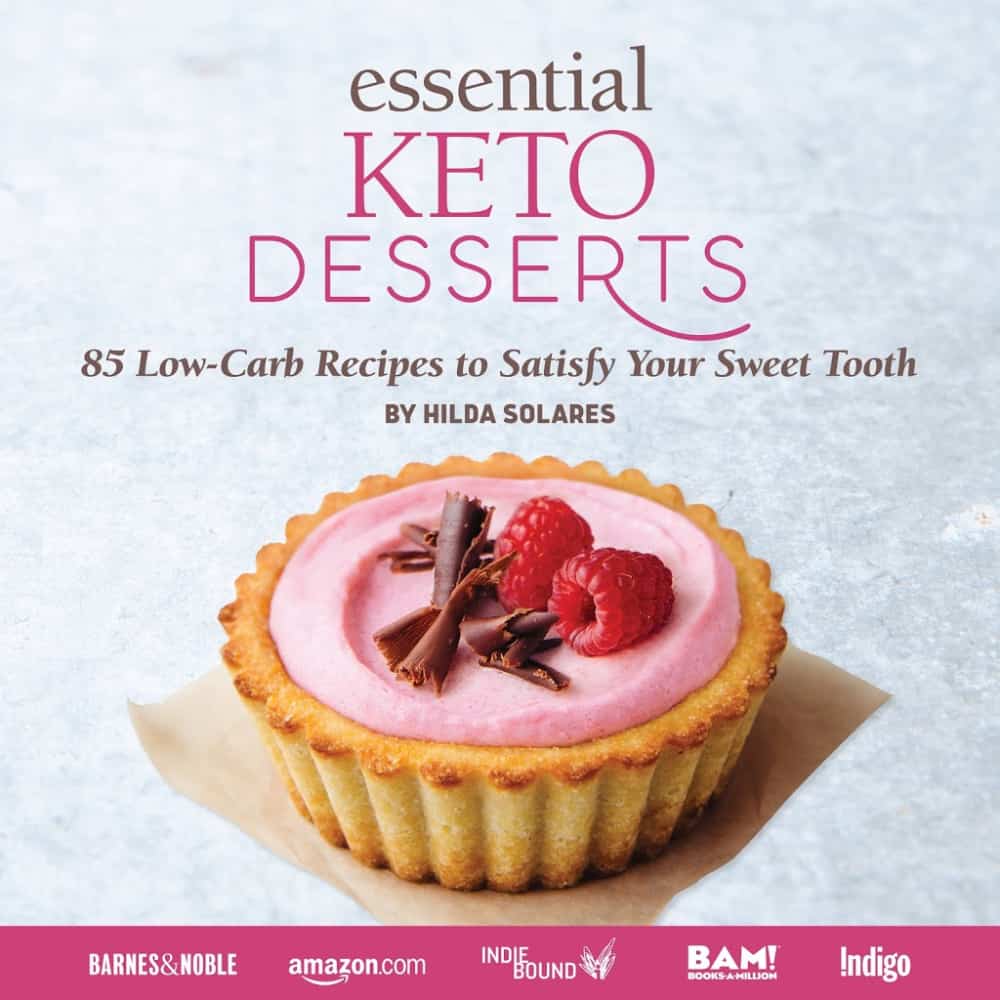 But for now we will focus on truffles. A good truffle is like the soul of chocolate. One or two should be so rich and satisfying that you can't eat anymore if you try. Perhaps this is because they consist mainly of fat. They may be the original fat bomb, and a sophisticated one at that.
One of the tricks to making a truffle with an incredible texture is the addition of butter after the chocolate and cream have been mixed.
The butter doesn't melt completely but becomes emulsified in the mixture creating a wonderfully smooth and satisfying mouth feel and lends a soft roundness to the flavor that helps to temper the strength of the chocolate. Take my word for it. This small addition makes a difference.
Working with chocolate can take some getting used to but it is also one of the most delightful foods to work with. It has almost magical qualities and that is due mainly to the structure of the fat.
And that is why this is such an elegant and lovely naturally ketogenic desserts. Chocolate truffles are a brilliant example of what fat is capable of and how we can celebrate it.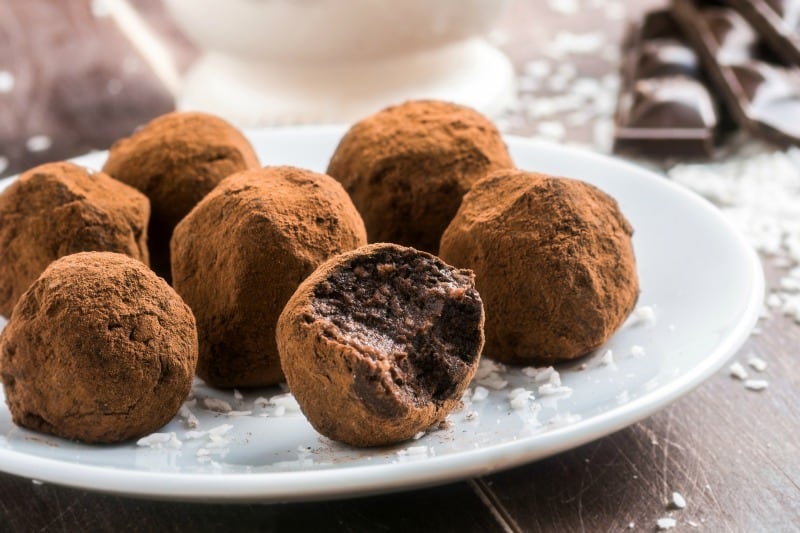 This recipe makes a small amount, the truffles are rich and a few go a long way, and chocolate is expensive after all. As I mentioned you can easily scale this up if you would like to make more as long as you keep the ratio the same.
For truffles the ratio is two parts chocolate to one part cream by weight. Here I am using 5 ounces chocolate to 2.5 ounces cream. Recipe card is at the bottom of the post.
Guest Post: Taffiny Elrod. Inspired by her recent success with her own ketogenic diet she is developing a keto catering menu and is also launching a cooking website called keto cooking school where she will share recipes and techniques and explore the connection between traditional food ways, classic culinary and the ketogenic way of eating.
Taffiny Elrod is a Professional Chef and Culinary Instructor in New York City and New York's Hudson Valley.
She has a background in food for health and culinary history. With over 15 years of professional culinary experience she has cooked and taught many culinary styles with a special interest in food for health and culinary traditions.
Most recently she taught professional cooking for veteran's returning to the work force in New York City before opening a small restaurant with her husband in the Lower Hudson Valley.
Give Taffiny a follow. She has a great presence on social media and is a wonderful cheerleader for the low carb keto community.
Email: Classiccookery@gmail.com
Twitter: @myketogenesis
Instagram: @my_keto_genesis
Blog: keto cooking school
Purchase her delicious Keto Granola on her Etsy Store
Our Favorite Keto Tip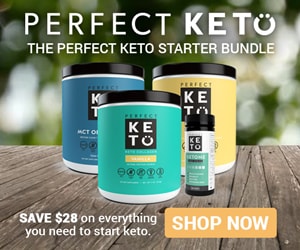 Perhaps, you've struggled to get into ketosis consistently on your low carb keto diet, or you've hit a plateau that doesn't seem to budge, consider using Perfect KETO's exogenous ketones.
Use this link and get a 15% off discount when you place your order for any of Perfect Keto's products.The discount will be added automatically at checkout.
By using exogenous ketones you will naturally elevate your ketones allowing you to enter into ketosis more quickly.
Being in deeper level of ketosis will help reduce your appetite, carb cravings, and give you lasting energy. It's been our experience that the use of exogenous ketones helps make the low carb keto lifestyle a viable sustainable option.
Honestly, it's like having willpower in a cup.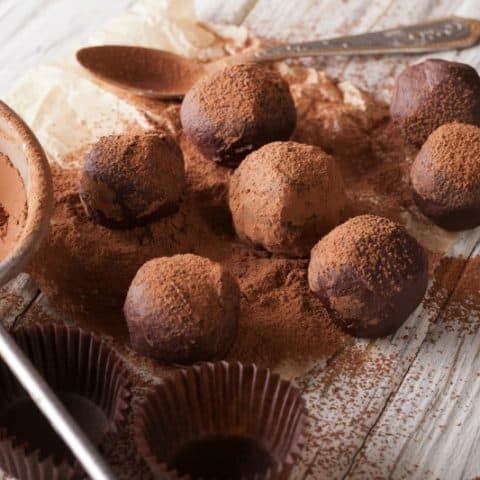 Keto Chocolate Truffles
Total Time:
1 hour
5 minutes
It's an easy recipe for Keto Chocolate Tuffles. It's a decadently rich truffle recipe that is low in carbs and Keto friendly.
Ingredients
5 ounces sugar free, dark chocolate, chopped fine or in small pieces
2.5 ounces (by weight) heavy cream, you can substitute the same amount of full fat coconut milk with great results, for a dairy-free version
.5 ounce unsalted butter, cut into small pieces, at or near room temperature. a higher fat European style butter such as Plugra or Kerrygold will make an even better product but regular butter will work just fine. If you are making a dairy free version you can omit the butter or replace it with coconut oil.
Cocoa powder for coating the truffles, you can also use things like use ground nuts, seeds, and grated coconut to coat the truffles. Feel free to be creative.
Instructions
Heat the cream over medium heat in a small saucepan or in the microwave in a microwave safe bowl until it is very hot. It doesn't have to come to the boil, but a good simmer will ensure all the chocolate melts.
When the cream is hot add all the chocolate at once.
Allow the chocolate to sit in the cream until it begins to melt, when it looks as if most of the chocolate has softened stir carefully with a whisk. Be careful not to stir too vigorously. If you over mix you may cause the chocolate to seize becoming grainy and rough.
When all the chocolate is melted and the mixture looks smooth, and glossy you have ganache. That is all there is too it.
For the final touch, while the ganache is still warm drop in all of the butter and stir gently until it is combined.
If the butter is too warm when you add it it will melt completely and may look oily, but if it is still cool it should incorporate beautifully into the ganache making it look even glossier.
Refrigerate your ganache until set. Depending on the amount you make this may take anywhere from 30 minutes to several hours. For the amount given here it should take from 30 minutes to an hour.
You are looking for a ganache that is firm enough to be scooped and rolled into balls. If it is too hard you won't be able to scoop it, but if it is too soft it won't roll into balls.
Now you can make your truffles, by using a small ice cream scoop, or a melon baller also works well for scooping and shaping balls but you can use a spoon too.
Scoop out all your truffles, then shape lightly in your hands like you are making a meatball or shaping clay.
Try to move quickly and touch the chocolate lightly because it will begin to melt in your hands.
As you shape them replace them on the tray or place them directly into the cocoa powder, or other coating if you are using.
Enjoy your Keto Chocolate Truffles!
Nutrition Information:
Yield:

16
Serving Size:

1
Amount Per Serving:
Calories:

57
Total Fat:

4.9g
Saturated Fat:

2.5g
Carbohydrates:

5g
Fiber:

1g
Protein:

1.4g
Save
Save
SaveSave
SaveSave
SaveSave
SaveSave
SaveSave