These keto pumpkin cranberry cookies have the perfect combination of two seasonal favorites. Bright, plump, tart cranberries, and flavorful pumpkin spice.
They come together beautifully for one amazing keto pumpkin cookie with a cranberry twist. These are the cookies you'll want to serve when pumpkin season is at its peak.
It's the perfect low-carb pumpkin cranberry cookie you'll want to be sure to add to your holiday cookie tray.
A flavorful cookie recipe that is not only delicious but also happens to be gluten-free, grain-free, sugar-free, and keto-friendly!
These seasonal cookies were inspired by our keto pumpkin cream cheese cookies, a delightful option you should also check out. However, in the case of this recipe, the cookies are studded with fresh cranberries, and then get a quick drizzle of vanilla icing for a delightful treat.
If you are a fan of the combination of cranberries and pumpkin, you should also check out my keto pumpkin cranberry bread another great option.
While you're at it, be sure to visit our complete collection of Keto Cookies and our Keto Pumpkin Recipes.
Keto Pumpkin Cranberry Cookies
In my family, the combination of pumpkin and cranberries is a seasonal must. We simply just can't get enough of this combination and frankly, we don't understand why the whole world doesn't agree with us.
Trust me, if this is the first time you try this combo, you are in for a real treat. And the fact that these are cookies, well you also get built-in portion control, which makes so much sense with a sugar-free pumpkin cranberry cookie that tastes this good. Just saying.
In my kitchen, the combination of pumpkin and cranberries in a recipe for low-carb pumpkin cranberry cookies is truly a perfect match.
After all, with every bite of these cookies, you get to experience the natural sweetness of pumpkin with the juicy tartness of cranberries. A true winner in my book!
If you know anything about my recipes, you know I am all about creating easy, delicious low-carb keto recipes that even an unskilled cook can create.
Be sure to visit my favorite low-carb keto baking tips, If you still feel a little unsure of yourself as a keto baker.
How To Make Keto Cranberry Pumpkin Cookies
Disclosure: Some of the links below are affiliate links, meaning at no additional cost to you, I will earn a commission if you click through and make a purchase.
What makes this the perfect soft-baked keto pumpkin cookies is the use of cream cheese in the batter. I am such a fan of using cream cheese in keto recipes, that I have an entire collection of keto cream cheese recipes.
When making these gluten-free pumpkin cranberry cookies make sure you choose pumpkin puree and not pumpkin filling. The latter add's sugar and spices to the mix. What you want to make sure is puree only.
Note that you can use frozen or fresh cranberries for this recipe. However, if you choose to use frozen cranberries, simply allow them to rest on the kitchen counter while you allow the other ingredients to come to room temperature. This is to ensure that the cranberries cook properly.
The Sugar-Substitutes That Work
When it comes to choosing which sugar substitute to use for sugar-free pumpkin cranberry cookies, I have several options you can choose from.
First and foremost you should know that my go-to choice is Lakanto Monk Fruit because the texture is spot on and since there is barely any aftertaste. If you have struggled to find a sugar substitute that comes close to sugar, this monk fruit, and erythritol blend may be just what you need.
I LOVE Lankanto because it really behaves the most like sugar in my book. It's the one I come to often for this very reason.
With that being said, you should also know that I'm also partial to Swerve an erythritol blend.
Swerve is made from ingredients found in select fruits and starchy root vegetables and contains no artificial ingredients, preservatives, or flavors. It also has a 0 % impact on blood sugar.
You can however also use the stevia and erythritol-based brand Pyure for these cookies if you're a fan of stevia. This is the only stevia brand that I would even consider because I find all others have an intense aftertaste that I can't get past.
But if using Pyure you will want to use 1/2 the amount called for it's a much sweeter option.
Lastly, if you can't easily resource a more natural sugar substitute you can also use Splenda with great success.
If using Splenda, it needs to be the one that has a bulking agent. This is the one that comes in large bags. I don't recommend Splenda Bake because it's actually half sugar half sucralose product.
Tag Us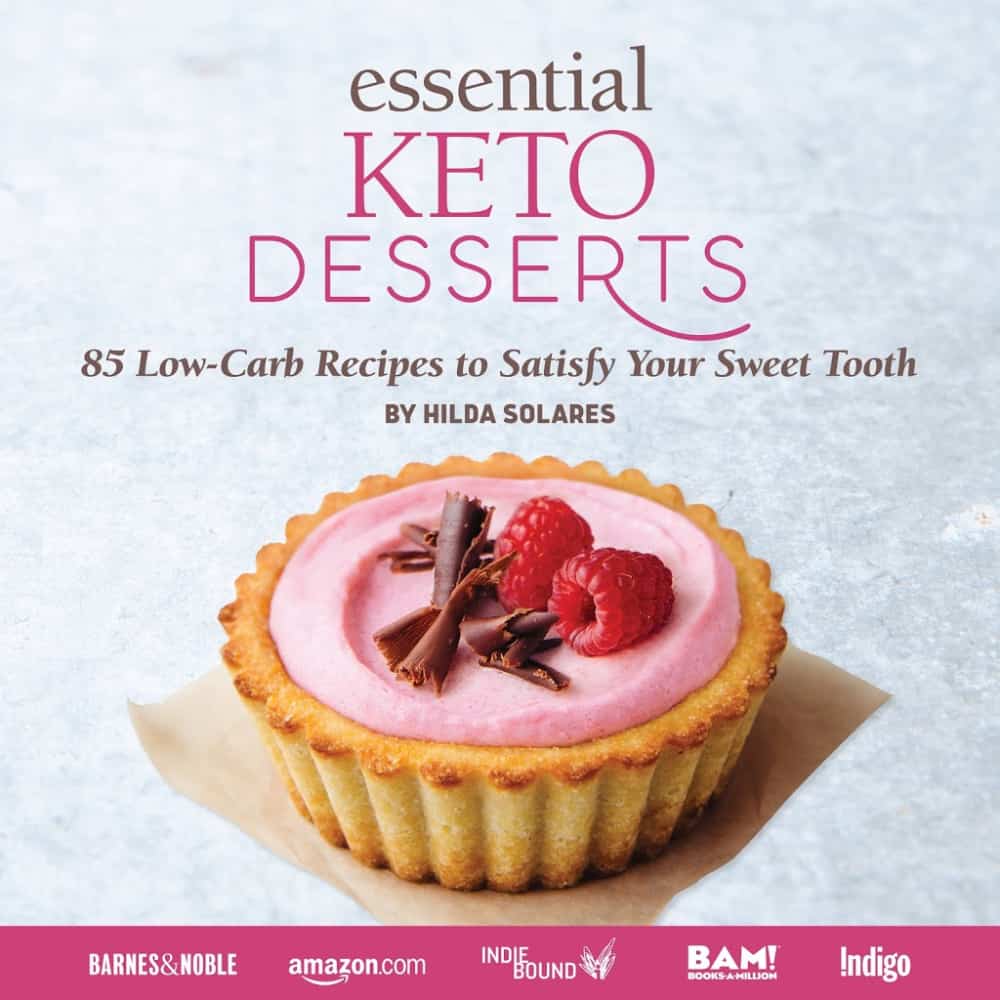 I sure hope you will give this recipe for sugar-free pumpkin cranberry cookies a try and will help us share it. If you give it a try, make sure you remember to tag us on Instagram, Facebook, and Pinterest. It's what keeps this girl encouraged to keep sharing and perfecting her recipes.
Also, check out our Amazon Store for our recommendations. You might be surprised by how many great keto options are at your disposal.
Grab Our Books!
In case you don't know I have authored two books for you, Essential Keto Bread and Essential Keto Desserts both inspired by your requests over the years. It's my prayer these keto cookbooks will help make keto a delicious breeze for you.
Join Our Jesus And Keto Movement
If there is one thing I particularly proud of sharing it's how we combined our Christian faith with the keto diet.
In case you don't know, Randy and I came to the keto diet looking at it from a Christian perspective. As believers, we live our entire lives supported by God's grace.
So when the Holy Spirit led us to combine our faith and the keto diet, we did so in hopes of finding lasting transformation.
To say we needed God's intervention is putting it mildly. When we followed the Holy Spirit's prompting to we got on the path to real transformation.
Knowing firsthand the benefits of this decision we have created a closed Christian group that is using the keto diet to transform their lives. I love how supportive and encouraging this group of believers is. It's exciting to see how people are transforming their lives by combining this lifestyle with the Christian faith.
The testimonies coming out of our Fittoservegroup are what motivates us to continue to share what we've learned.
We invite you to join our Private Facebook Group and see if it's not the key you have been missing.

Favorite Keto Hack For The Holidays!
Arming yourself with keto recipes is certainly key in doing this diet long enough to see the many benefits. But even with the best low-carb ketogenic recipes sometimes additional help is needed.
This is when we also encourage you to have the right supplements to help you get and stay in ketosis. Because when you have the right tools the keto diet becomes easier.
Perhaps you've struggled to get into ketosis consistently on your low-carb keto diet, or you've hit a plateau that doesn't seem to budge, consider using Perfect KETO's bundle to assist you. It's a great way to see the benefits sooner rather than later.
You'll learn how to elevate your ketones naturally enter into ketosis more quickly. Being at a deeper level of ketosis will help reduce your appetite, carb cravings, and give you lasting energy. These are the things you want to see happen as they make this diet sustainable and it's why we recommend them.
Perfect Keto has offered our readers a 15% discount on their products. Simply use this link for all qualifying products and the code FITTOSERVE at checkout.
Keto Pumpkin Cranberry Cookies
Total Time:
1 hour
10 minutes
These keto pumpkin cranberry cookies are a seasonal treat. Bursting with the flavor of pumpkin and fresh cranberries they make the perfect soft-baked cookies.
Ingredients
Keto Pumpkin Cranberry Cookies
1 ½ teaspoons of baking powder
¼ teaspoon salt
½ cup unsalted butter, softened at room temperature
1 teaspoon of vanilla extract
1 teaspoon cinnamon powder
1/2 teaspoon ginger powder
1/4 teaspoon nutmeg
4 eggs, room temperature
1 cup of fresh or thawed cranberries
Keto Icing
1 tablespoon of cream cheese, softened
4-5 tablespoons of heavy whipping cream
1/2 teaspoon of vanilla extract
Pinch of salt
Instructions
Keto Pumpkin Cranberry Cookies
In a medium-sized bowl, combine the coconut flour, baking powder, cinnamon powder, nutmeg powder, ginger powder, salt, and set aside the dry ingredients.
In a separate large bowl, using an electric beater, combine the butter, cream cheese, sugar substitute, vanilla, extract, until fully combined.
Add the eggs, and beat well after each addition.
Stir in the ½ cup of pumpkin puree.
Next, add dry ingredients to the wet mixture, combine until fully incorporated.
Fold in the fresh cranberries. Although you can use frozen cranberries, you will need to slightly thaw them on the counter before adding to the cookie batter.
Chill the cookie dough for 30 minutes before baking.
Pre-heat oven 350 degrees
Using a small cookie scoop add the cookies to parchment or silicone lined mat.
Flatten slightly.
Bake for 20-25 minutes or until lightly brown around the edges.
Allow cookies to cool for 30 minutes before drizzling with the vanilla icing.
Allow the icing on the cookies to set about 10 minutes before eating and storing.
Store cookies in the refrigerator for up to 5 days or freeze for up to 3 weeks.
Keto Vanilla Icing
Combine in a small bowl the confectioners sugar-substitute, pinch of salt, and softened cream cheese. Add 4 tablespoons of heavy whipping cream add more heavy cream by tablespoons if the icing needs to be thinned.
To this mixture add the 1/4 teaspoon of vanilla extract and stir well.
Drizzle over the top of the cookies once they are fully cooled.






Nutrition Information:
Yield:

16
Serving Size:

1
Amount Per Serving:
Calories:

120
Total Fat:

10g
Saturated Fat:

6g
Cholesterol:

67mg
Sodium:

38mg
Carbohydrates:

2.9g
Net Carbohydrates:

2.4g
Fiber:

0.5g
Sugar:

0.5g
Protein:

2.1g
Did you make this recipe?
Please leave a comment on the blog or share a photo on Instagram