Without a doubt, peanut butter is a staple in many households, and as someone who grew up having plenty of peanut butter sandwiches, my love for peanut butter runs deep.
Unfortunately, many peanut butter products on the market are loaded with sugar and seed oils, making it challenging for anyone on a path to eating clean to add it to their diet.
Recently, I started using Naked PB organic powder and found this product to be a healthier alternative to traditional peanut butter.
Its high-quality ingredients and nutritional value impressed me since it's made with only one ingredient: 100% premium organic roasted peanuts.
I appreciate that it's non-GMO, dairy-free, soy-free, gluten-free, and preservative-free.
Naked PB organic powder is made from slow-roasted peanuts, which are pressed to remove the oil and fat and then ground to a fine powder.
The result is a powdered peanut product that is highly nutritious, loaded with flavor, and contains over 50% protein.
It's the perfect low-calorie, low-fat way to enjoy peanut butter!
Naked PB Powder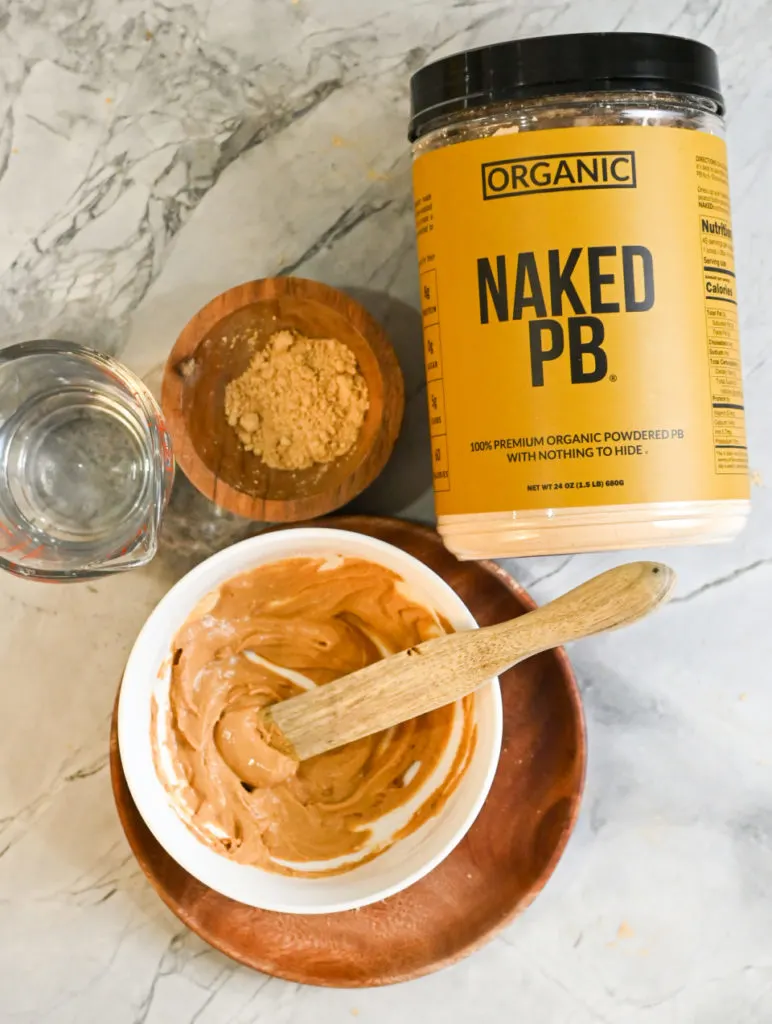 Disclosure: Some of the links below are affiliate links, meaning that at no additional cost, I will earn a commission if you click through and make a purchase.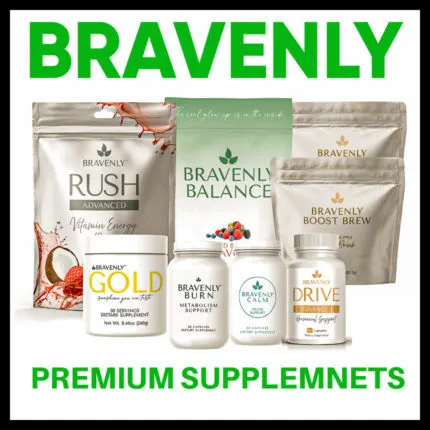 Recently, a staff member of Naked Nutrition reached out to me to review their Organic Naked PB powder.
As a fan of all things peanut butter, I was happy to do so, especially since, over the years, many of our readers have requested my opinion on using powdered peanut butter in place of creamy peanut butter.
I loved their mission, which is to provide nutrition with nothing to hide, something that clearly identifies with our goals here at Fit To Serve Group.
Their 100% non-GMO peanut powder can be easily added to your favorite smoothie or beverage and even used in baked recipes. Plus, it can be mixed with water to create a spreadable consistency.
I've enjoyed replacing regular peanut butter with their product in my keto peanut butter recipes using equal parts powder and water.
Despite the difference in texture, Naked PB Organic Powder still has a delicious peanut flavor that works well in various recipes.
You know what else I've found? It's way more economical since their powder comes in a 1.5-pound container, a fraction of the cost of regular organic peanut butter.
What's the Difference Between Powdered Peanut Butter and Regular Peanut Butter?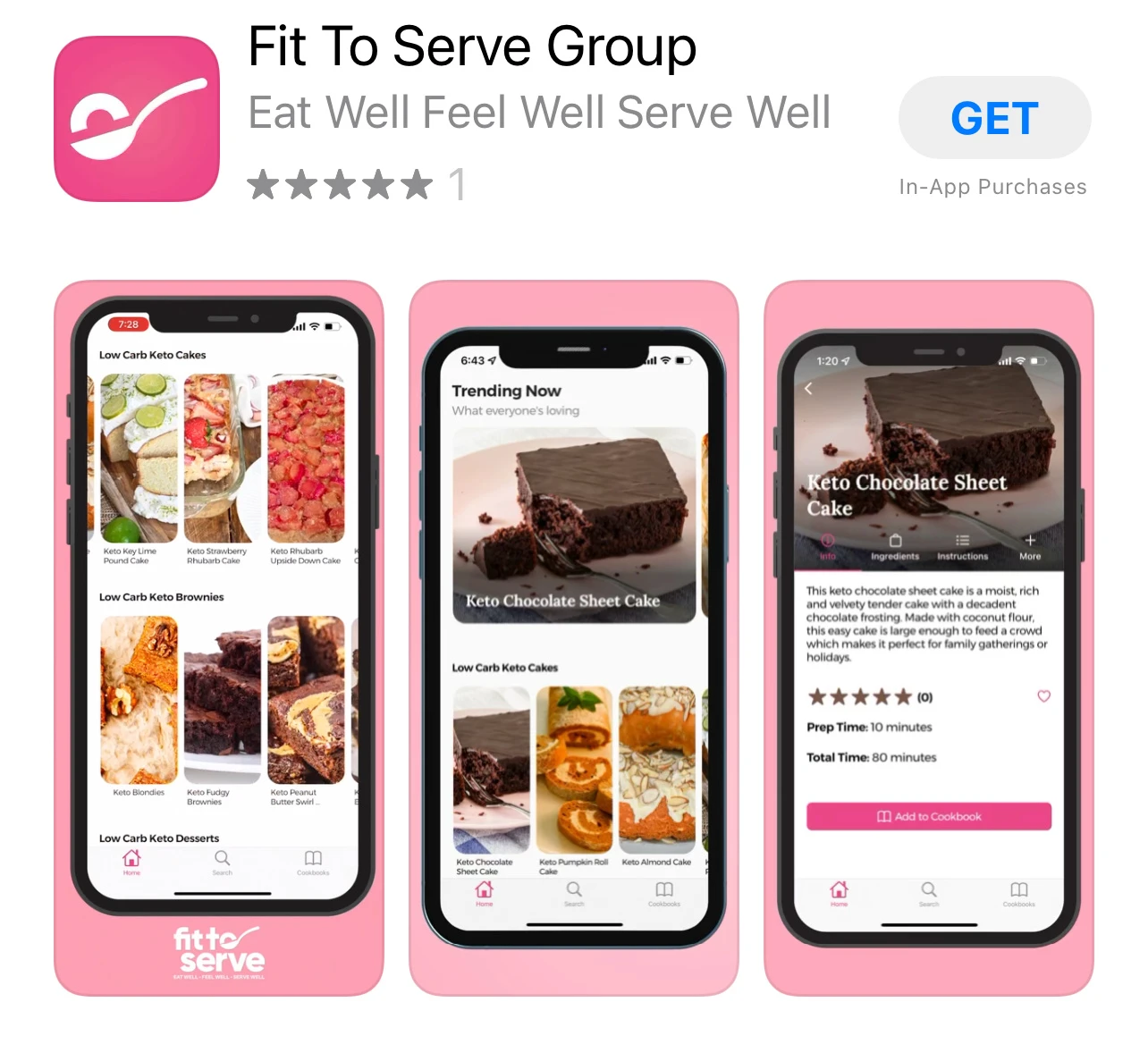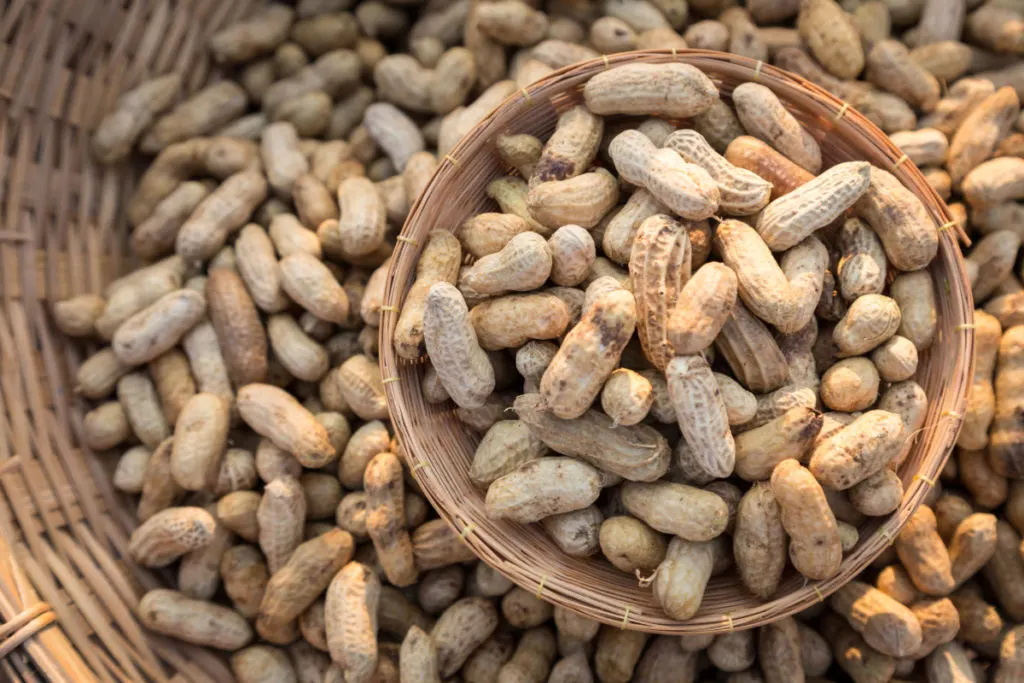 If you are wondering what the main differences are between traditional peanut butter and its powdered form, peanut butter powder is made from roasted peanuts that have been mechanically pressed to remove most of the oil and then ground into a fine powder.
Regular peanut butter, on the other hand, is made by blending roasted peanuts with oil and sometimes sugar and salt.
Powdered peanut butter has fewer calories and less fat than regular peanut butter but has a different texture and flavor.
If you've been searching for a great peanut butter powder, I've discovered the following pros and cons with Naked PB:
Pros
Made from 100% non-GMO roasted organic peanut powder, it is free of additives and preservatives, making it a cleaner and more natural option.
Certified vegan and gluten-free.
Made exclusively from US farms.
No added sugar or salt.
It has fewer calories than traditional peanut butter because most other calories are derived from the fat that has been removed. One scoop is equal to 2.4 tablespoons of peanut butter and has only 60 calories. Traditional peanut butter is high in fat, containing 18 grams per 2.4 tablespoons, while Naked PB has only 2 grams of total fat.
It's high in dietary fiber. One serving has 5 g of total carbs with 2 g of fiber, which equals 3 net carbs.
It's a great source of protein, with 8 g of protein per serving. It can be used as a plant-based protein supplement, making it a great choice for anyone on a low-carb or low-fat diet.
High in amino acids with 17 amino acids per serving. It has one gram of BCAAs per serving.
It is an excellent source of low-fat protein for vegans and can be used in shakes, recipes, and to make your spread.
The naturally occurring fats in peanuts may speed up the metabolism.
It may help with satiety by keeping you feeling full for extended periods.
Naked PB Organic Powder has been independently Third-Party tested for heavy metals.
Cons
It does not have the same identical taste and texture as traditional peanut butter since it does not have any fat, salt, or sweeteners.
The mouthfeel of peanut butter powder, even when reconstituted with water, is not as creamy as regular peanut butter because of the lack of fat.
It is not suitable for people with peanut allergies.
Nutritional Value
Naked PB Organic Powder is a great source of protein, with over 8 grams of protein per serving, which is equal to 2.4 tbsp. It is also low in fat, with only 2 grams of fat per serving.
In fact, Naked PB contains 75% fewer calories and 85% less fat than traditional peanut butter. Here is a table that compares the nutritional value of Naked PB Organic Powder to traditional peanut butter:
| | | |
| --- | --- | --- |
| Nutrient | Naked PB Organic Powder | Traditional Peanut Butter |
| Calories | 60 | 230 |
| Fat | 2g | 18g |
| Protein | 8g | 7.5g |
| Carbohydrates | 5g | 8.5g |
Reconstituting Naked PB Organic Powder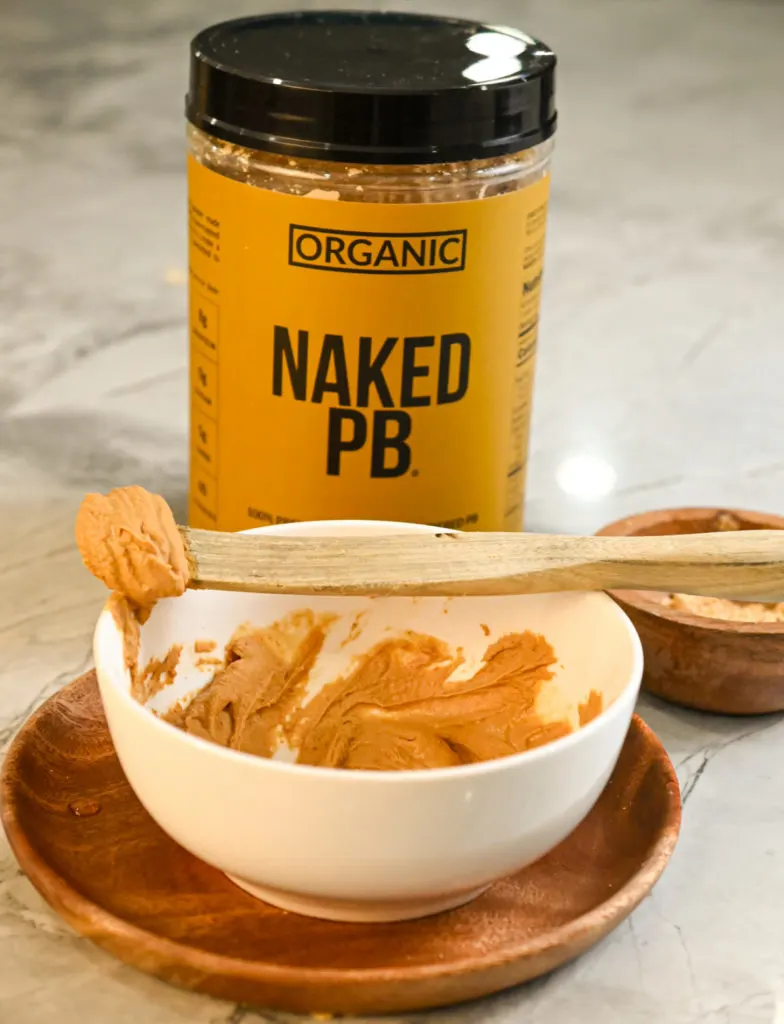 To use Naked PB Organic Powder in place of regular peanut butter, mix one scoop of powder with 1.5 tablespoons of water.
I personally like using equal parts powder and water when making creamy peanut butter; it gives me the closest consistency to traditional peanut butter.
Required Tools
To reconstitute Naked PB Organic Powder, you will need the following tools:
Naked PB Organic Powder
Water
Bowl
Spoon or whisk
Measuring cup
Step-by-Step Instructions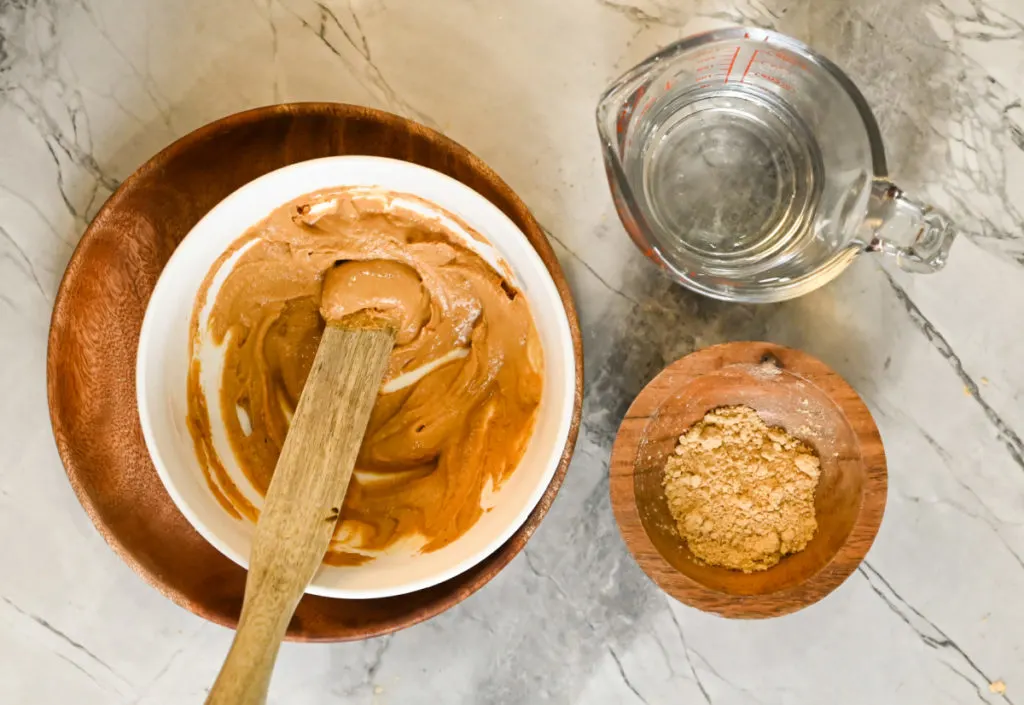 Here are the step-by-step instructions to reconstitute Naked PB Organic Powder:
Measure out the desired amount of Naked PB Organic Powder into a bowl.
Add an equal amount of water to the bowl. For example, if you have two tablespoons of powder, add two tablespoons of water.
Mix the powder and water together using a spoon or whisk until the mixture is smooth and creamy.
If the mixture is too thick, add more water, one teaspoon at a time, until you reach the desired consistency.
Use the reconstituted Naked PB Organic Powder as you would regular peanut butter.
Note: The consistency of reconstituted Naked PB Organic Powder may be different from regular peanut butter due to the absence of oil. I recommend that you adjust the amount of water to achieve the desired consistency.
Conclusion
Overall, Naked PB Organic Powder is a great option for those looking for a lower-calorie, lower-fat, and higher-protein alternative to regular peanut butter.
With its versatile powder form, it can be easily incorporated into a variety of recipes for a delicious and nutritious boost.
Moving forward, you'll see me mentioning this as a great alternative ingredient in our peanut butter-based recipes.