Spicy Keto Gingerbread Cookies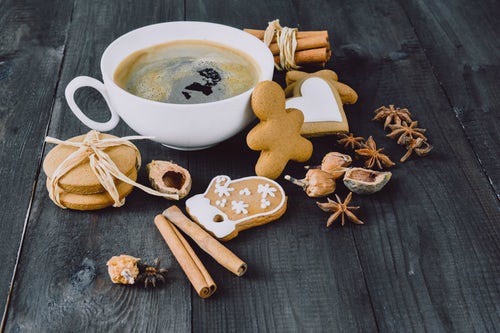 A recipe for spicy keto gingerbread cookies the perfect addition to the holiday table.
These spicy keto gingerbread cookies have a nice ginger kick. It makes a flavorful dough that can be rolled, shaped, and covered in icing, low carb icing of course. So if you're a fan of gingerbread cookies and want low carb version that delivers, then these cookies were made for you.

My recipe for gingerbread cookies is packed with flavor. The recipe is made with a hefty dose of spices, just the way we like them in our family. Not as brave as us? Then feel free to reduce the spices to your liking or you can check out our complete list of Keto Cookies that any cookie lover doing keto would enjoy exploring. 
I wanted an authentic gingerbread cookie recipe that was low in carbs and yet behaved like my favorite traditional recipe. Was that too much to ask for?
Although that seemed like a tall order you need to keep in mind that gingerbread cookies have always been my favorite holiday cookie.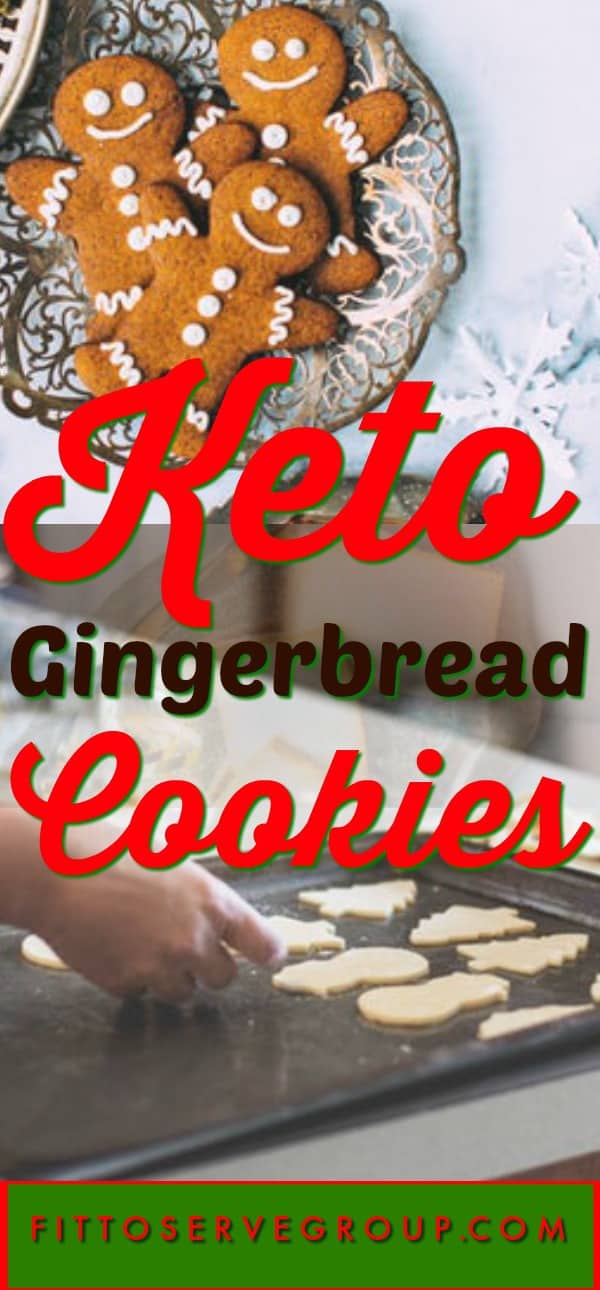 Given the choice of any cookie, I will always gravitate to this seasonal favorite.
I wanted an authentic gingerbread cookie recipe that was low in carbs and yet behaved like my favorite traditional recipe. Was that too much to ask for?
Although that seemed like a tall order you need to keep in mind that gingerbread cookies have always been my favorite holiday cookie.
Gingerbread Cookies, A Family Holiday Favorite
In fact, I am pretty certain that my enthusiasm for this holiday cookie is what made my children fall in love with them too. How else can you explain children loving a ginger-spiced cookie?
Although I think the fact that these were the only cookies that would be rolled and cut out into adorable shapes probably had something to do with it.
So when I tell you I needed a keto gingerbread cookie recipe that would rival what my children grew up on, I wasn't kidding. Because it was pretty much a must-have for our family.
Something about the fragrance of ginger and cinnamon always puts my family in a bright Christmas mood. And it's why Christmas music always went hand in hand with baking these cookies.
Early in December or late November, they made an appearance, signaling that it was time to celebrate the birth of our savior. It was a tradition that we all hold close to our hearts.
Keto Gingerbread Needed
The only problem with that lovely tradition is that once we went low carb I could no longer enjoy my favorite cookie. I would be lying if I told you I didn't miss these cookies. Because I really missed my gingerbread cookies and was pretty sad to let them go.
However, with a few good years under my belt baking low carb keto I now felt I could create a recipe for spicy keto gingerbread cookies and bring this holiday favorites back into our lives.
Classic Keto Gingerbread Cutouts
Disclosure: Some of the links below are affiliate links, meaning at no additional cost to you, I will earn a commission if you click through and make a purchase
The tricky part of creating a keto gingerbread cookie was my need for the dough to be sturdy enough to roll and cut out. After all, I true gingerbread cookie recipe needs to be able to be cut into all sorts of holiday shapes.
Well, I am happy to report that this tradition is safely back in our family's lives. These spicy keto gingerbread cookies turned out exactly how I had hoped.
The recipe produced a firm cookie, important because I hate when the gingerbread heads get lopped off when putting them into a cookie jar. Don't you just hate that too?
So what has my secret to ensuring that these cookies would be firm? I added a tablespoon of psyllium powder to the cookie dough. This small amount of psyllium powder was all it needed.
The recipe also calls for one tablespoon of molasses as a flavor enhancer. The molasses adds a negligible amount of carbs to the entire batch. Alternatively, you can choose to add a molasses extract instead.
I sure hope you will give this recipe for spicy keto gingerbread cookies a try. Once you do, make sure you remember to tag us on Instagram and Facebook. It's what keeps this girl encouraged to keep sharing and perfecting her recipes.
Be sure to also check out our Amazon Store for recommendations. You might be surprised by how many great keto options are at your disappointed
Consider this little recipe a Christmas gift from us! May the joy of this season warm your hearts.
Staying Committed To Keto During the Holidays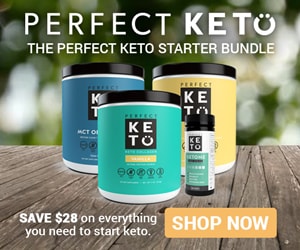 Perhaps, you've struggled to get into ketosis consistently on your low carb keto diet, or you've hit a plateau that doesn't seem to budge, consider using Perfect KETO exogenous ketones.
Use this link and get a 15% off discount when you place your order for any of Perfect Keto products. The discount will be added automatically at checkout when you use code: FITTOSERVE.
By using exogenous ketones you will naturally elevate your ketones allowing you to enter into ketosis more quickly.
Being in a deeper level of ketosis will help reduce your appetite, carb cravings, and give you lasting energy.  It's been our experience that the use of exogenous ketones helps make the low carb keto lifestyle a viable sustainable option.
Honestly, it's like having willpower in a cup.  Learn more about the science behind both exogenous and endogenous ketones and have your questions answered from a doctor's perspective.
Make sure you also pick up your free and complete guide to understanding ketosis. Then begin the ketosis diet easily with this Start-Up Guide to the Ketosis Diet.
Wondering which foods you should avoid when doing Keto? This Keto Food Guide will assist you in doing the Keto Diet correctly.
Don't start the Keto Diet until you calculate your Keto Macros easily  Using this calculator will customize the diet according to your goals and help you do the Keto Diet properly.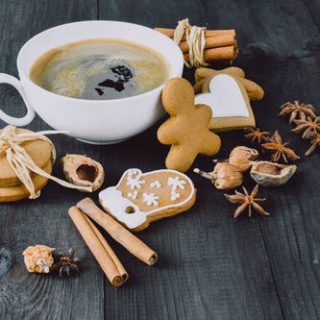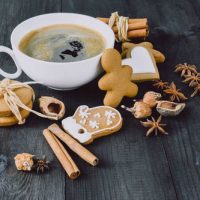 Spicy keto gingerbread cookies
A recipe for spicy gingerbread cookies. It's a flavorful cookie that is sturdy enough to be rolled and cutout into traditional holiday shapes.
Ingredients
3 tablespoons of ginger powder
4 tablespoons of cinnamon powder
1 1/2 teaspoons of baking powder
¼ teaspoon of salt
¼ teaspoon of clove
½  teaspoon of nutmeg
¼ teaspoon of black pepper (optional)
3 whole eggs
1 teaspoon of vanilla extract
¼ cup softened butter
Keto royal icing
1 tablespoon of water or heavy whipping cream
Instructions
Pre-heat oven to 325 degrees
In a large stand-up mixer beat the sugar substitute, butter, molasses, vanilla extract and eggs together until fully incorporated. Next add all the dry spices. Once fully combined add the almond flour, psyllium powder, baking powder and salt to the mix and beat well.
Flatten the dough with a rolling pin between two sheets of parchment paper.
Chill the dough for 30 minutes before using cookie cutters.
Bake for 12-15 minutes
Allow the cookies to cool completely before adding the keto icing.
Recommended Products
As an Amazon Associate and member of other affiliate programs, I earn from qualifying purchases.
Nutrition Information:
Yield:

24
Serving Size:

1
Amount Per Serving:
Calories:

111
Total Fat:

9.7g
Cholesterol:

26mg
Sodium:

3395mg
Carbohydrates:

3.9g
Fiber:

1.8g
Sugar:

1g
Protein:

3.7g
SaveSave
SaveSave
SaveSave
SaveSave
SaveSave