Oatmeal cookies on keto? Well, not quite. These keto oatmeal cranberry cookies look and taste like traditional oatmeal cookies, except they have zero oatmeal.
How is that possible?
I will share my clever way of bringing all the flavor of oatmeal without any worry of carbs with my delicious easy faux oatmeal cookie recipe.
Plus, how you can enjoy dried cranberries on keto. See what I've done? I will fool your tastebuds into thinking you are cheating on keto without the worry of being kicked out of ketosis.
I have lots of keto cookies for you to try on here, but it's the first time I share with you a recipe that would otherwise be prohibited on keto by swapping out a few key ingredients.
Keto Oatmeal Cranberry Cookies
If you are wondering if oatmeal is allowed on keto, the answer is NO. You see, oatmeal, a pseudo-grain, will spike your blood sugar and kick you out of ketosis real quick.
I was on a quest to make a low-carb, sugar-free, gluten-free, healthy version without sacrificing the taste or texture.
I'm thrilled to report that that's exactly what I could create by using a combination of almond flour and flax meal and unsweetened dried cranberries.
Do you know what else is great about these keto faux oatmeal cookies? Is that they are also naturally high in fiber. Something I am a big fan of adding to the keto diet. Since it's something not easily found.
How To Make Keto Oatmeal Cranberry Cookies
Disclosure: Some of the links below are affiliate links, meaning at no additional cost to you, I will earn a commission if you click through and make a purchase.
This girl was determined to bring the flavor of oatmeal back into her life because honestly, who doesn't love a good ole oatmeal cookie?
Like most recipes, I share it starts with a craving. A while ago, I learned that a golden flax meal has a similar flavor and texture profile to oatmeal, especially when you add the spices we commonly use with it, like cinnamon powder.
Something to keep in mind is that it really needs to be a golden flax meal since regular flax will create a gummy texture and not what we are going for.
Now that I had the oatmeal flavor and texture hacked, I needed something to give these cookies that dried cranberries' chewy consistency.
Traditional dried cranberries are a no-no on keto because they are quite high in carbs. However, I tried dried unsweetened cranberries not too long ago and wondered how I could somehow use them in a recipe.
The only issue I found was that they were quite sour, so to remedy this, I decided to try to reconstitute them by letting them soak in a little water that had been sweetened with sugar-free sweetener. All I can say about that is that it worked like a charm!
Ingredients Needed
The following are all the ingredients needed. Note that the full printable recipe is at the bottom of the post.
Unsalted butter, room temperature
Eggs, room temperature
Sour cream
Vanilla extract
Baking powder
Sea salt
Cinnamon powder
Ground nutmeg
Best Sugar-free Sweetener Options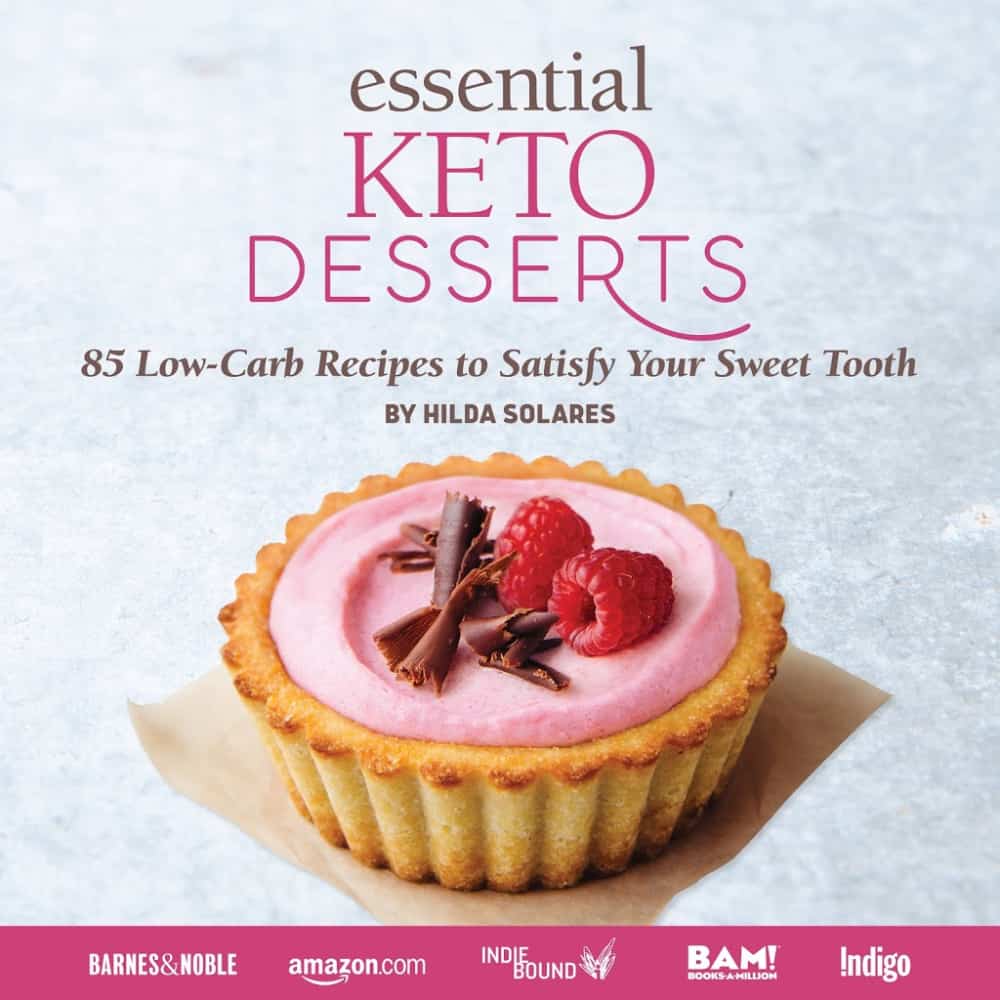 As far as which sugar substitute to use for these sugar-free "oatmeal" cranberry cookies, I have a few recommendations. If you are regular on our site, you know I'm a huge fan of Lakanto Monk Fruit.
This is because the texture of Lakanto is spot on and since there is barely any aftertaste. It is a monk fruit and erythritol blend. If you have not given this all-natural sweetener a try, you have no idea what you are missing.
I love that Lakanto Monk Fruit is all-natural, and it gets its sweetness from antioxidants called mogrosides instead of fructose or sucrose. And it has zero calories and zero glycemic impact.
Their granulated brown sugar substitute works beautifully for this recipe, although you can also use their white sugar and get a nice cookie.
That being said, I'm also partial to Swerve another erythritol blend. It works well in this keto-friendly sour cream pound cake recipe and is a great choice if you are looking for a sugar substitute that has no bitter aftertaste and measures just like sugar.
Swerve is made from ingredients found in select fruits and starchy root vegetables and contains no artificial ingredients, preservatives, or flavors. Like Lankanto, Swerve has a 0 % impact on blood sugar.
Swerve has a brown sugar option that is quite nice and that I recommend for these cookies too.
Surkin gold is also a great brown sugar substitute and one I also turn to. What's nice about this brand is that the texture and flavor mimic its high carb counterpart quite well.
I know some of you are stevia fans; if that's you, you can use the stevia and erythritol-based brand Pyure in this recipe. However, it's important to note that if you are using Pyure, you will want to use 1/2 the amount called for in this recipe since it's a much sweeter option. As far as I know, Pyure has not yet come out with a brown sugar substitute.
Please Tag Us
When I first went keto, my failed attempts caused me to be very intentional with my Keto Baking recipes. I threw away so many ingredients initially, and I never want anyone to be so frustrated that they give up on the diet before they can see long-lasting results.
Even though those early days were not fun, I stayed the course has made this journey very rewarding.
I really hope you will give these cream cheese keto chocolate chip cookies a try. If you do, make sure you remember to tag us on Instagram, Facebook, and Pinterest. It's what keeps us encouraged to keep sharing and perfecting our recipes.
Also, check out our Amazon Store for our recommendations. You might be surprised by how many great keto options are at your disposal.
Don't forget to subscribe to our email list so that we can stay connected.
Grab Our Books!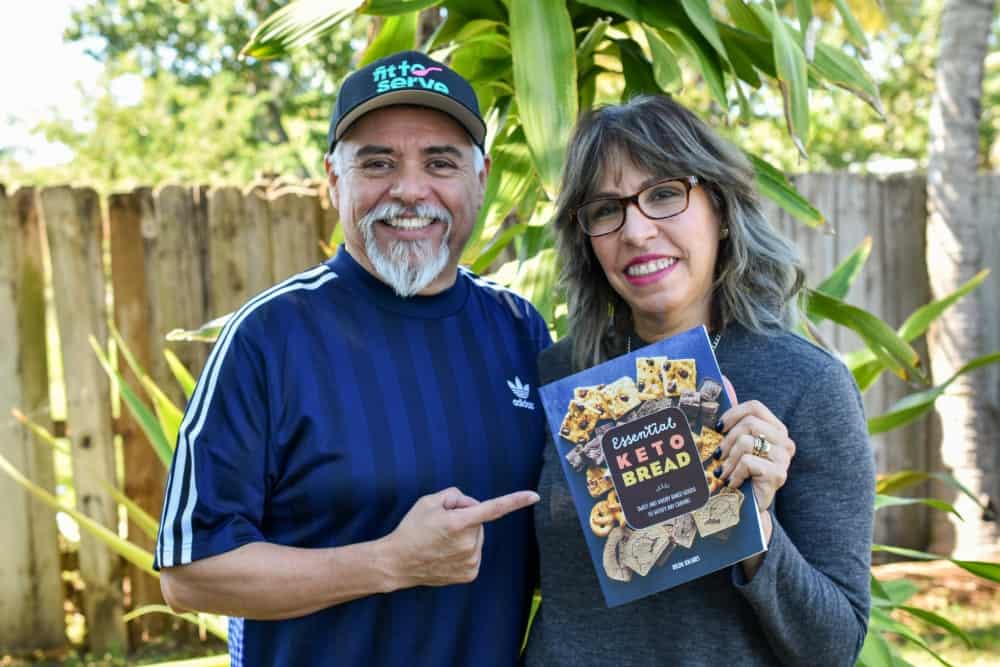 In case you don't know, we have authored two books for you, Essential Keto Bread and Essential Keto Desserts, both inspired by your requests over the years. It's my prayer these keto cookbooks will help make keto a delicious breeze for you.

Join Our Jesus And Keto Movement
Randy and I came to the keto diet looking at it from a Christian perspective. As believers, we live our lives supported by God's grace.
So when the Holy Spirit led us to combine our Christian faith and the keto diet, we did so in hopes of finding lasting transformation.
To say we needed God's intervention is putting it mildly. When we followed the Holy Spirit's prompting, we got on the path to real transformation.
Knowing firsthand the benefits of this decision, we have created a closed Christian group using the keto diet to transform their lives. We invite you to join our Private Facebook Group and see if it's not the key you have been missing.
Note that you will be prompted to answer a few questions that ensure that you understand what this group stands for once you click the link.
Keto "Oatmeal" Cranberry Cookies
Additional Baking Time:
5 minutes
Total Time:
1 hour
5 minutes
These keto oatmeal cranberry cookies look and taste like traditional oatmeal cookies, except they have zero oatmeal and therefore low in carbs. Using a combination of golden flax and almond flour to mimic oatmeal and reconstituted dried unsweetened cranberries that have been soaked with a little sugar-free substitute.
Ingredients
1/2 cup of unsalted butter, room temperature
2 large eggs, room temperature
1/4 cup of sour cream
1 teaspoon of vanilla extract
1 1/2 teaspoons of baking powder
1/4 teaspoon of sea salt
1/2 teaspoon of cinnamon powder
1/8 teaspoon of ground nutmeg
Reconstituted Dried Sugar-free Cranberries
2 tablespoons of granulated sugar substitute
1/4 hot water
Instructions
Rehydrate dried sugar-free cranberries- In a small bowl combine 1/4 cup of hot water with 2 tablespoons of granulated sugar substitute. To the sweetened water add the dried unsweetened cranberries and allow the cranberries to plump, about 10-15 minutes. Drain the cranberries and set aside.
Measure the almond flour, and golden flax and set aside.
In a medium-sized bowl using an electric mixer combine the softened butter, brown sugar substitute, and vanilla extract. Mix until light and fluffy.
To this mixture add the 2 eggs one at a time and sour cream. Combine until well incorporated.
Next add the sifted almond flour, golden flax meal, baking powder, salt, cinnamon powder, ground nutmeg and, mix until just combined.
Fold in reconstituted dried cranberries.
Place the cookie dough in the refrigerator and allow to chill for 30 minutes before baking.
Pre-heat oven to 350 degrees.
Using a small cookie scoop, place the dough on a lightly greased baking sheet or parchment-lined sheet.
Slightly, flatten the cookies with your fingers or the back of a spoon.
Bake the cookies in the preheated oven until lightly brown around the edges about 12-15 minutes.
Store leftovers in the refrigerator for up to 5 days or freeze for up to 3 weeks.


Notes
It's important to only use golden flax meal, as regular flax meal will produce a gummy cookie
Nutrition Information:
Yield:

24
Serving Size:

1
Amount Per Serving:
Calories:

130
Total Fat:

11.8g
Saturated Fat:

4.2g
Cholesterol:

28mg
Sodium:

42mg
Carbohydrates:

2.9g
Net Carbohydrates:

1.5g
Fiber:

1.4g
Sugar:

0.1g
Protein:

3.3g
Did you make this recipe?
Please leave a comment on the blog or share a photo on Instagram