This recipe for Keto Chocolate Bark has all the flavor of a chocolate candy bar minus all the high carbs. I love how this low carb chocolate bark also serves as a delicious fat bomb.
I have a weakness for dark chocolate bars and it's why I decided to make my own low carb keto-friendly version. By making my own I was able to stay committed to the keto diet.
This recipe allowed me to do just that. But not wanting to leave good enough alone, I also wanted to make a keto bark that would also raise my healthy fat levels, it's why it's also a fat bomb.
If you've been looking for an easy keto chocolate bar recipe, this is by far the easiest and tastiest option. It's the only recipe you'll need. What's great is how failproof it is to whip up a batch since it requires only a few basic ingredients.
If that's not enough this keto bark recipe is also dairy-free, making it an option for anyone who can't do dairy or is doing an elimination diet. That's a lot of great features for one simple keto treat recipe.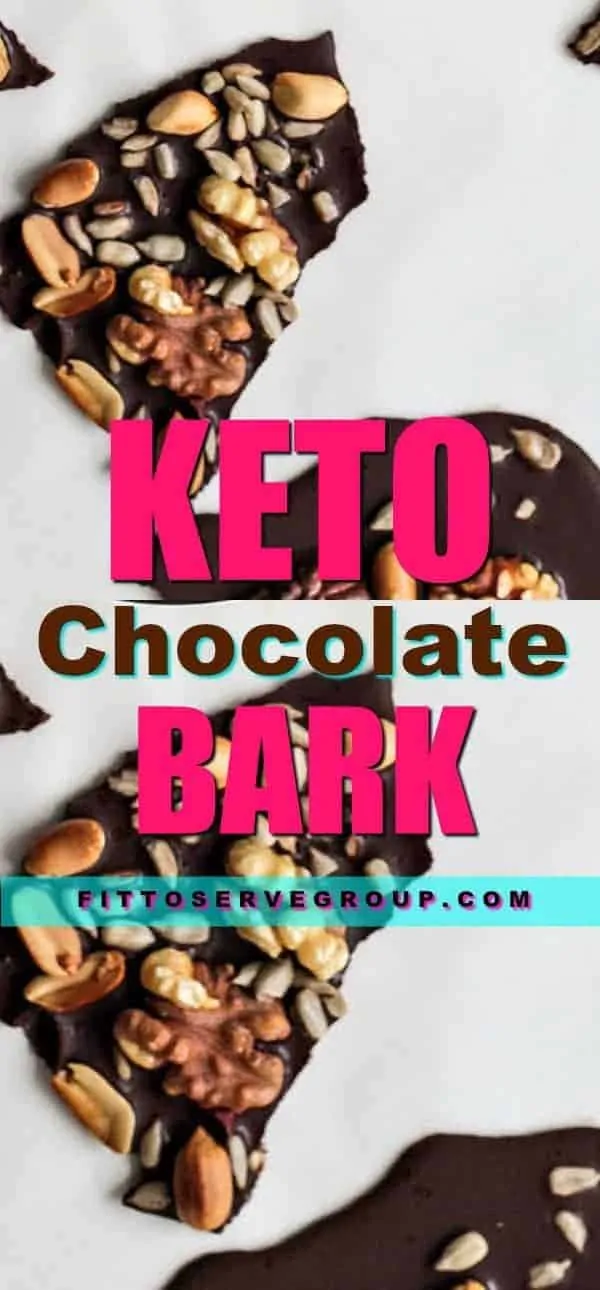 Keto Chocolate Bark
This chocolate bark recipe is gluten-free, grain-free, sugar-free, low in carbs, and dairy-free! Plus it's super easy to make. I mean what's not to love?
The best part of this recipe is how easy it is to customize. Add your favorite nuts and seeds to make a delicious option that is sure to please.
In fact, why not make this your keto Christmas bark this year and share this treat with your family and friends doing keto!
Like I said earlier this is also a fat bomb recipe so it's a delicious way to add more healthy fats while doing a ketogenic diet.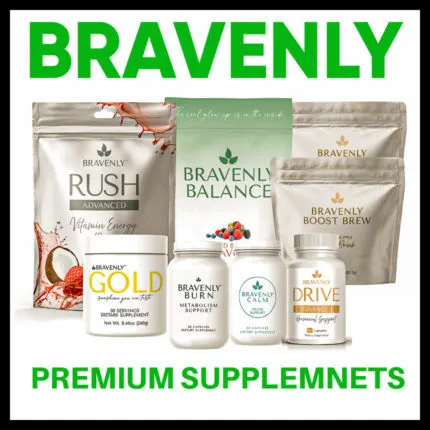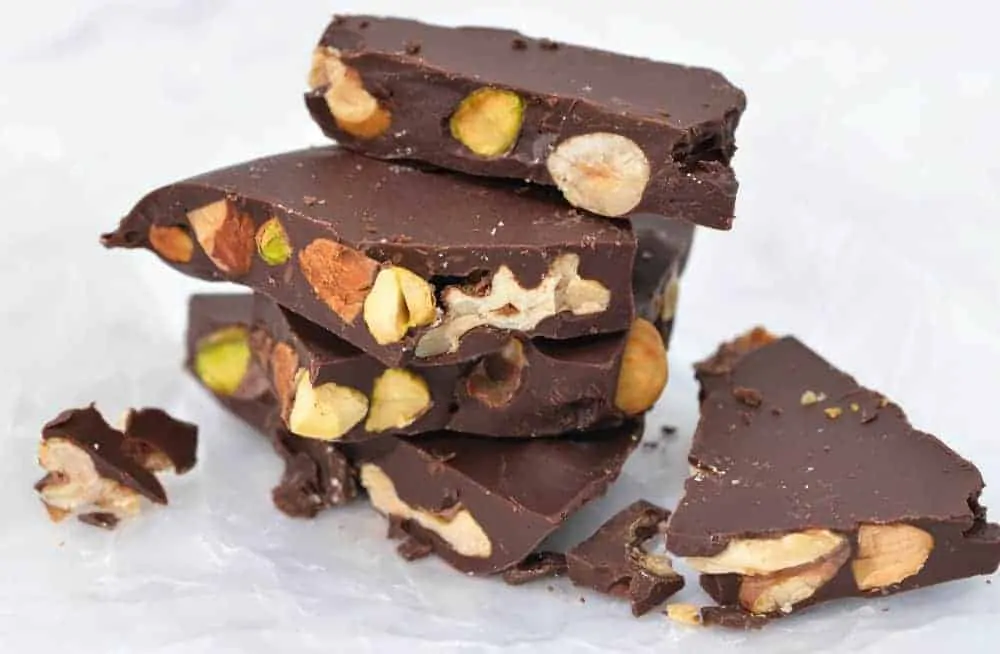 What Are Fat Bombs?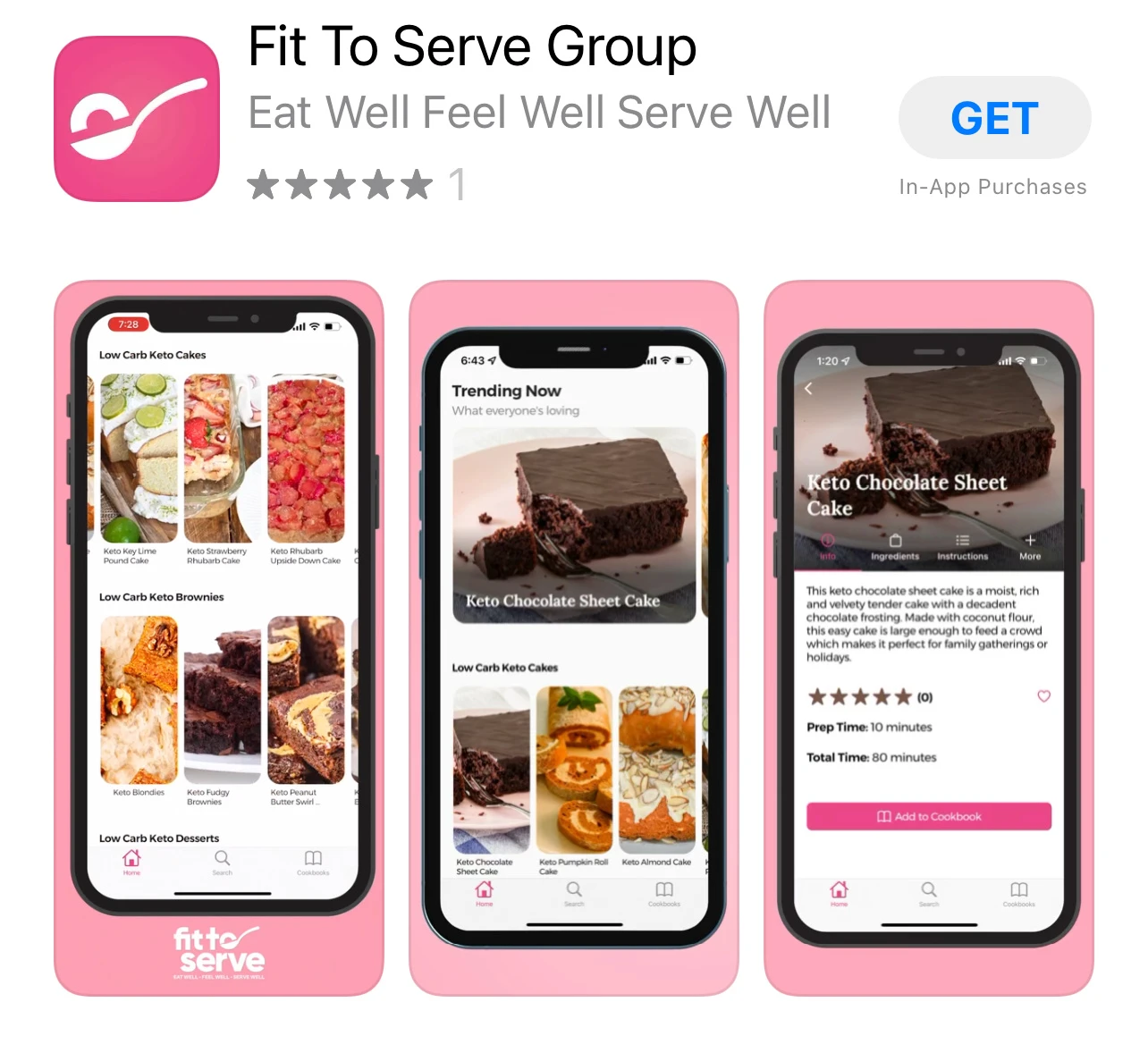 Right about now you may be wondering what a fat bomb even is. I like to think of them as a bite-sized savory or sweet treat that is high in fat and also low in carbs.
Most fat bomb recipes have some sort of variation of coconut oil, grass-fed butter added in them as a way to increase healthy fats.
Generally, most in the keto community consider a true fat bomb to be from 75-85% percent fat. When individuals are doing a ketogenic diet, fat bombs can be a delicious way to meet the diet's fat macro requirements.
The best part is that it also simultaneously boosts your body's ability to make more ketones naturally.
A recipe like this keto chocolate bark can help increase your metabolism, aid in weight loss, help stabilize blood sugar and even improve memory.
And by adding more healthy fats into your diet you keep your appetite in check. Plus fat bombs can give you a boost in energy and give your brain the healthy fats it craves.
Stop Carb Cravings With Fat Bombs
Adding fats in the form of fat bombs makes for a great healthy snack because it keeps you from feeling hungry longer. However, you should keep in mind that fat bombs should be enjoyed in moderation since they tend to be higher in calories.
The great thing is that just one or two fat bombs are enough to keep you fully satisfied.
Since a good fat bomb recipe is made with high-quality ingredients it's a clean way of promoting ketosis while having a treat.
How To Make Keto Bark
To make this keto chocolate bark all you'll need is melted coconut oil, cocoa powder, sugar substitute, and your choice of nuts. That's it! I told you it was a super easy recipe.
If you can melt some coconut oil and stir you can make this delicious keto chocolate bark coconut oil recipe. It's one of the first recipes I share with family and friends when they embark on the keto diet and are looking for a quick and easy treat to satisfy to quench a sugar craving.
Really the sky is the limit when it comes to customizing your keto bark cocoa powder recipe. It features mixed nuts that have been chopped but since it's easy to customize I've even added to add toasted coconut and even chopped fresh cranberries for a seasonal treat.
Some variations to this easy keto chocolate bark include the following but feel to make it your own and add as little as much as you like:
1/4 cup of your choice of melted nut butter
Leave out the nuts and add 1/4 teaspoon of peppermint extract and 5 crushed sugar-free peppermint candies for a holiday treat
Add 2 tablespoons of toasted unsweetened coconut
Add 1/4 cup of chopped fresh berries
Sprinkle to top of the chocolate bark with sea salt flakes
Healthy Fats
Have you been curious about the keto diet and the use of healthy fats to create a way for you to burn your own fat for fuel?
What if I told you that reducing your carbs and adding fat bombs like my keto dairy-free chocolate coconut oil bark can do just that. Come see why adding fat bombs to your diet makes sense on a keto diet and how you can do so easily.
As a keto advocate, I am always looking for delicious ways to incorporate more healthy fats into my diet. When you go low carb, specifically keto, it is vital that you raise your fat levels.
This is because you now burn fat, ketones as fuel, versus glucose. This is why keeping those ketone levels optimal is key. You're going to love how easy it is to make our keto dairy-free chocolate bark.
Several Fat Bomb Recipes For You To Enjoy
I'm a big fan of using fat bombs to raise your ketone levels. This is why I have several other fat bombs recipes on the site. In fact, I have dedicated a whole category to them.
Here are a couple of other fat bomb recipes you might also want to try: Keto Cheesecake Fat Bombs it's like having a tiny cheesecake. This is perfect because sometimes that's all you really need to stop a sugar craving.
My recipe for Keto Chocolate Peanut Butter Fat Bombs is my healthy knock-off for peanut butter Reese's cups. One bite and your taste buds will think you've cheated but, thankfully you are still in the safe zone with these.
Adding fat bombs to your keto diet makes the ketogenic lifestyle easier. Fat bombs naturally raise your ketone levels and the addition of healthy fats keep you from being hungry for several hours.
What I love about my keto dairy-free chocolate bark is that it is not only good for you, but it's flat-out delicious and a breeze to make.
Adding Healthy Fat Never Tasted So Good
This is a simple recipe that allows you to include more coconut oil into your diet and reap all the benefits. Besides coconut oil's great properties, you get the added antioxidants from the chocolate.
I enjoy making a few batches and storing them in my freezer for a quick snack that quenches my sweet tooth cravings. It's perfect for when you need a boost of energy or just need a little something to tide you over between meals.
Tag Us
I sure hope you will give this recipe a try and will help us share it. If you give it a try, make sure you remember to tag us on Instagram, Facebook, and Pinterest. It's what keeps this girl encouraged to keep sharing and perfecting her recipes.
Also, check out our Amazon Store for our recommendations. You might be surprised by how many great keto options are at your disposal.
Join Our Jesus And Keto Movement
Looking for an online support system to help you stay the course on keto? As a family, we came to the keto diet looking at it from a Christian perspective. As believers, we live our lives supported by God's grace.
So when the Holy Spirit led us to combine our Christian faith and the keto diet, we did so in hopes of finding lasting transformation. When we followed the Holy Spirit's prompting we got on the path to real transformation.
Knowing firsthand the benefits of this decision we have created a closed Christian group that is using the keto diet to transform their lives. We invite you to join our Private Facebook Group and see if it's not the key you have been missing.
Be sure to request our FREE Jesus and Keto E-Book (First 7 Days) We hope it blesses you.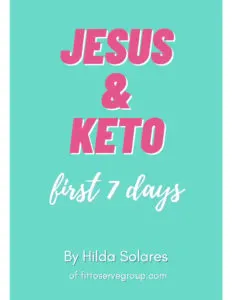 Fittoservegroup Keto App
Looking for a fast way to access our keto recipes? We got you covered. There's an app for that. Yup, there's a Fit To Serve Group App and it's going to make your keto diet a delicious breeze!
Access hundreds of recipes that are all sugar-free, gluten-free, and keto-friendly.
Enjoy early access to recipes before they go live on the website. Plus, bonus recipes that are exclusive to the app. Make your own personal cookbooks that you can use to organize your favorite recipes.
Search recipes by title, ingredients, keywords, and categories, and of course every recipe shows complete nutritional facts. Get the Fit to Serve Group App for easy-to-follow keto recipes made with easy-to-source ingredients.
The app is loaded with hundreds of yummy recipes for breakfast, lunch, dinner, snacks, and even desserts!
Learn more by visiting our Fit To Serve Group App Page.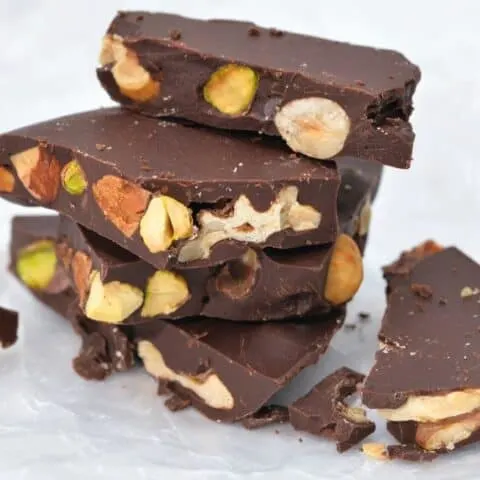 Keto Chocolate Bark (Fat Bomb)
This recipe for keto chocolate bars acts as a fat bomb but tastes like a chocolate bar. Enjoy a flavor treat and gain the benefits of healthy fats.
Ingredients
3/4 cup coconut oil
1/2 cup of chopped mixed nuts
1/4 teaspoon of sea salt
Instructions
Heat the coconut oil just till it melts. You can choose to melt in the microwave for 45 seconds.
In a medium-sized bowl mix the melted coconut oil, cocoa powder, confectioner's sugar-substitute, whisk until fully combined.
Next add the mixed chopped nuts and sea salt.
Pour the mixture onto parchment paper or wax paper covered cookie sheet and spread the nuts evenly around the chocolate mixture.
Place the tray in the freezer for about 20 minutes or until solid.
Once the chocolate bark is solid break apart into chunks.
Keep the chocolate bark stored in the freezer.
Allow to slightly defrost about 5 minutes on the kitchen counter before eating. Defrost only what you will be eating.
Notes
Note the chocolate bark must be stored in the freezer to prevent the coconut oil from melting.
Recommended Products
As an Amazon Associate and member of other affiliate programs, I earn from qualifying purchases.
Nutrition Information:
Yield:

15
Serving Size:

1
Amount Per Serving:
Calories:

142
Total Fat:

14.7g
Saturated Fat:

10.7g
Sodium:

50mg
Carbohydrates:

2.5g
Net Carbohydrates:

1.4g
Fiber:

1.1g
Sugar:

0.4g
Protein:

1.7g