A Keto Chocolate Bark (Fat Bomb)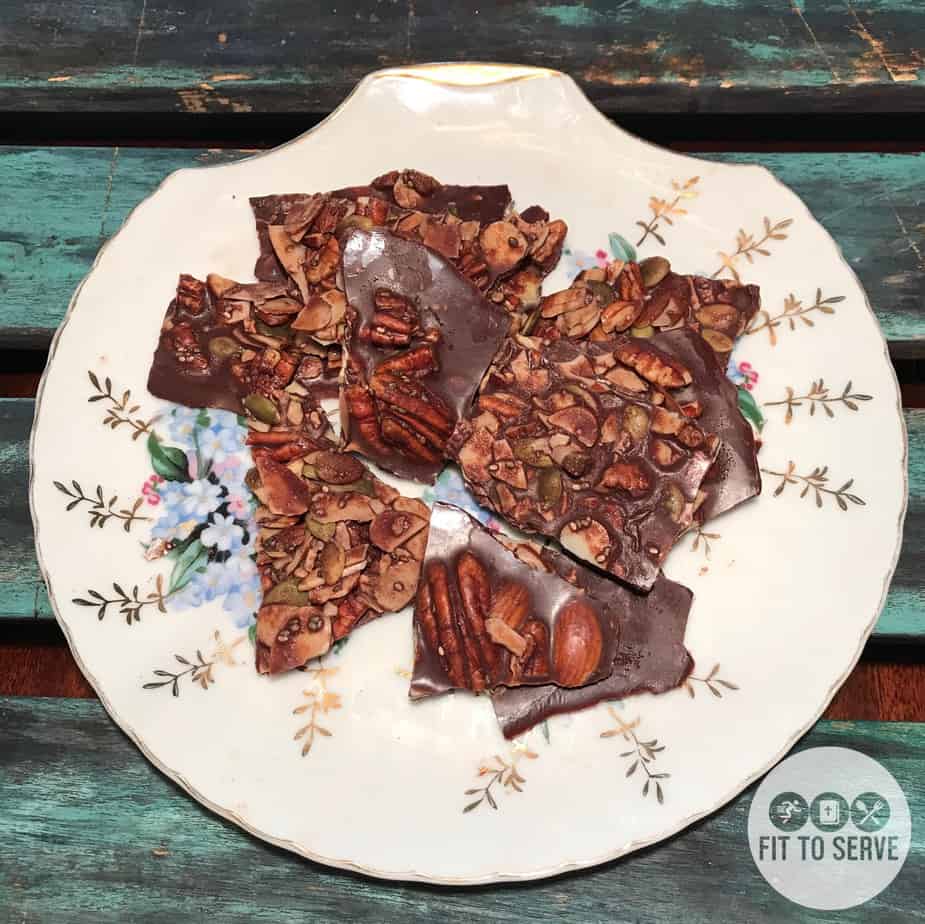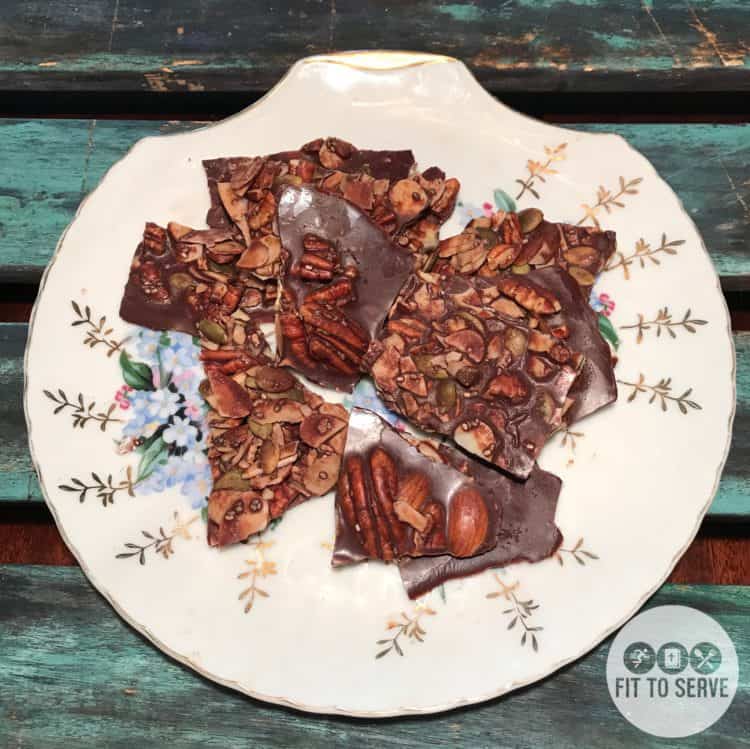 Keto Chocolate Bark has all the flavor of a chocolate candy minus all the high carbs. This low carb chocolate bark acts as a tasty treat and a fat bomb. 
If you've been looking for a chocolate bar substitute while on your keto diet, this recipe for keto chocolate bark is all you need. What's great is how easy it is to whip up a batch since it requires only a few simple ingredients. 

What's more this LCHF bark is also dairy-free, making it an option for anyone who can't do dairy or is doing an elimination diet. 
Keto Chocolate Bark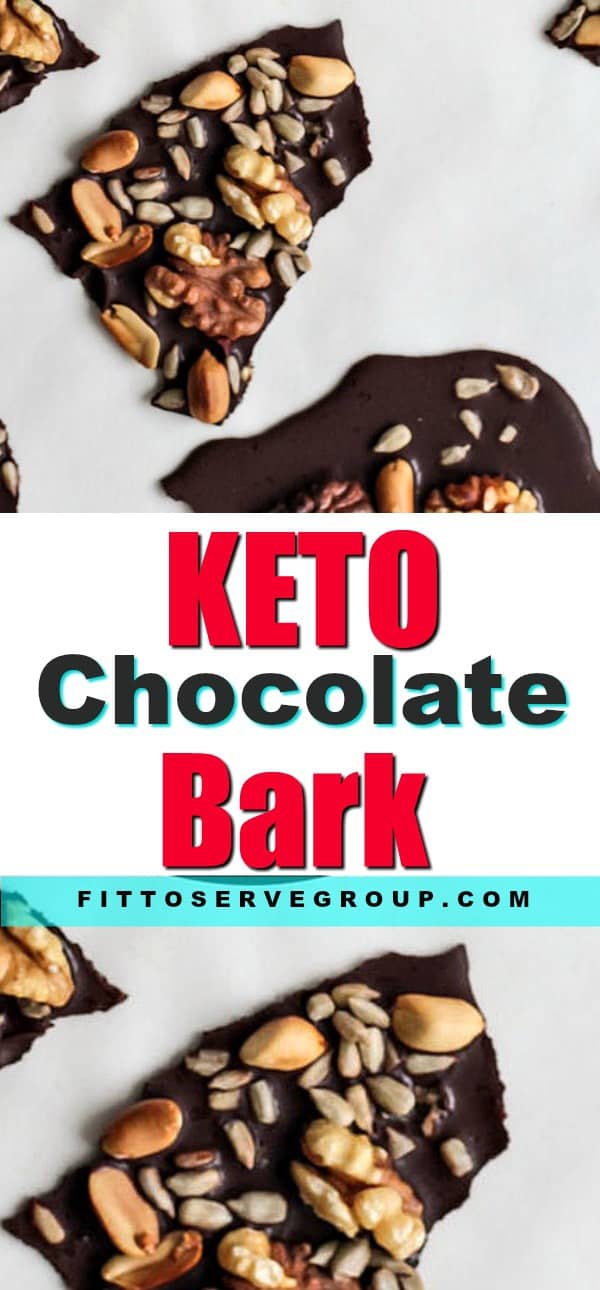 How To Make Keto Chocolate Bark
To make this keto chocolate bark all you'll need is melted coconut oil, cocoa powder, sugar substitute and your choice of nuts. 
If you can melt some coconut oil and stir you can make this delicious healthy bark recipe. It's one of the first recipes I share with family and friends when they embark on the keto diet and are looking for a quick and easy treat to satisfy to quench a sugar craving.
Really the sky is the limit when it comes to customizing your keto chocolate bark. This recipe is features mixed nuts that have been chopped but I've add toasted sugar-free coconut and even chopped fresh cranberries. 
Healthy Fats
Have you been curious about the keto diet and it's use of healthy fats to create a way for you to burn your own fat for fuel?
What if I told you that reducing your carbs and adding fat bombs like my keto dairy free chocolate coconut oil bark can do just that. Come see why adding fat bombs to your diet makes sense on a keto diet and how you can do so easily.
As a keto advocate I am always looking for delicious ways to incorporate more healthy fats into my diet. When you go low carb, specifically keto, it is vital that you raise your fat levels.
This is because you now burn fat, ketones as fuel, versus glucose. Which is why keeping those ketone levels optimal is key. You're going to love how easy it is to make our keto dairy free chocolate bark.
Several Fat Bomb Recipes For You To Enjoy
I'm a big fan of using fat bombs to raise your ketone levels. Which is why I have several other fat bombs recipes on the site. In fact, I have I dedicated a whole category to them.  
Here are a couple of other fat bomb recipes you might also want to try: Keto Cheesecake Fat Bombs it's like having a tiny cheesecake. Which is perfect because sometimes that's all you really need to stop a sugar craving. 
My recipe for Keto Chocolate Peanut Butter Fat Bombs is my healthy knock-off for peanut butter Reese's cups. One bite and your taste buds will think you've cheated but, thankfully you are still in the safe zone with these. 
Adding fat bombs to your keto diet makes the ketogenic lifestyle easier. Fat bombs naturally raise your ketone levels and the addition of healthy fats keep you from being hungry for several hours.
What I love about my Keto Dairy Free Chocolate Bark is that it is not only good for you, but it's flat-out delicious and a breeze to make.
Adding Healthy Fat Never Tasted So Good
This is a simple recipe that allows you to include more coconut oil into your diet and reap all the benefits. Besides coconut oil's great properties, you get the added antioxidants from the chocolate.
I enjoy making a few batches and storing them in my freezer for a quick snack that quenches my sweet tooth cravings. It's perfect for when you need a boost of energy or just need a little something to tide you over between meals.
Perfect Keto Hack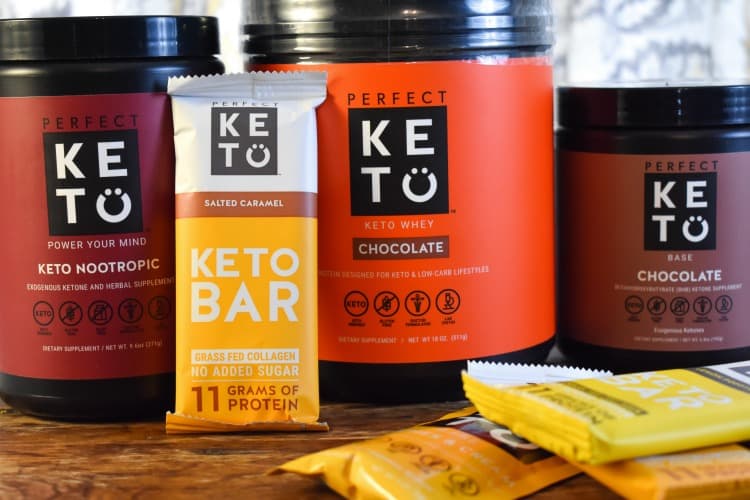 Besides using recipes like this keto chocolate bark that is, in essence, a fat bomb to raise my ketone levels, I am a proponent of using exogenous ketones. 
I've seen how supplementing with ketones can help a person get into ketosis quicker and see the benefits faster. 
Perhaps, you've struggled to get into ketosis consistently on your low carb keto diet, or you've hit a plateau that doesn't seem to budge, consider using Perfect KETO exogenous ketones.
Being at a deeper level of ketosis will help reduce your appetite, carb cravings, and give you lasting energy.  It's been our experience that the use of exogenous ketones helps make the low carb keto lifestyle a viable sustainable option.
Honestly, it's like having willpower in a cup.  Learn more about the science behind both exogenous and endogenous ketones and have your questions answered from a doctor's perspective.
Make sure you also pick up your free and complete guide to understanding ketosis. Then begin the ketosis diet easily with this Start-Up Guide to the Ketosis Diet.
Wondering which foods you should avoid when doing Keto? This Keto Food Guide will assist you in doing the Keto Diet correctly.
Don't start the Keto Diet until you calculate your Keto Macros easily  Using this calculator will customize the diet according to your goals and help you do the Keto Diet properly. 
Use this link and get a 20% off discount when you place your order for any of Perfect Keto products USE CODE: FITTOSERVE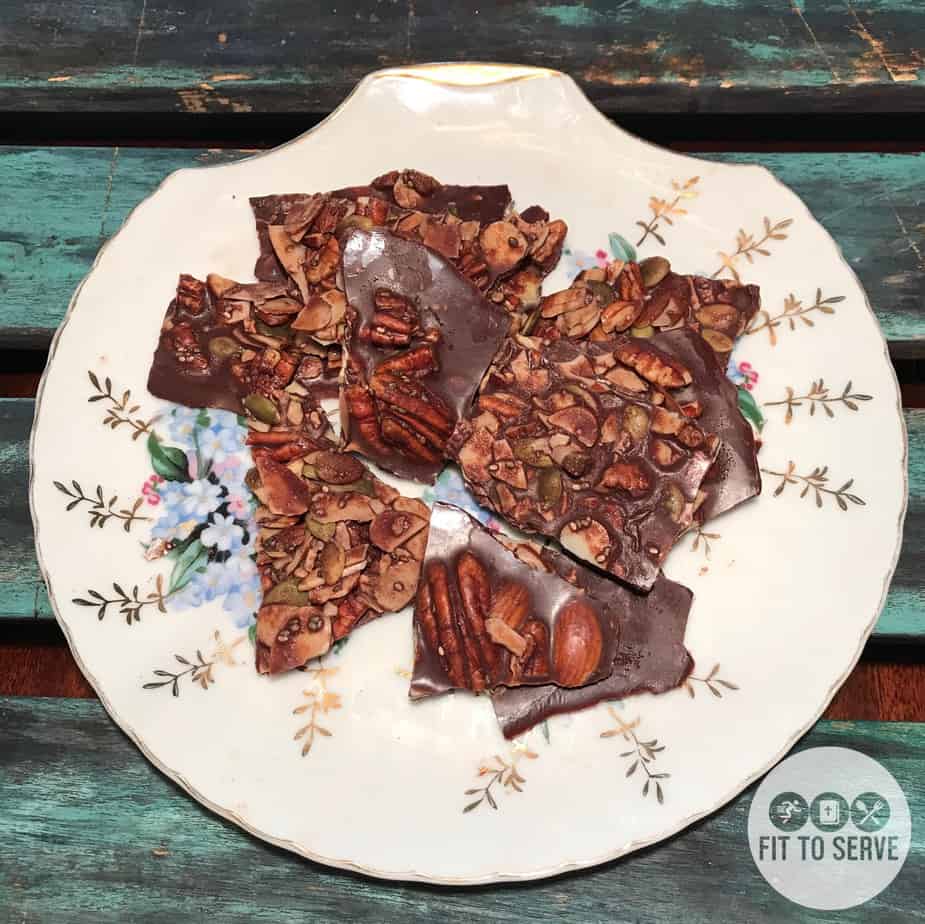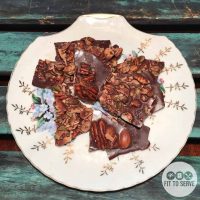 Keto Chocolate Bark (Fat Bomb)
It's a recipe for keto chocolate bark, it's a fat bomb that mimics a chocolate bar but delivers healthy fats.
Ingredients
3/4 cup coconut oil
4 ounces chopped mixed nuts (I used nuts that are salted with sea salt. If using unsalted nuts add 1/4 tsp. of sea salt this enhances the flavor.
Instructions
Heat the coconut oil just till it melts. You can choose to melt in the microwave for 45 seconds.
Mix in the Hershey's Special Dark cocoa powder, sugar substitute, blend until sugar substitute dissolves.
Next add the mixed chopped nuts and sea salt.
Pour the mixture onto parchment paper or wax paper covered cookie sheet and spread the nuts evenly around the chocolate mixture.
Place the tray in freezer for about 20 minutes or until solid.
Once the chocolate bark is solid break apart into chunks.
Keep the chocolate bark stored in freezer.
The bark must stay in the freezer otherwise it will melt.
Recommended Products
As an Amazon Associate and member of other affiliate programs, I earn from qualifying purchases.
Nutrition Information:
Yield:

15
Serving Size:

1
Amount Per Serving:
Calories:

142
Total Fat:

14.7g
Saturated Fat:

10.7g
Carbohydrates:

2.5g
Fiber:

1.1g
Sugar:

0.4g
Protein:

1.7g
SaveSave
SaveSave
SaveSave
SaveSave
SaveSave
SaveSave
SaveSave
SaveSave
SaveSave
SaveSave
SaveSave
SaveSave