The simplicity of this recipe for keto roasted glazed carrots makes this a perfect keto carrot side dish to bring to the holiday table.
Because who can't use easy recipes during this busy season?
Plus roasted carrots are a pretty traditional side dish during the holidays. They can complement just about any dish.
I like serving them on Easter, Thanksgiving, or Christmas because it pairs well with any number of main dishes.
But do we really need a special day to enjoy the flavor of roasted low carb carrots that have both a sweet and savory flavor profile? Nope, that's what I think.
If you're wondering if you can consume carrots while doing a keto diet, I'm of the opinion that you can. It will just require more macro planning. This means that the rest of the meal needs to be lower in carbs to balance out the extra carbs that carrots naturally provide.
Look, while carrots are not necessarily the most keto-friendly vegetable, you certainly can eat carrots in moderation and fit them into your keto diet.
Since it's high in antioxidants I feel it's a good choice if your personal macros can accommodate it.
We have been doing a low-carb/keto diet as a lifestyle for years. Once it becomes a lifestyle choice it's important to look for options that will keep you committed without feeling deprived. That's what a recipe like these low-carb glazed carrots provide.
I would much rather offer my family a choice like this than to see them succumb to the sugar-laden original.
If you are in agreement you might want to also check out the rest of our Keto Recipes With Carrots.
Keto Roasted Glazed Carrots
In order to be able to enjoy a keto carrot side dish, the rest of the meal needs to be lower in carbs to balance out the extra carbs that carrots naturally provide. It's a side dish to enjoy occasionally and what better time than the holidays?
I treat my family to recipes like these low-carb roasted glazed carrots. Think of this dish as an occasional low-carb treat.
Because these carrots do not use honey or sugar they are significantly lower in carbs than recipes that do. This means you can enjoy a traditional favorite without feeling deprived. I opted to roast my carrots because it really enhances the flavor of this dish.
I roast my carrots at a high oven setting so that the natural sweetness comes through. And then make a quick sugar-free glaze on the stovetop with a little butter and Lankanto Gold sugar-substitute.
How To Roast Carrots
It's really easy to properly roast carrots. All you need to do is scrub and peel your carrots if using whole carrots. If using baby carrots peeling will not be necessary.
An added benefit of using baby carrots is that they are generally uniform in size something that makes the roasting process easier.
I chose to use multi-colored carrots for this recipe so using baby carrots was not an option for me. But you can certainly use your carrot of choice and just cut them to size.
I will say that using different colored carrots makes the dish extra special plus all the colors add more nutrition. But their availability where you live may make it more challenging to find.
To roast your carrots all you need to do is wash and trim the ends. Afterward you simply and cut them in half lengthwise as well into pieces that are no more than 1 1/2 inches long. Doing so will make the roasting process faster.
Then in a large bowl toss your carrots with olive oil and sprinkle with sea salt and freshly cracked black pepper.
How Long Does It Take To Roast Carrots
It takes between 20-25 minutes to roast carrots if you have set your oven to 475 degrees and cut them in half and then into 1 1/2 inch long pieces.
The key is to cut the carrots as evenly as possible otherwise you risk some carrots not cooking till the tender point and no one wants to bite into an undercooked carrot.
Which is why you want to take your time to properly slice them as evenly as possible.
If you choose to slice them into smaller coin-sized pieces the baking time can be reduced even further. Since every oven is different you will have to check at the 15-minute mark if you go this route and just add more time if necessary.
How To Make Low Carb Glaze For Your Carrots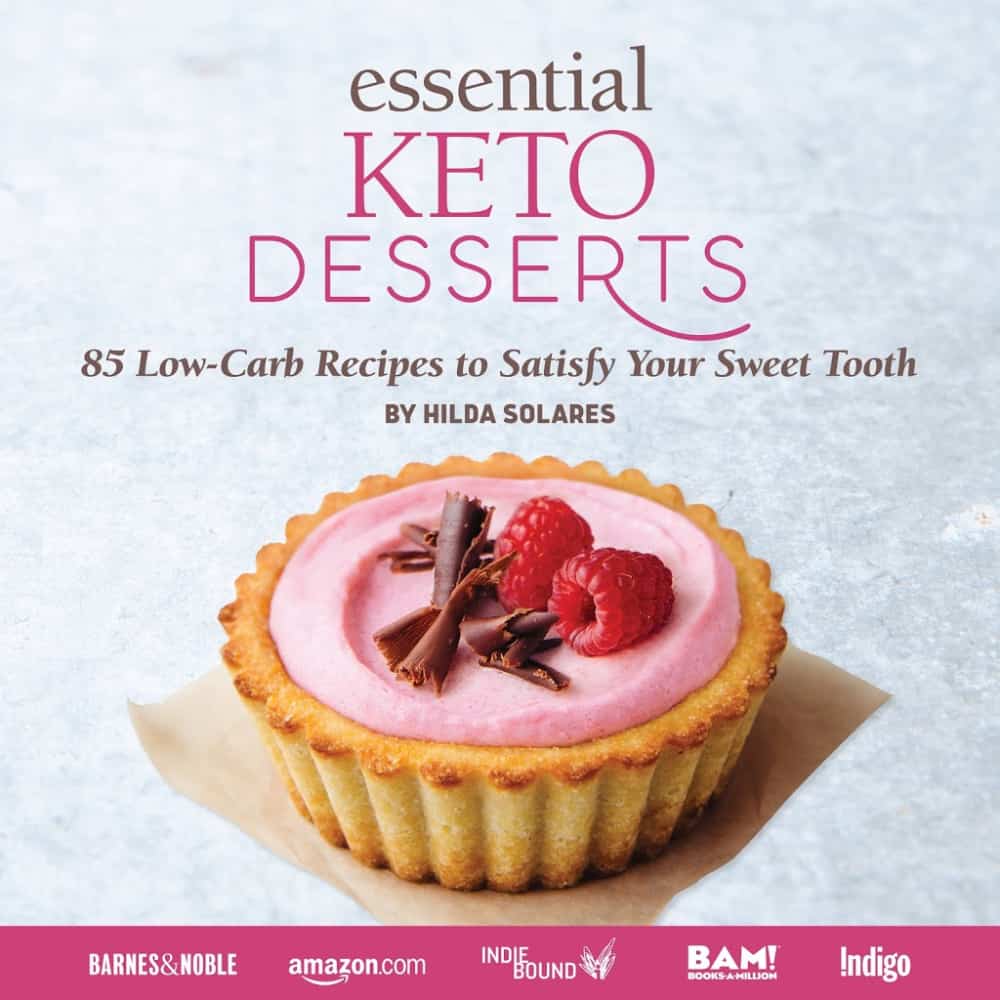 The highlight of this low-carb side dish is certainly the glaze that's added to the carrots.
Although once you roast your carrots the sweetness factor comes through naturally, the treat of a sugar-free glaze is a nice surprise that further enhances their flavor.
To make your low-carb glaze is pretty straight-forward. You'll just be using a skillet to melt the butter and then adding a couple of tablespoons of your favorite sugar-free brown sugar substitute.
Then simply stir using a wooden spoon to ensure the sugar sub fully dissolves in hot butter.
It's important to make the sauce right after the carrots are roasted because you will want to toss them in the sauce quickly to avoid crystallization.
At that point, you just garnish your keto roasted glazed carrots with a little fresh chopped parsley. This adds both a lovely contrast of color and some extra flavor.
Carrots On Keto
In closing, if you ask me can I eat carrots on keto? My answer is yes.
I am of the belief that carrots are ok to consume on a low-carb diet with careful macro planning.
Why? Well, because there are approximately 6 grams of total carbs per medium-sized carrot. Carrots also provide 1.5 grams of fiber so you are looking at 4.5 net carbs per carrot.
Don't be so quick to dismiss carrots while doing a ketogenic diet. Carrots happen to rank low in the glycemic index. You might be able to easily add a small side dish like this recipe with a little meal planning.
After all, one serving of carrots per day should be fine. Especially, if the remainder of the day you keep your total carb count low.
That's doable in my book.
You see although carrots are root vegetables and therefore higher in carbs, most who are doing the keto diet can enjoy carrots occasionally.
Keep in mind that the carrot recipes I share are the equivalent of 1/2 -1/4 of a medium-sized carrot. This means that they are providing an average of 2.5 net carbs to the recipe, an amount that most can safely consume and stay in ketosis.
Tag Us
I sure hope you will give this recipe keto glazed carrots a try. Once you do, make sure you remember to tag us on Instagram and Facebook. It's what keeps this girl encouraged to keep sharing and perfecting her recipes.
Also, check out our Amazon Store for our recommendations. You might be surprised by how many great keto options are at your disposal.
Grab Our Books!
In case you don't know we have authored two books for you, Essential Keto Bread and Essential Keto Desserts both inspired by your requests over the years. It's my prayer these keto cookbooks will help make keto a delicious breeze for you.
Join Our Jesus And Keto Movement
In case you don't know, Randy and I came to the keto diet looking at it from a Christian perspective, as believers we live our lives dependant on God's grace to support us.
So when the Holy Spirit led us to combine our Christian faith and the keto diet, we did so in hopes of finding lasting transformation.
To say we needed God's intervention is putting it mildly. When we followed the Holy Spirit's prompting to we got on the path to real transformation.
Knowing firsthand the benefits of this decision we have created a closed Christian group that is using the keto diet to transform their lives.
We invite you to join our Private Facebook Group and see if it's not the key you have been missing. Note that once you click the link you will be prompted to answer a few questions that ensure that you understand what this group stands for.
Our Favorite Keto Hack To Stay On Track
Arming yourself with keto recipes is certainly key in doing this diet long enough to see the many benefits. But even with the best low-carb ketogenic recipes sometimes additional help is needed.

This is when we also encourage you to have the right supplements to help you get and stay in ketosis. Because when you have the right tools the keto diet becomes easier.
Perhaps you've struggled to get into ketosis consistently on your low-carb keto diet, or you've hit a plateau that doesn't seem to budge, consider using Perfect KETO's bundle to assist you. It's a great way to see the benefits sooner rather than later.
You'll learn how to elevate your ketones naturally enter into ketosis more quickly. Being at a deeper level of ketosis will help reduce your appetite, carb cravings, and give you lasting energy. These are the things you want to see happen as they make this diet sustainable and it's why we recommend them.
Perfect Keto has offered our readers a 15% discount on their products. Simply use this link and the code FITTOSERVE at checkout.
Feel free to reach out to us with any of your questions we would be happy to assist you.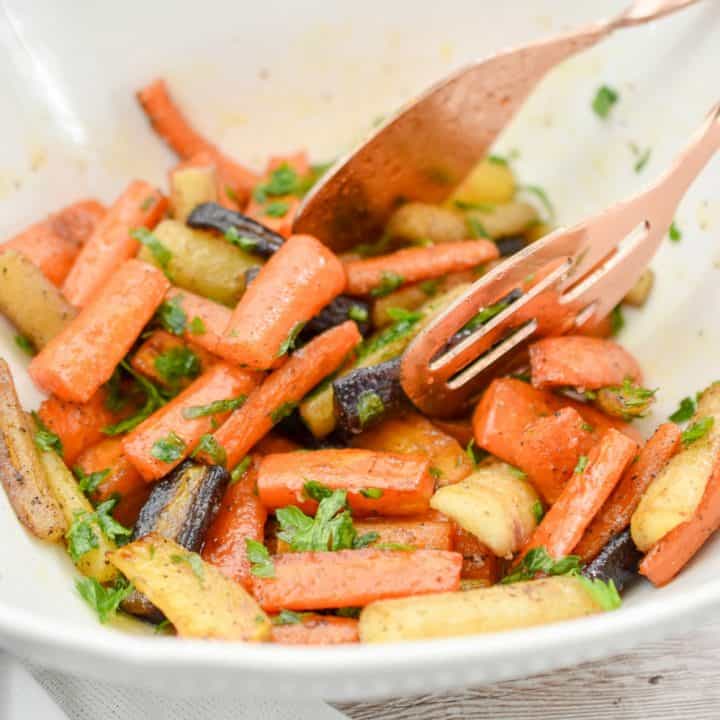 Keto Roasted Glazed Carrots
Additional Time:
5 minutes
These delicious keto roasted glazed carrots make the perfect side dish for the holidays. They are much lower in carbs than the traditional glazed carrot dish yet just as delicious.
Ingredients
6 medium carrots about 1 pound total ( I opted to use multi-colored carrots​ but you can use what you prefer.
2 tablespoons of extra virgin olive oil
1/2 teaspoon of sea salt
1/2 teaspoon of freshly cracked black pepper
3 tablespoons of freshly chopped flat-leaf parsley for garnish
Carrot Low Carb Glaze
4 tablespoons of unsalted butter
Instructions
Pre-heat oven to 475-degrees.
Wash, dry and trim the carrots.
Chop the carrots both length-wise and then into 1 1/2 inch pieces. Ensure that the pieces are cut as uniformaly as possibe as this will ensure the roasting is even. Otheriwise some carrots will take longer than others.
In a large bowl toss the chopped carrots with olive oil, salt and pepper. Make sure to coat the carrots evenly in the olive oil.
Then spread the carrots on a large cookie sheet and place on the top rack of your oven.
You are going to roast your carrots for 20-25 minutes but at the 15 mark flip your carrots so that they are roasting evenly.
Cook your carrots until tender then turn off the oven and transfer the carrots to a serving bowl.
Next you will prepare the glaze on the stove top.
Using a skillet melt your butter and sugar substitute using a wooden spoon to stir the glaze at medium-high heat.
Allow the glaze to cook for about 5 minutes or until the sugar-substitute dissolves completely.
Once the your glaze is done add the sauce to the carrots and gently toss.
Garnish the top of the carrots with the finely chopped parsley and serve.
Store any leftovers in the refrigerator for up to three days.
Nutrition Information:
Yield:

10
Serving Size:

1
Amount Per Serving:
Calories:

85
Total Fat:

7.4g
Saturated Fat:

3.3g
Cholesterol:

12mg
Sodium:

95mg
Carbohydrates:

3.9g
Net Carbohydrates:

3g
Fiber:

0.9g
Sugar:

1.8g
Protein:

0.4g