These keto pecan chocolate chip cookies make a delicious and healthy treat that is just as flavorful as its traditional counterpart.
At only 2.4 g net carbs per serving, these are sugar-free chocolate chip pecan cookies that can silence your sweet tooth.
What's more, these are also gluten-free chocolate chip cookies!
It's a fantastic option for anyone on a keto diet looking for a sweet treat that won't spike their blood sugar levels.
The best part is that even if you are not following a keto lifestyle, these decadent cookies can be part of your cookie-making family traditions since everyone will embrace them.
Be sure to check out our entire collection of Keto Cookies. for more tasty recipes.
And if you're a fan of chocolate chip cookies with a chewy texture, check out our recipe for Keto Soft-Baked Chocolate Chip Bars.
Keto Pecan Chocolate Chip Cookies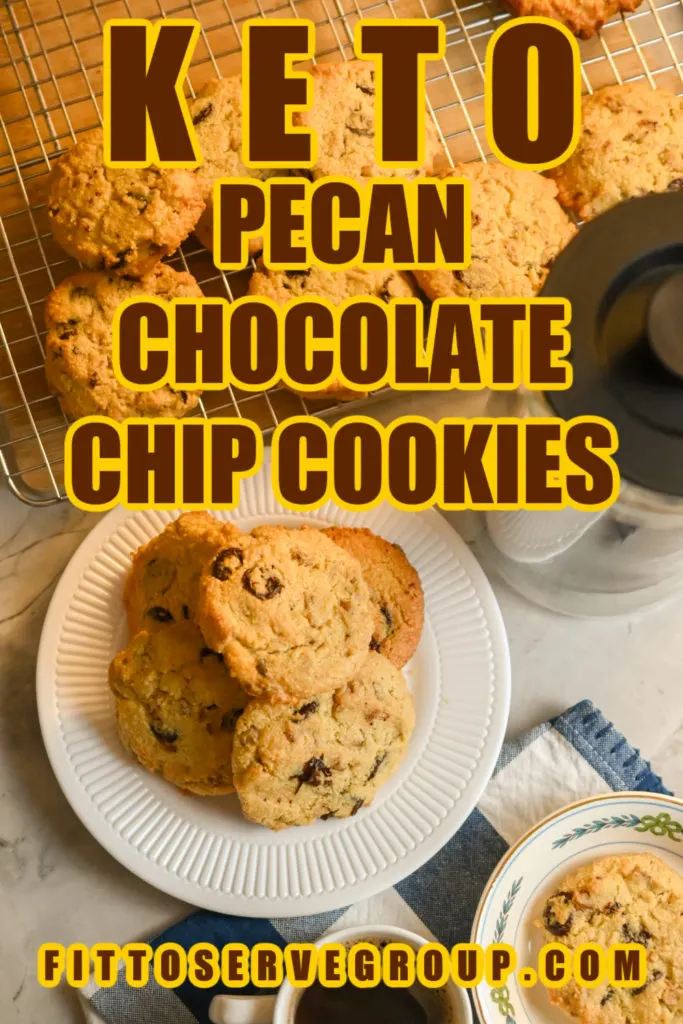 Made with a combination of almond flour & coconut flour and a little gelatin powder, these low carb cookies are crispy on the outside and slightly chewy on the inside.
Your cookie cravings will be quenched with this easy recipe, making them the perfect treat!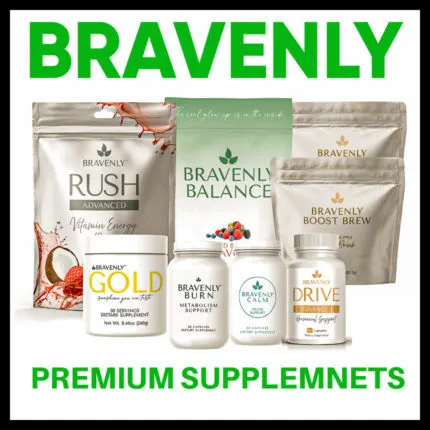 This recipe was inspired by our popular keto chocolate chip cookies which feature walnuts but have the same texture.
Like our low carb chocolate chip cookies, they are a great way to add healthy fats to your diet.
Ingredients & Tools Needed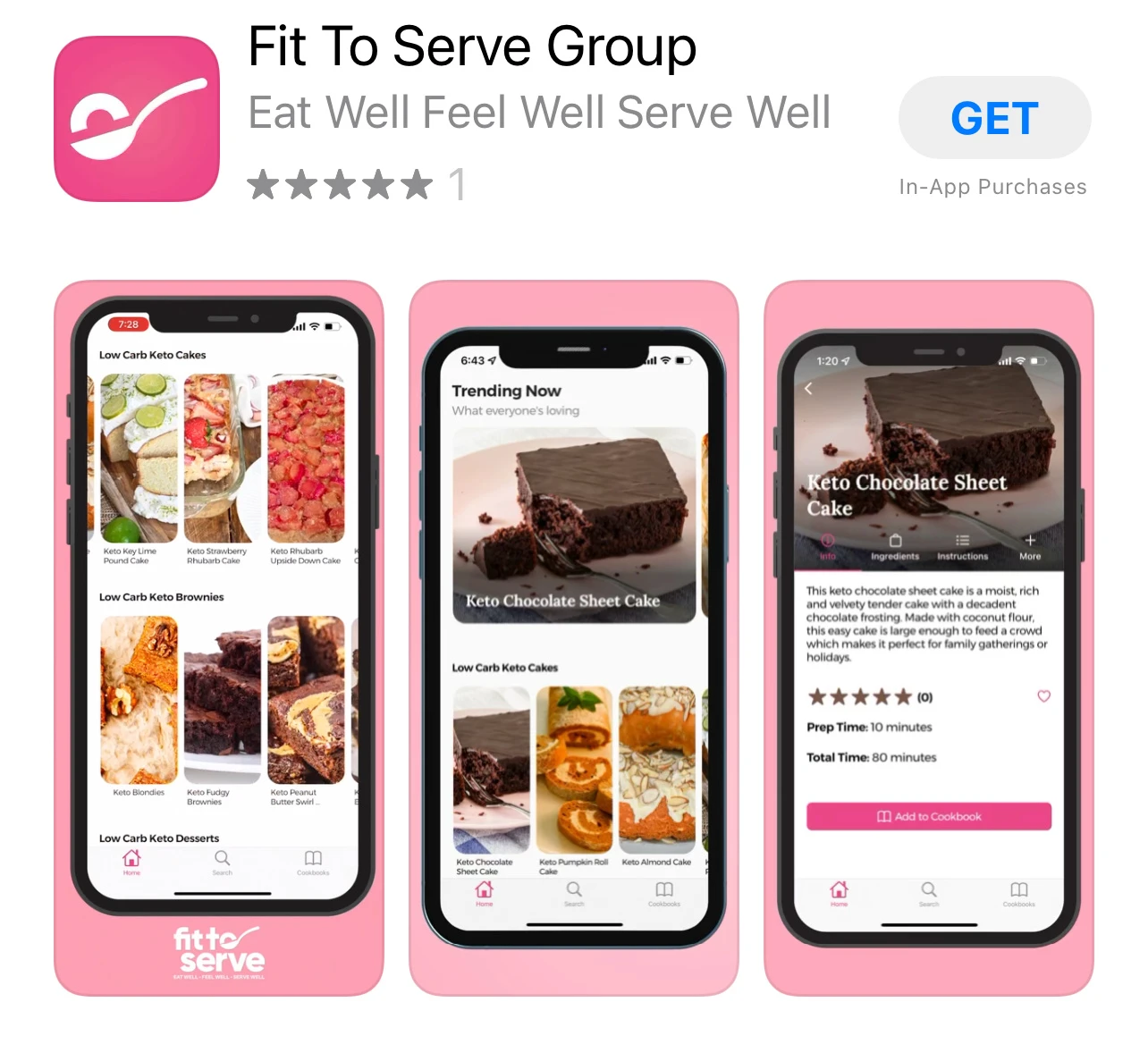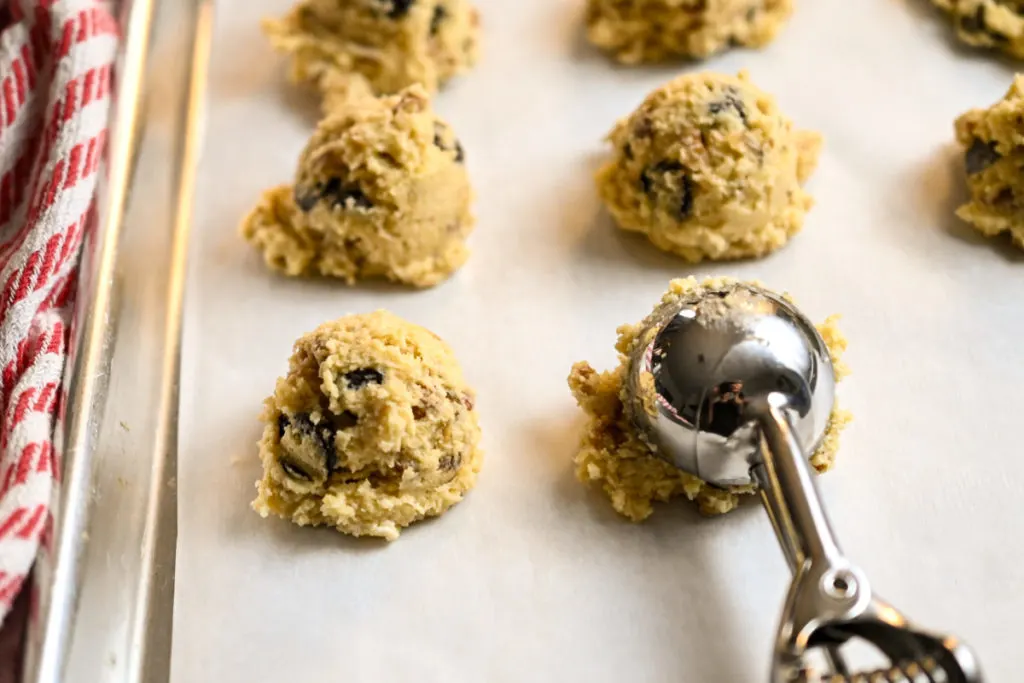 Disclosure: Some of the links below are affiliate links, meaning that at no additional cost to you, I will earn a commission if you click through and make a purchase.
The following are all the ingredients you'll need for these sugar-free cookies. Note that the full printable recipe card with the exact measurements and nutritional data is at the bottom of the page.
Unsalted butter, room temperature
Eggs, room temperature
Vanilla extract
Chopped pecans
Gelatin powder is added for a chewier cookie
Sugar-free maple syrup added to enhance the flavor and texture of the cookies
Sea salt
Tools
Cookie sheets
Parchment paper
Large Bowl
Electric mixer or stand mixer
Silicone spatula
Cooling rack
How To Make Keto Pecan Chocolate Chip Cookies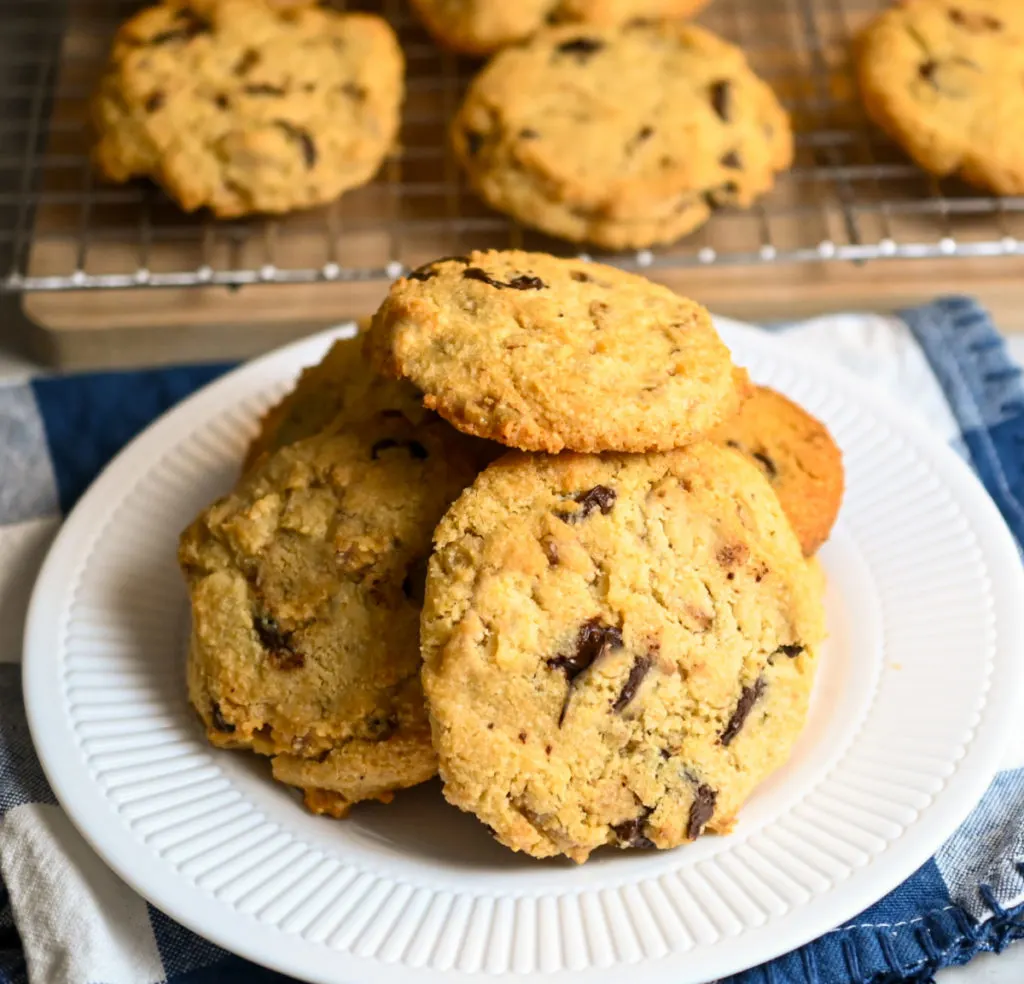 Creating this recipe is quite simple.
To start, cream softened butter, sugar-free sweeteners, and sugar-free syrup in a large bowl using either an electric mixer or a stand-up mixer. Ensure that it is thoroughly combined to achieve the perfect texture.
Next, add the eggs one at a time, beating well after each addition. Sprinkle gelatin powder into the cookie dough and mix it well.
After that, add the dry ingredients—the almond flour, coconut flour, baking powder, and salt to the wet ingredients. Mix well.
Then, add sugar-free chocolate chips and chopped pecans to the mixture and fold them in.
Drop the cookie dough onto a baking sheet using a small cookie scoop or by tablespoons, ensuring that they are spaced evenly, about 2 inches apart. Slightly flatten the cookies to achieve the desired shape.
Bake the cookies for 12 to 15 minutes in a preheated 350-degree oven, or until they turn golden brown in color. Once baked, allow them to cool on a baking rack before serving.
If there are any leftovers, store them in the refrigerator in an airtight container for up to 5 days or freeze them for up to 3 weeks. This will ensure that the cookies remain fresh and can be enjoyed later.
Best Keto Sweetener Options
This recipe uses a combination of sugar substitutes, both a white granulated monkfruit sweetener and a brown sugar substitute.
My top choice for a white granulated sweetener is a monk fruit/erythritol blend, Lakanto, but you can also use Swerve, an erythritol sugar substitute.
You could also use the stevia and erythritol-based brand Pyure. However, if using Pyure, you will want to use half the amount called for in this recipe since it's a much sweeter choice.
Regarding what brown sugar substitute to use, I recommend Swerve's Brown Sugar or Sukrin Gold.
I find that these two brands have the best texture for when you want chewy keto chocolate chip cookies.
The brown sugar substitute gives a depth of flavor that you would otherwise miss, so I wouldn't omit it if you want to ensure the same results.
Best Sugar-Free Chocolate Chips
When choosing which chocolate chips to use, I love Lily's semi-sweet chocolate chips for their lovely chocolate flavor and melting point.
If you prefer a more intense chocolate flavor, you could also use Lily's dark chocolate chips. Either one works beautifully and gives consistent results.
But if you can't get your hands on Lily's Chocolate for this keto recipe, you can also use Hershey's sugar-free chocolate chips.
Pecan Keto Chocolate Chip Cookie Dough
To achieve the perfect flavor and texture for these keto cookies, I decided to use a combination of both almond and coconut flour. It's something I learned as I mastered keto baking.
I also added a tablespoon of gelatin powder to the cookie dough to give the cookies a chewy structure, which worked perfectly.
In addition to these ingredients, I added a secret ingredient that I believed would enhance the flavor of these low-carb cookies. Can you guess what it is?
Well, I added a tablespoon of sugar-free maple syrup to create a brown sugar flavor profile without the extra carbs from molasses.
This turned out to be an excellent choice and made a massive difference in creating the perfect keto pecan chocolate chip cookie flavor.
Tag Us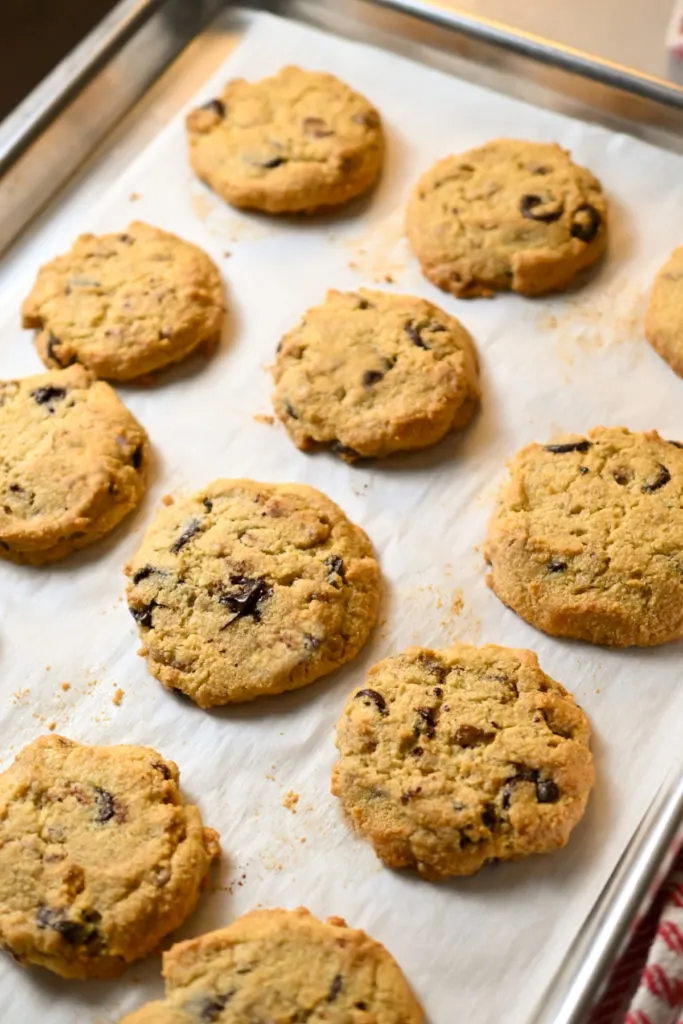 I sure hope you will give this recipe a try.
Once you do, remember to tag us on Instagram and Facebook. It's what keeps this girl encouraged to keep sharing and perfecting her recipes.
Do you know what goes fabulously with this recipe? My favorite nootropic coffee supplement. It's a cup of coffee that gives you clean energy and pairs well with this recipe.
Grab Our Books!
In case you don't know, I have authored two books for you, Essential Keto Bread and Essential Keto Desserts, both inspired by your requests over the years.
I pray these keto cookbooks will help make keto a delicious breeze for you.
Join Our Jesus And Keto Movement
Looking for an online support system to help you stay the course on keto? As a family, we came to the keto diet, looking at it from a Christian perspective. As believers, we live our lives supported by God's grace.
So when the Holy Spirit led us to combine our Christian faith and the keto diet, we did so in hopes of finding lasting transformation.
Following the Holy Spirit's prompting, we got on the path to real transformation.
Knowing firsthand the benefits of this decision, we have created a closed Christian group using the keto diet to transform their lives.
We invite you to join our Private Facebook Group and see if it's not the key you've been missing.
Be sure to request our FREE Jesus and Keto E-Book (First 7 Days). We hope it blesses you.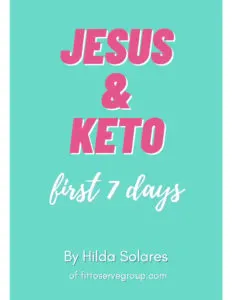 Fittoservegroup Keto App
Looking for a fast way to access our keto recipes? We've got you covered. There's an app for that. Yup, there's a Fit To Serve Group App that will make your keto diet a delicious breeze!
Access hundreds of recipes that are all sugar-free, gluten-free, and keto-friendly.
Enjoy early access to recipes before they go live on the website, plus bonus recipes that are exclusive to the app. Make your own personal cookbooks that you can use to organize your favorite recipes.
Search recipes by title, ingredients, keywords, and categories; of course, every recipe shows complete nutritional facts.
Get the Fit to Serve Group App for easy-to-follow keto recipes made with easy-to-source ingredients.
The app is loaded with hundreds of yummy recipes for breakfast, lunch, dinner, snacks, and even desserts!
Learn more by visiting our Fit To Serve Group App Page.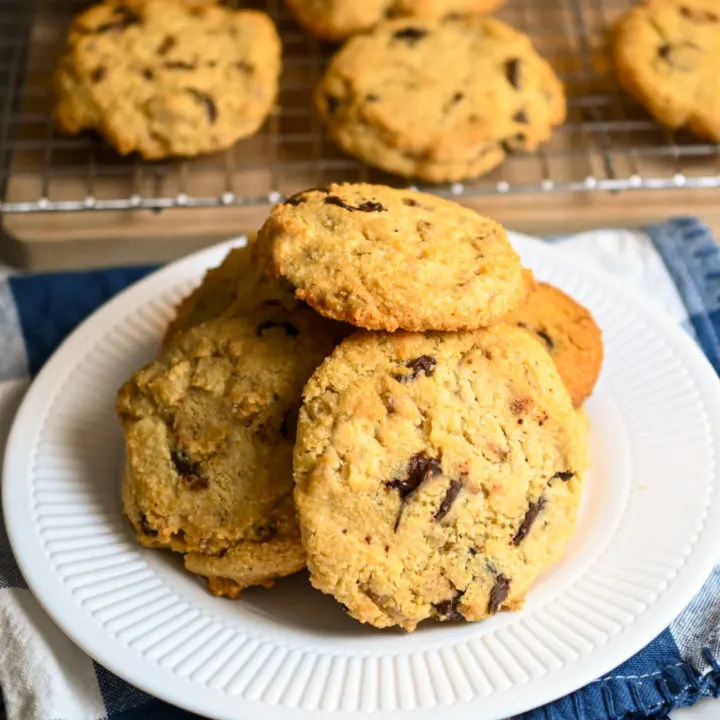 Keto Pecan Chocolate Chip Cookies
Additional Cooling Time:
20 minutes
These pecan chocolate chip cookies have all the goodness of a traditional chocolate chip cookie recipe with the indulgent addition of pecans. They are soft, chewy, and oh-so-delicious.
Ingredients
3/4 cup unsalted butter, at room temperature
1/2 cup golden or brown granulated erythritol-monk fruit blend
1/2 cup granulated erythritol-monk fruit blend
1 tablespoon sugar-free maple syrup
1 teaspoon of vanilla extract
2 large eggs
1 tablespoon unflavored gelatin powder
2 cups finely milled almond flour, sifted
1/4 cup coconut flour
2 teaspoons baking powder
1/4 teaspoon salt
4 ounce sugar-free chocolate chips
1 cup chopped pecans
Instructions
1. Preheat the oven to 350°F. Line a baking sheet with parchment paper and set aside.
2. In a large bowl, beat the butter, both sugar substitutes and sugar-free syrup and vanilla extract until light and fluffy. Add the eggs, one at a time, mixing well after each addition. Sprinkle in the gelatin powder and combine well.
3. Mix in the almond flour, coconut flour, baking powder, and salt. Fold in the sugar-free chocolate baking chips and pecans.
4. Drop the dough by heaping tablespoons onto the prepared baking sheet and space evenly about 2 inches apart. Flatten the cookies slightly.
5. Bake for 12 to 15 minutes, until golden. Cool on a baking rack before serving. Store any leftovers in the refrigerator for up to 5 days or freeze for up to 3 weeks.
Nutrition Information:
Yield:

16
Serving Size:

1
Amount Per Serving:
Calories:

253
Total Fat:

10.2g
Saturated Fat:

7.4g
Cholesterol:

48mg
Sodium:

78mg
Carbohydrates:

4.5g
Net Carbohydrates:

2.4g
Fiber:

2.1g
Sugar:

10g
Protein:

4.2g