These keto almond butter cookies use both almond butter and almond flour for the perfect gluten-free almond butter cookies! They are low in carbs and grains, gluten-free, and flat-out delicious.
Made with simple, wholesome ingredients, these almond flour almond butter cookies are sure to satisfy your sweet tooth without derailing your diet.
Whether you're following a low-carb diet or just looking for a healthier alternative to traditional cookies, these almond butter cookies are sure to hit the spot.
What's more, at only 2.4 g net carbs, these cookies will not spike your blood sugar. Winning!
Be sure to visit our Keto Cookie Recipes, which any cookie lover would enjoy exploring.
Since these are almond flour cookies, I recommend you visit our keto almond flour recipes for more delicious options.
Keto Almond Butter Cookies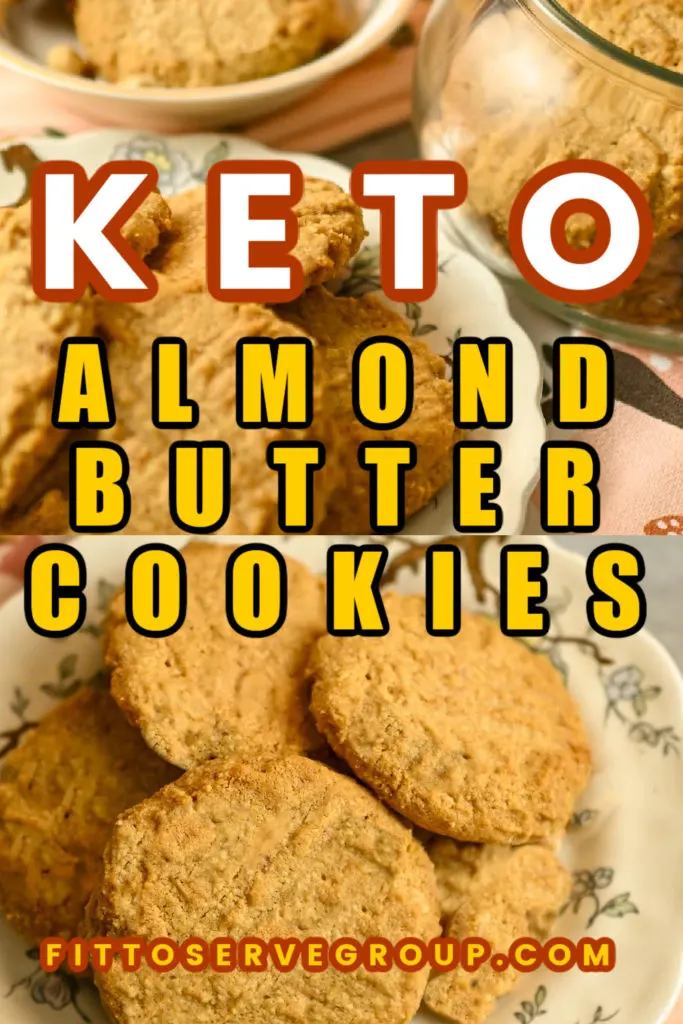 This recipe for low-carb almond butter cookies was inspired by our very popular keto peanut butter cookies.
It's a twist on traditional peanut butter cookies! A sweet treat you will be proud to serve your entire family, even if they are not on a ketogenic diet.
By swapping the peanut butter for almond butter, it created a rich, delicious option that is perfect for almond lovers.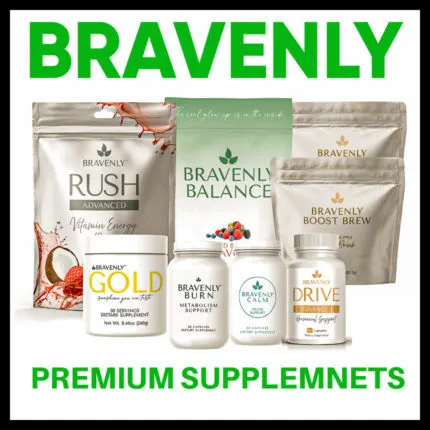 Almond Flour Ingredients And Tools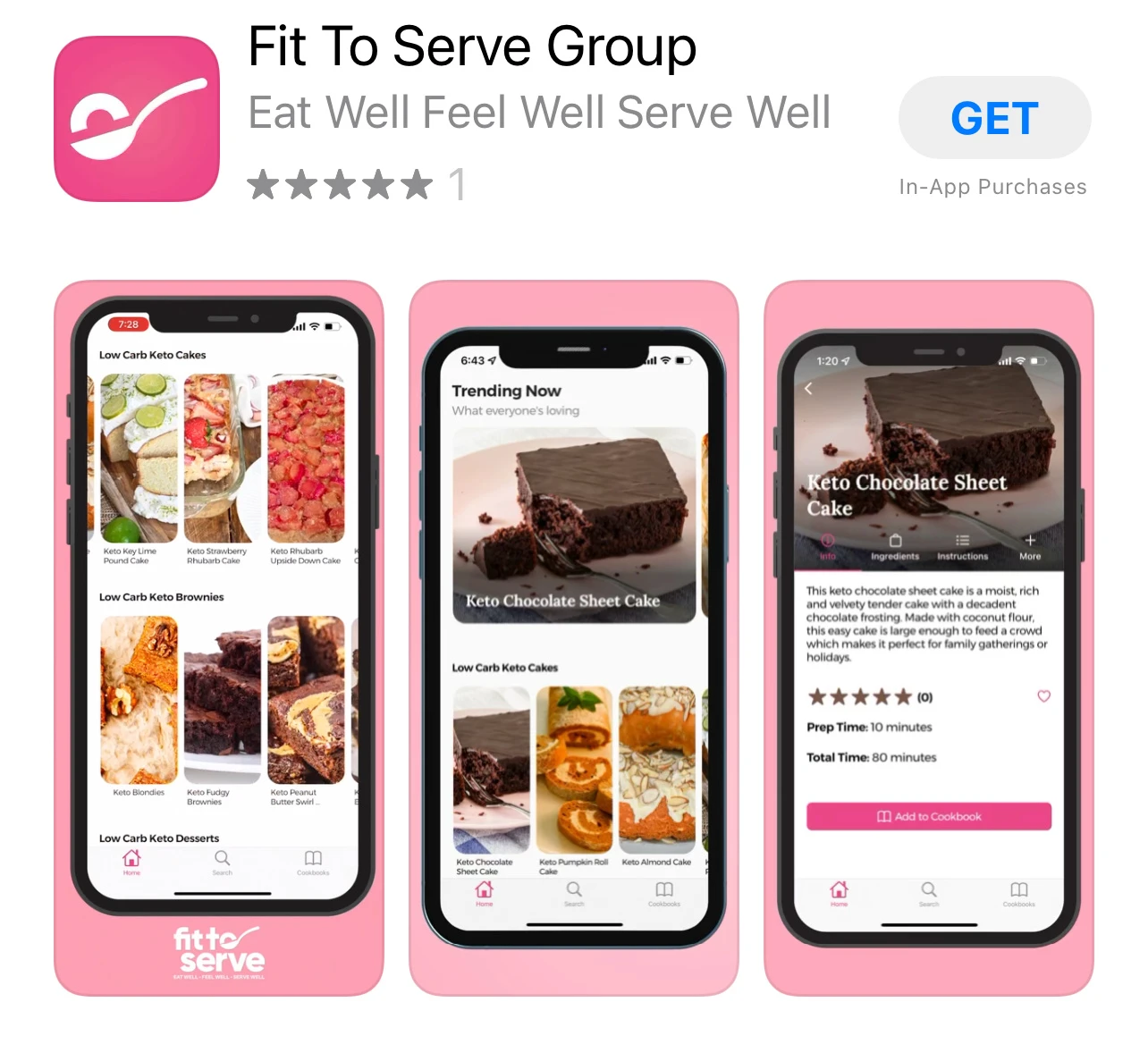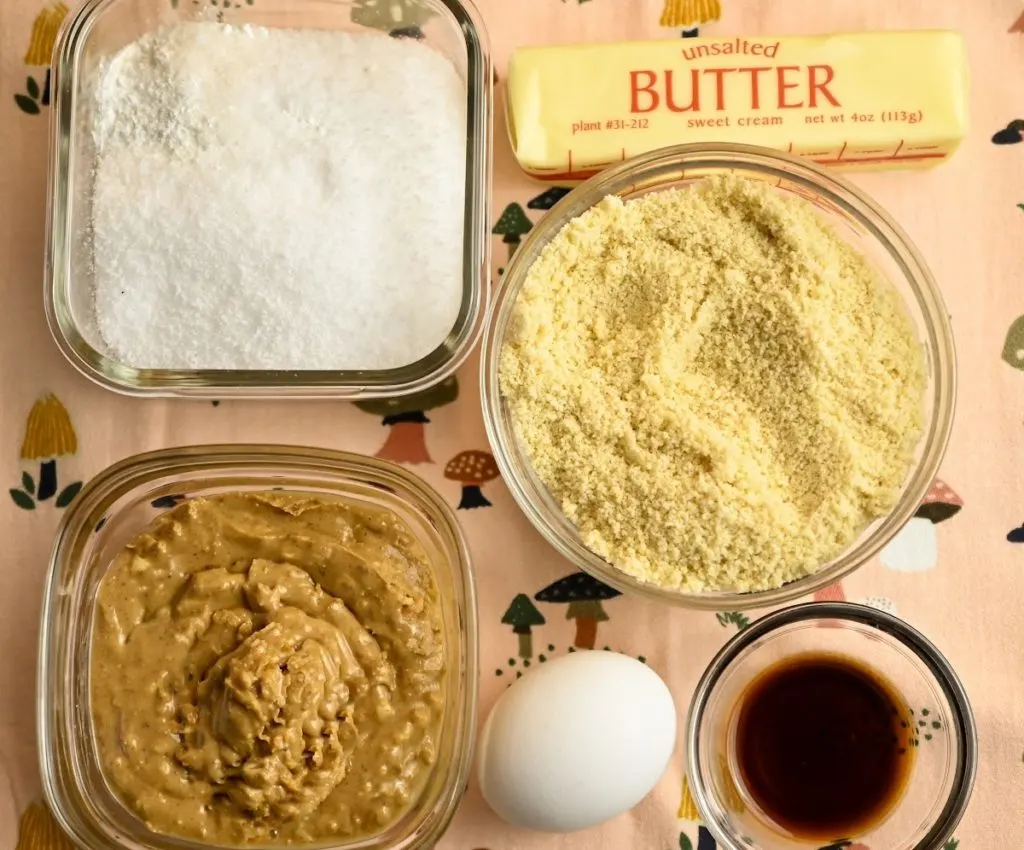 Disclosure: Some of the links below are affiliate links, meaning that at no additional cost to you, I will earn a commission if you click through and make a purchase.
The following are the simple ingredients and tools you'll need to make these low carb almond butter cookies. Note that the full printable recipe card is at the bottom of the page.
Unsalted, softened butter
Large egg, room temperature
Baking powder
Sea salt
Vanilla extract
Almond extract
Mixing bowl
Cookie sheet
Small cookie scoop or tablespoon
Best Sugar-Free Sweeteners For Sugar-Free Almond Butter Cookies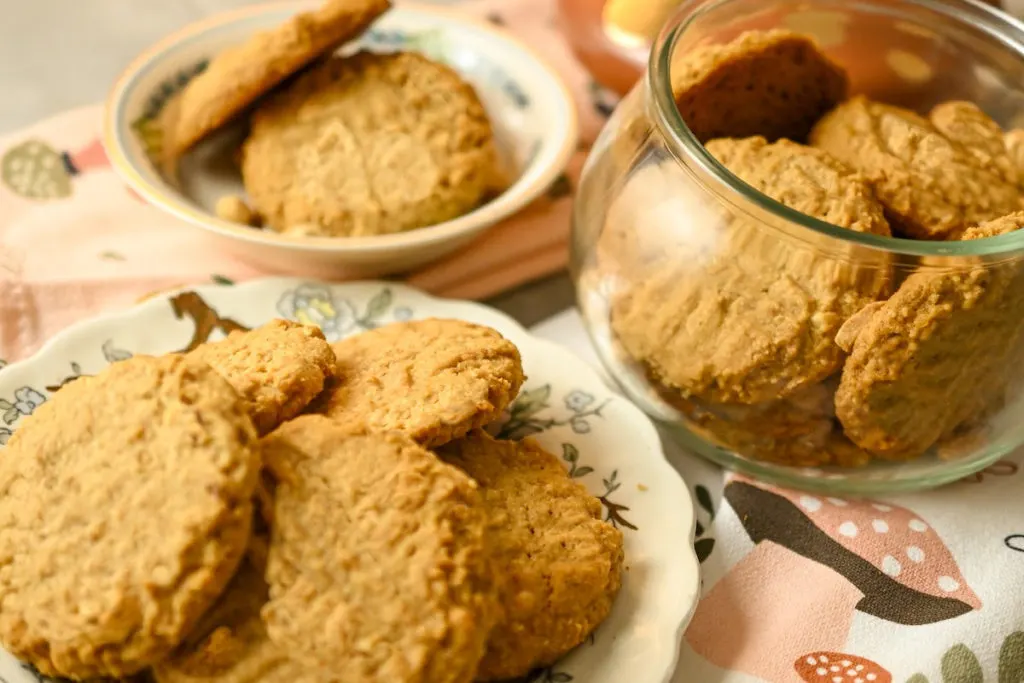 When it comes to choosing a sugar-free sweetener for these low carb cookies, any of your favorite equivalents will work. Just keep in mind that they have varying degrees of sweetness.
Some sugar substitutes measure cup for cup, while others are not as sweet as sugar and would require more in order to get the same level of sweetness.
If you are regular on our site, you know by now that I'm a huge fan of Lakanto Monk Fruit Sweetener.
This is because the texture of Lakanto is spot-on since there is barely any aftertaste.
It is a monk fruit and erythritol blend. If you have not given this all-natural sweetener a try, you have no idea what you are missing.
That being said, I'm also partial to Swerve, another erythritol blend. It works well in this recipe and is a great choice if you are looking for a sugar substitute that has no bitter aftertaste and measures just like sugar.
Swerve is made from ingredients found in select fruits and starchy root vegetables and contains no artificial ingredients, preservatives, or flavors.
Like Lankanto, Swerve has a 0% impact on blood sugar. I know some of you are stevia fans; if that's you, you can use the stevia and erythritol-based brand Pyure in this recipe.
However, it's important to note that if you are using Pyure, you will want to use 1/2 the amount called for in this recipe since it's a much sweeter option.
Lastly, if you cannot easily find a more natural sugar substitute, you can also use Splenda with great success. You will want to use Splenda, which has a bulking agent. It's the one that comes in larger bags.
For more information on the best sugar substitutes to use on the keto diet, be sure to check out our guide.
How To Make Perfect Keto Almond Butter Cookies
With very little prep time, you can enjoy these easy almond cookies.
You'll begin by preheating the oven to 350 degrees and preparing the cookie sheet by lightly greasing or lining the baking tray with parchment paper.
Then, using an electric mixer, you'll combine the almond butter with the butter, sugar substitute, vanilla extract, almond extract, and egg.
Next to the wet ingredients, you'll add the dry ingredients: almond flour, baking powder, and salt. Beat the mixture until fully incorporated.
Once the cookie dough is ready, drop by the tablespoon or small cookie scoop of dough to form little dough balls and place them on the prepared cookie sheet.
Using your fingers, slightly flatten the cookies.
Next, bake them in the 350-degree oven until golden brown around the edges, for about 10–12 minutes.
Last but not least, allow the almond butter keto cookies to cool completely before eating and storing, as these cookies can be fragile until fully cool.
Store leftovers in an airtight container in the refrigerator for up to five days or freeze for up to three weeks for best results.
Keto Baking
Can I tell you that when I first started baking with low-carb ingredients, I struggled? That's because keto baking can be a bit overwhelming.
There are just so many ingredients that simply do not behave exactly like their high-carb counterparts. Frankly, it was frustrating.
Especially since I was an experienced baker who was used to baking with her eyes closed. It was enough to make me want to throw in the towel.
Today, I understand keto baking, but that was not always the case.
Trust me, those first attempts were epic failures. So stay the course, because the satisfaction of knowing you are not only making something delicious but healthy is quite rewarding.
Tag Us
I sure hope you will give this keto almond butter cookie recipe a try. Once you do, make sure you remember to tag us on Instagram and Facebook.
It's what keeps this girl encouraged to keep sharing and perfecting her recipes.
Do you know what goes fabulously with this recipe? My favorite nootropic coffee supplement. It's a cup of coffee that gives you clean energy and pairs well with this recipe.
Also, check out our Amazon Store for our recommendations. You might be surprised by how many great keto options are at your disposal.
Grab Our Books & Recipe Keto App
In case you don't know, we have authored two books for you, Essential Keto Bread and Essential Keto Desserts, both inspired by your requests over the years.
It's my prayer these keto cookbooks will help make keto a delicious breeze for you. Gain access to simple and delicious recipes for breakfast, lunch, dinner, snacks, and even desserts with our FITTOSERVEGROUP APP.
Join Our Jesus And Keto Movement
Looking for an online support system to help you stay on keto? As a family, we came to the keto diet, looking at it from a Christian perspective.
As believers, we live our lives supported by God's grace. Knowing firsthand the benefits of this decision, we have created a closed Christian group that is using the keto diet to transform their lives.
We invite you to join our Private Facebook Group and see if it's not the key you've been missing. Be sure to request our FREE Jesus and Keto E-Book (First 7 Days). We hope it blesses you.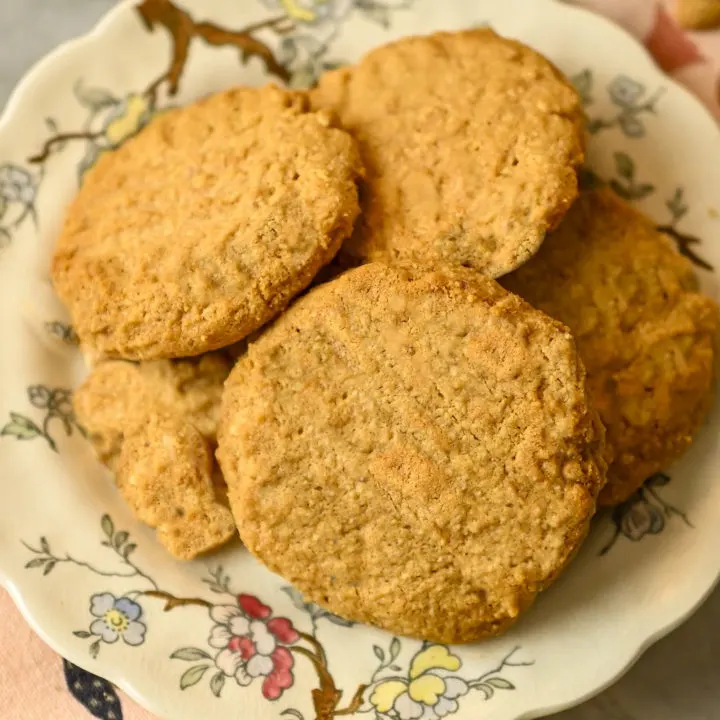 Keto Almond Butter Cookies
Ingredients
½ cup of unsalted softened butter
1 egg, room temperature
1 teaspoon of baking powder
½ teaspoon sea salt
1 teaspoon of vanilla extract
1 teaspoon of almond extract
Instructions
Preheat the oven to 350 degrees.
Prepare the cookie sheets by lightly greasing or lining them with parchment paper.
In a medium-sized bowl, using an electric mixer, beat well the almond butter, softened butter, sugar substitute, vanilla extract, almond extract and egg.
To this wet mixture, add almond flour, baking powder, and salt. Stir the mixture with the electric blender until fully incorporated.
Then, drop by the tablespoon or use a small cookie scoop of dough to form little balls and place them on the prepared cookie sheets.
Once the dough balls are on the cookie sheet, slightly flatten the almond butter cookies.
Bake the cookies in the oven until they are lightly brown around the edges, about 15 minutes.
Allow the cookies to cool completely before eating and storing, as these cookies can be very fragile until they fully cool and set.
Store leftovers in the refrigerator for up to five days or freeze for up to 3 weeks.
Nutrition Information:
Yield:

16
Serving Size:

1
Amount Per Serving:
Calories:

185
Total Fat:

15.3g
Saturated Fat:

5.3g
Cholesterol:

60mg
Sodium:

100mg
Carbohydrates:

3.7g
Net Carbohydrates:

2.6g
Fiber:

1.1g
Sugar:

3g
Protein:

5.1g