Keto Citrus Custard, A 3 Ingredient Low Carb Dessert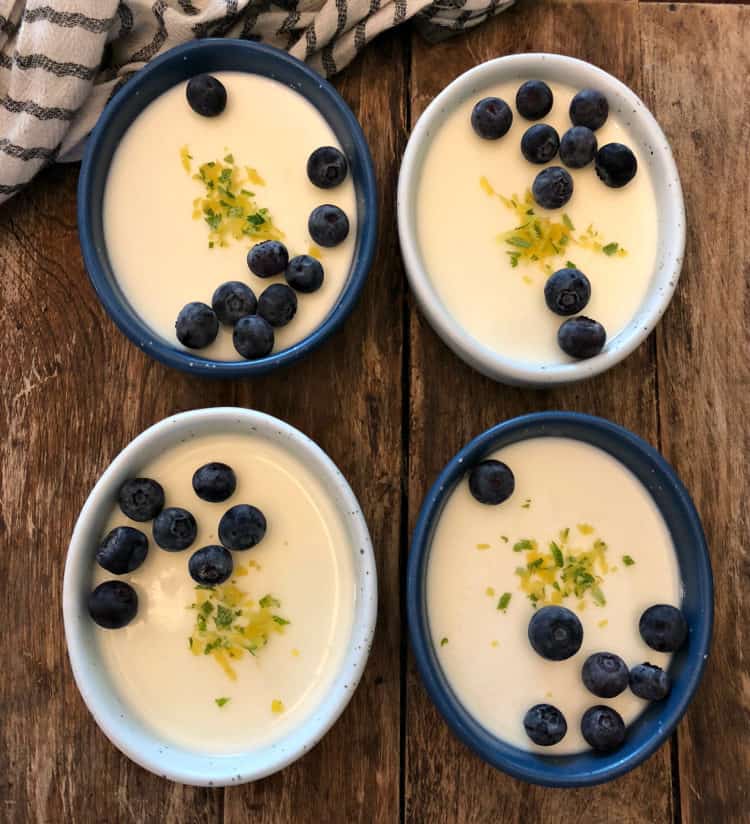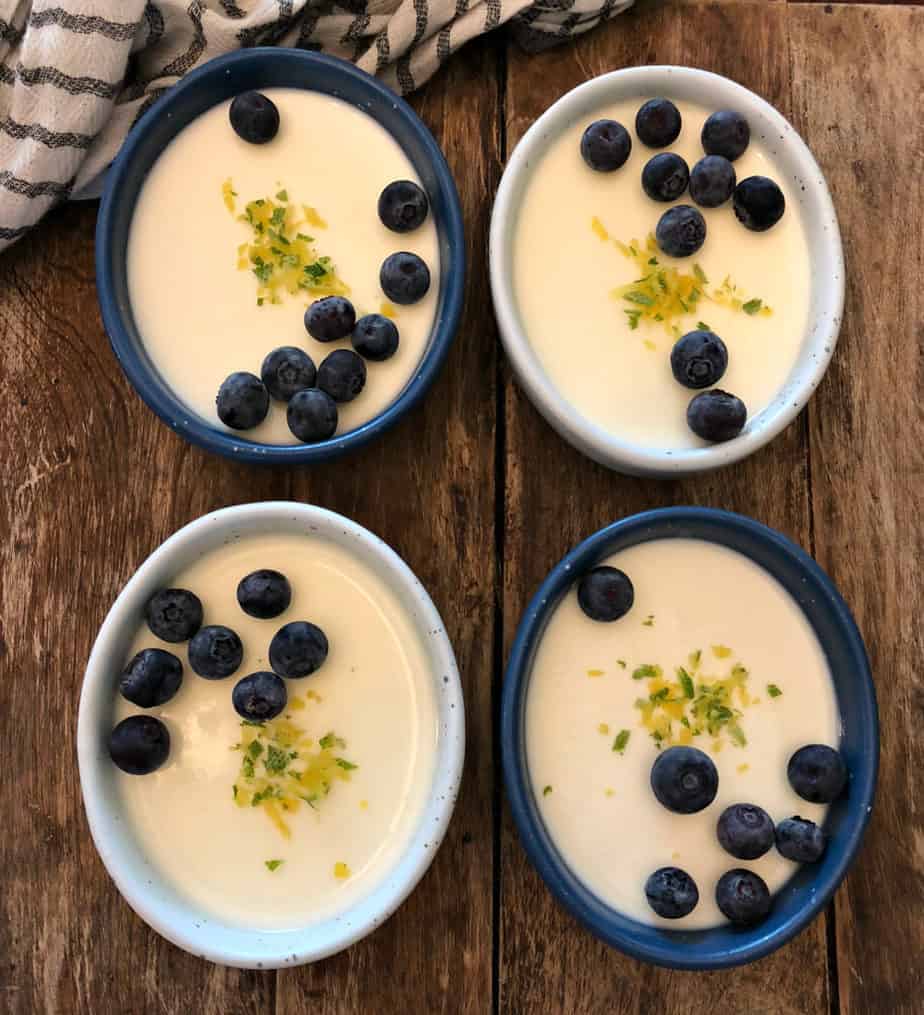 It's a Keto citrus custard that's made with only three basic ingredients. Thickened without the need of eggs or cornstarch it makes for a great keto option.
Up until the other day I had no idea what a posset was. Frankly, the name didn't sound very appealing. Come to find out that it's a rich British citrus custard dessert. One that has been enjoyed for many centuries.

Hmmmm, could this odd sounding dessert become a keto citrus custard? I of course had to find out. After all, converting classic recipes into keto friendly options is something I am pretty passionate about.
Let's just say I became very curious when I realized that you only need a handful of ingredients to create a rich creamy custard. What's more there was no need for traditional thickeners like eggs or custard.
Just these two things reassured me that a keto citrus posset was probably very possible.
Posset Is A British Classic Custard Dessert
The whole thing sounded pretty amazing and I got over the strange name rather quickly once I started to research the recipe a little deeper.
But how did the posset not need any thickeners to make the custard? I mean it doesn't even use egg yolks! Well, it seems that it's just a little basic science at work.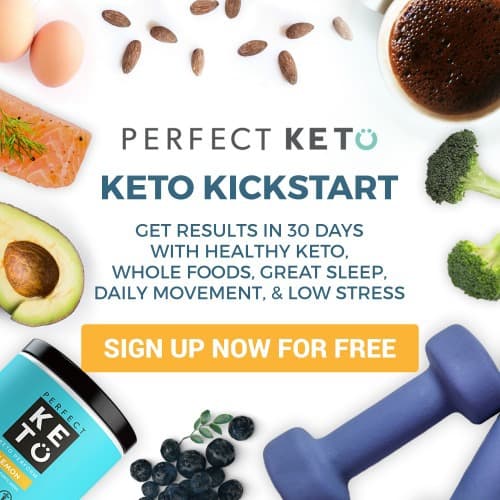 In my quest to see if I could truly convert a classic posset into a keto citrus posset I came across Cook's Illustrated's article.
I love how they shared their process of making this classic favorite and explained beautifully the science behind it's success.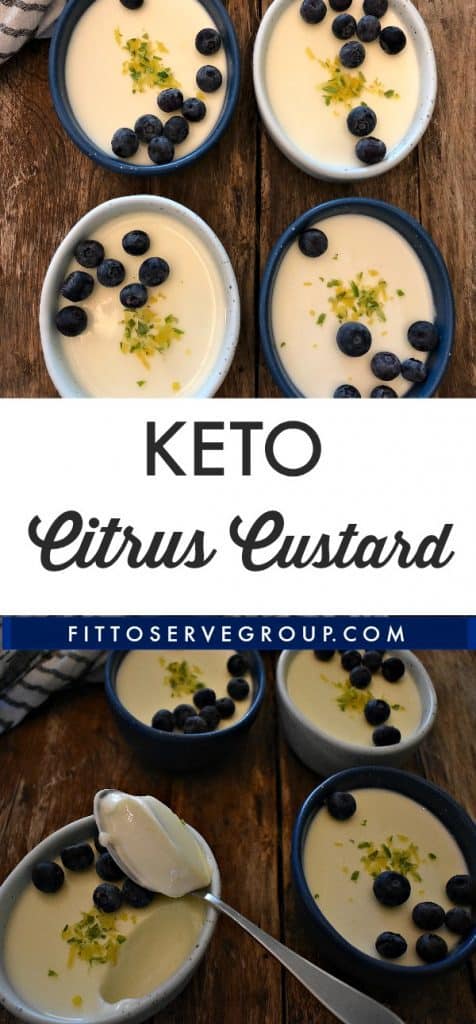 Here is an excerpt from Cook's Illustrated
The article does an amazing job explaining the science at work.
Cook's Illustrated: When acid is added to milk (or when milk turns sour over time), the change in pH causes the milk's casein proteins to lose the negative charge that ordinarily keeps them separate.

Instead, they bond together in clusters, and the milk becomes grainy, or curdled. When acid is added to cream—which is a more viscous liquid than milk, thanks to its smaller amount of water and greater amount of fat (at least 36 percent fat as opposed to whole milk's 3.25 percent)—the effect is different.

The fat in cream outweighs the casein proteins 10 to 1 (in milk they are about equal) and so interferes with the proteins' ability to form tight curds.

As a result, a smooth, creamy consistency develops instead of a grainy one. Heating the cream for posset also has an effect: It causes the whey proteins in the dairy to unwind and attach themselves to the casein molecules and so helps stabilize the gelled liquid.

Didn't I tell you that Cook's Illustrated did a marvelous job explaining the science behind this classic dessert?
Transforming Posset (Custard) Into A Keto Option
When I realized that keto citrus custard (posset) uses heavy whipping cream rather than milk for the custard, I instinctively felt that a keto option was not only possible but about to step into my life and make things just a little more magical.
The basis of this type of custard is very simple. Just heat the heavy whipping cream and sugar (in our case sugar-substitute) until it lightly boils and allow the sugar (sugar sub) to completely dissolve.
Once the mixture reduces you can add your citrus of choice and allow the mixture to congeal into a velvety smooth keto citrus custard masterpiece.
Most of the posset recipes I saw used lemon juice. You can basically use any form of citrus that is sour enough. So true to my nature I thought I would experiment by using a combination of three citrus flavors.
I knew in order to make a great keto citrus custard posset I would have to get the cream, citrus juice and sugar substitute ratios perfect.
Allowing the cream and sugar substitute to reduce sufficiently before adding the citrus juice would also prove to be vital to the success of converting posset to be keto-friendly.
Love the flavor of citrus? Perhaps you would also enjoy my Keto Lemon Curd recipe and my Keto Lemon Cookies
In Conclusion
All I can say is that my experimenting in the kitchen paid off. As a result of my willingness to keep converting classic recipes to fit into the life of those who adhere to a low carb keto diet, a keto custard was birthed.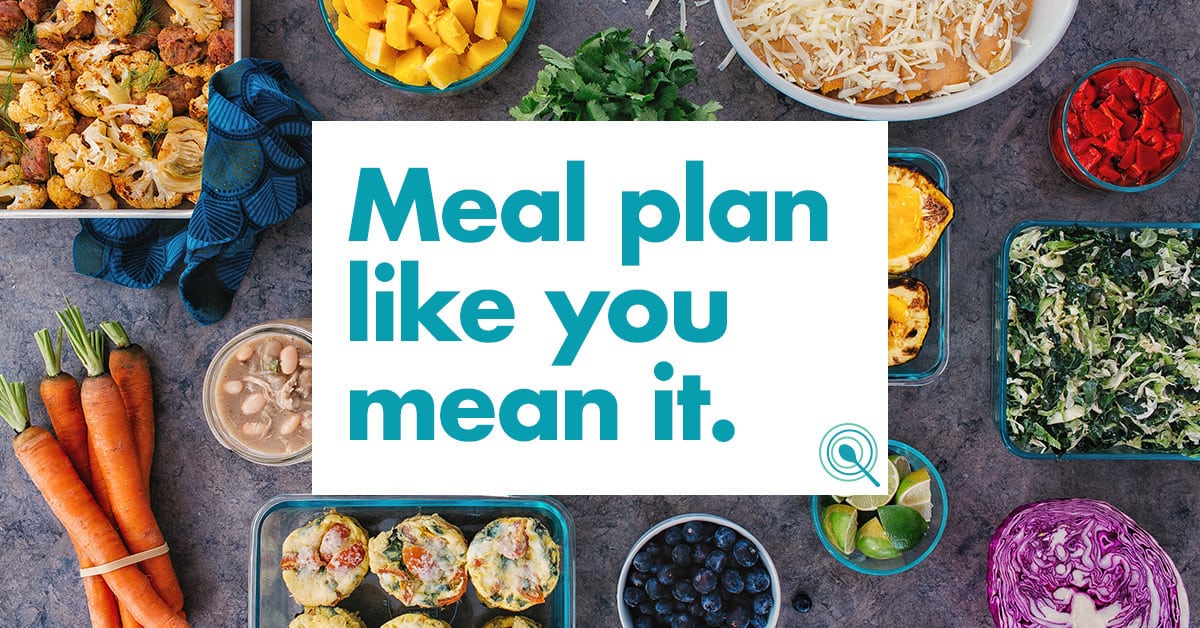 I sure hope you give this simple yet delicious recipe a try and share with me your thoughts.
How about you, had you ever heard of posset? If so, share with us your first memory of having had it and if you are excited to have a keto option.
Ketone Testing
If you are wanting to do a keto diet effectively, don't forget to test your ketone levels. Although ketone strips work well initially, the Gold standard is the blood ketone test.This test is taken just like the glucose test that diabetics use to track their sugar levels.
After 10 seconds the ketone meter will give you an accurate reading. Testing is not necessary in order to do a ketogenic diet, but it can serve as a powerful tool to track your ketone levels and help you see your ketosis progress.
Please feel free to reach out to us to assist you in any way.  our desire to see you succeed.
Please feel free to reach out to us to assist you in any way. It's our desire to see you succeed.
Rich Keto Citrus Custard (Posset)
Keto Citrus Custard
---
Hilda Solares
Yields 4
A Keto citrus posset recipe. It is a conversion of the classic British custard recipe called posset.
10 minPrep Time
6 hrCook Time
6 hr, 10 Total Time
Ingredients
2 ½ cups of heavy whipping cream
1/2 cup of sugar substitute (I used Swerve)
4 tablespoons of lemon juice
2 tablespoons of lime juice
½ teaspoon of orange extract
Dash of sea salt

Topping

1 teaspoon of grated lemon rind
1 teaspoon of grated lime rind
1/2 cup of fresh blueberries
Instructions
Boil the heavy cream and sugar substitute for 6 minutes. Stirring to make sure the mixture does not boil over.
Take the cream mixture off the stove and add the citrus juice, orange extract, and sea salt and mix well.
Pour the keto posset into four 1/2 cup ramekins.
Chill for at least 6 hours or overnight to allow mixture to fully congeal.

Optional

Top with lemon and lime rind and fresh blueberries.
7.8.1.2
119
https://www.fittoservegroup.com/keto-citrus-posset/
Nutrition Facts
Serving Size 1/2 cup
Servings Per Container 4
---
Amount Per Serving
Calories 264
Calories from Fat 251.1
% Daily Value*
Total Carbohydrate 2.6g
1%
---
*Percent Daily Values are based on a 2,000 calorie diet. Your daily values may be higher or lower depending on your calorie needs.