This recipe for keto citrus chicken served with carrot salad is my idea of the perfect warm-weather recipe.
When it comes to sprucing up the humble roasted chicken, dousing it with some citrus always seems to do the trick.
Tender, moist, and full of flavor, this keto chicken recipe is one the whole family will love. Made with simple ingredients, It will be one to keep on regular rotation for your meal prep.
Don't you just love when a recipe is wonderfully delicious, naturally low in carbs, and healthy? With only
I'm all about easy keto dinner recipes that can be enjoyed both during busy weekdays or jam-packed weekends. And just because it comes together quickly doesn't mean it can't be a showstopper.
This citrus chicken recipe features Moroccan flavors, so it naturally paired well with my keto Moroccan carrot salad.
Personally, I like to create my dinner recipes by taking into consideration what side dish would work well with them.
I don't know about you, but when all the flavors on a plate meld together perfectly, it makes the meal more enjoyable.
Be sure also to check out our entire collection of keto chicken recipes for more delicious recipes!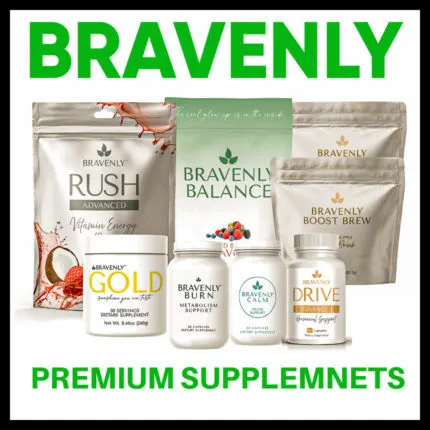 Keto Citrus Chicken With Carrot Salad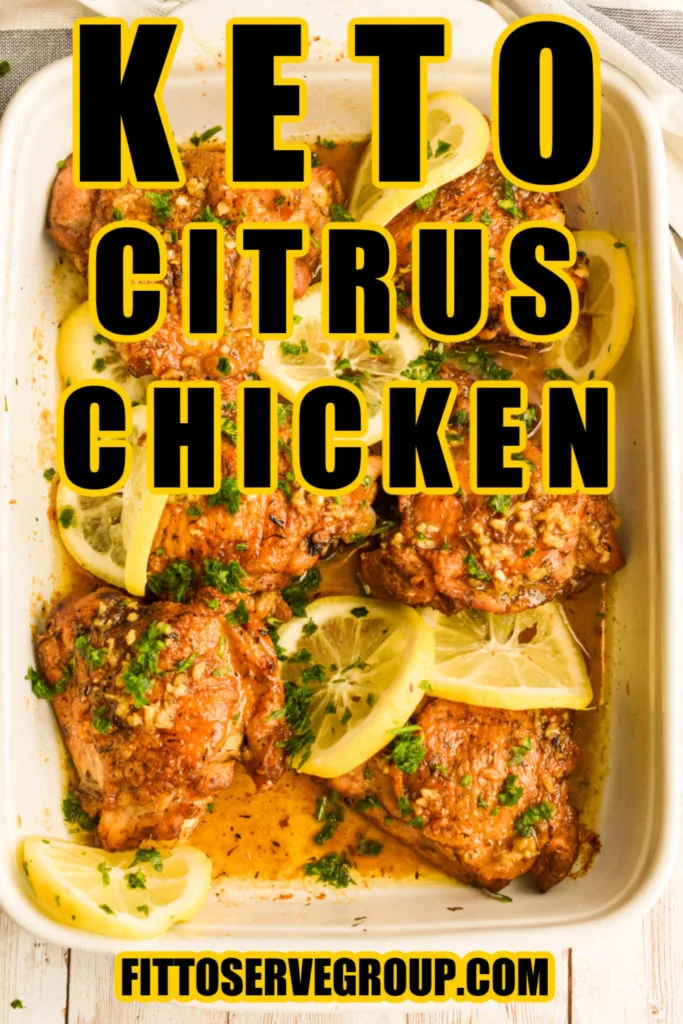 My Mami always taught me that food was first tasted through the eyes. So I learned early on that when making a dish, I had to also consider how appetizing it looked.
Well, all I can say is that this low-carb citrus chicken with carrot salad hit that qualifier right out of the park.
Not only is it a palate's delight, but it also looks beautiful enough to serve guests.
Easy enough for busy weeknights but rich enough for Sunday supper or even a keto dinner party!
Serve your family or guests a keto-friendly dinner that they will not quickly forget.
I'm sharing all my helpful tips for making this dish so that it turns out perfectly for you too.
Please scroll to the bottom of the page to find the full printable recipe card.
I chose to make this dish with chicken thighs because it's the fattier meat, a good thing when doing keto.
But you can certainly make it with chicken breasts if that's what you prefer. If you opt to use chicken breast, I suggest you cut them so that they cook faster and still stay juicy.
Ingredients Needed To Make A Keto-Friendly Citrus Chicken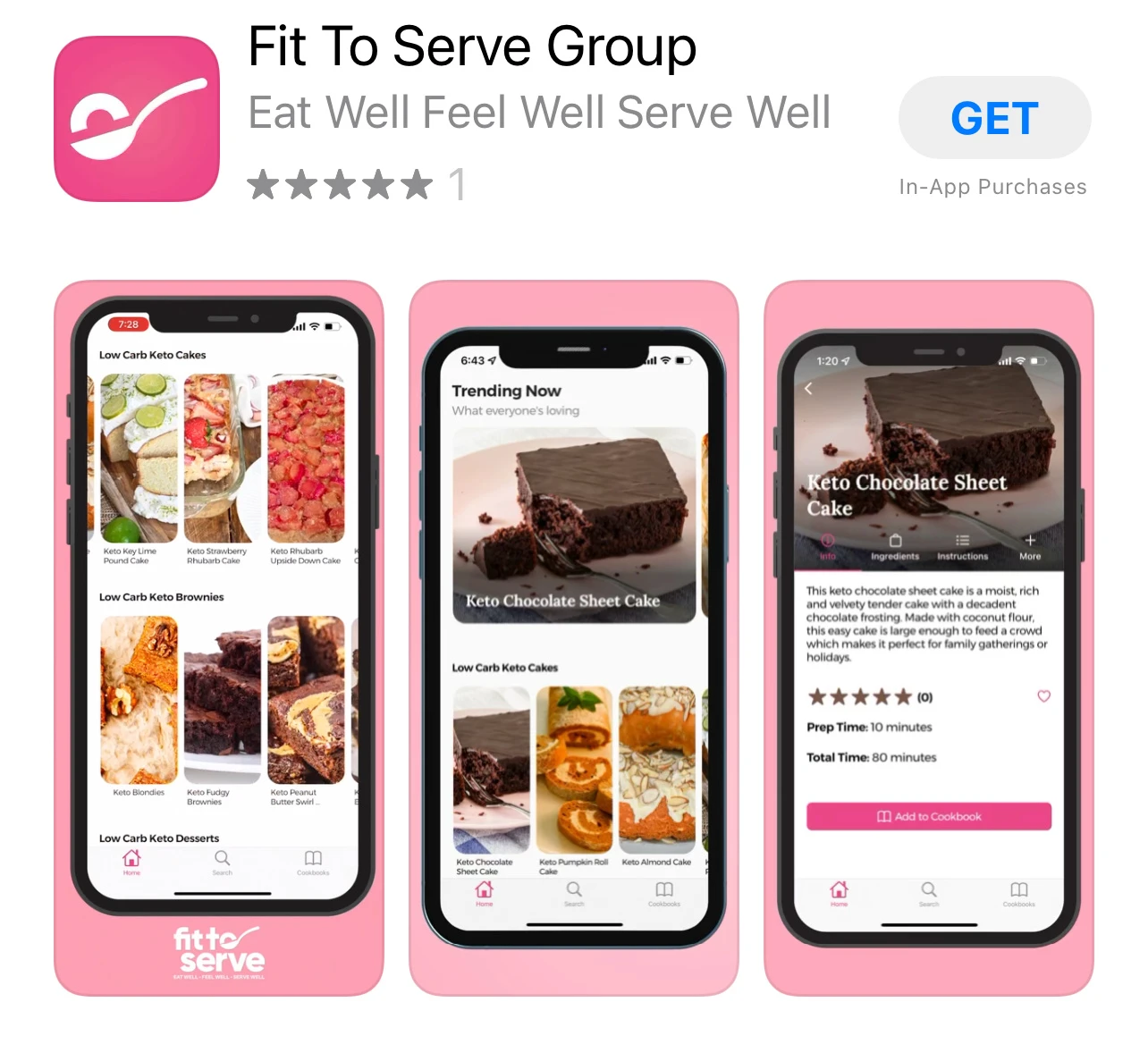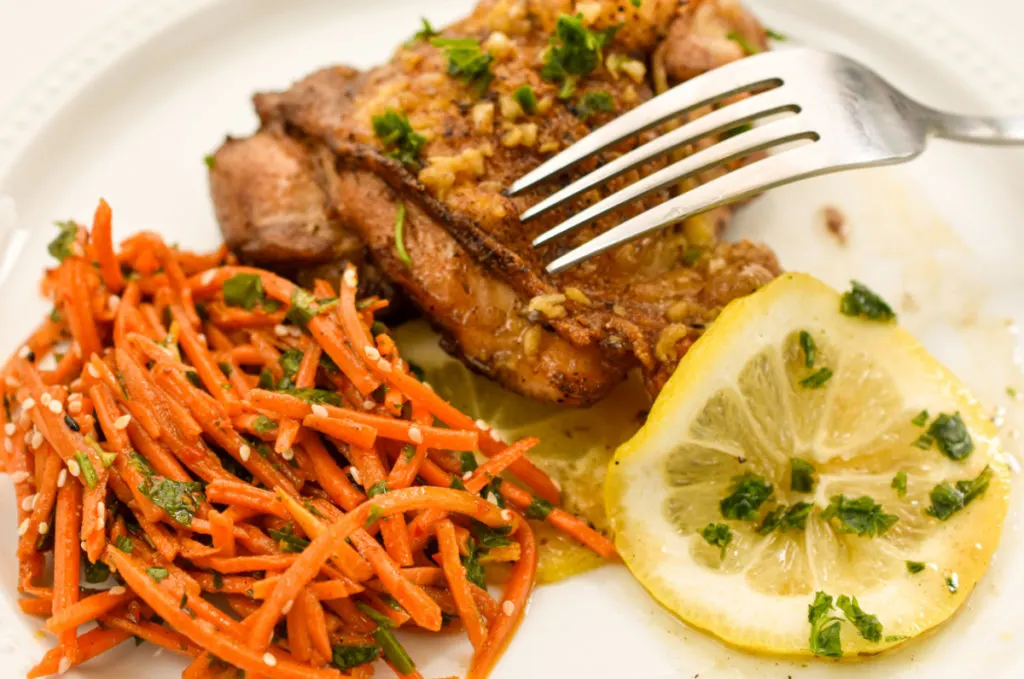 Disclosure: Some of the links below are affiliate links, meaning at no additional cost to you, I will earn a commission if you click through and make a purchase.
The following are all the simple ingredients you'll need to make this wonderful recipe. Note that the full printable recipe card is at the bottom of the page, including the full nutritional data.
Keto Citrus Chicken
Chicken thighs
Sea salt
Black pepper
Ground nutmeg
Smoked paprika
Olive oil
Citrus Sauce
Garlic cloves, minced
Chicken broth or chicken stock
Lemon
Limes
Salt
Pepper to taste
Garnish
Lemons slices
Fresh parsley, chopped
How To Make Keto Citrus Chicken With Carrot Salad
Disclosure: Some of the links below are affiliate links, meaning at no additional cost to you, I will earn a commission if you click through and make a purchase.
The first step in making this chicken and carrot recipe is creating the Keto Moroccan Salad that accompanies it.
Making the salad first allows the vinaigrette to infuse into the carrots. By the time your chicken is done, your carrot salad will be ready to serve.
After you make the salad, it's time to make the citrus chicken. The chicken is browned first in a cast-iron skillet and then transferred to a baking dish to finish cooking in a preheated 375-degree oven.
The citrus sauce is then made with the chicken drippings in the cast-iron skillet while the chicken continues to cook in the oven.
In a large bowl, pat down your chicken to remove any excess moisture, and then season your chicken thighs with salt, dried thyme, black pepper, ground allspice, nutmeg, and smoked paprika.
Then in a cast-iron skillet, heat two tablespoons of olive oil over medium-high heat. Add the chicken thighs skin-side down and sear both sides until golden brown. This will take about three minutes.
The key to achieving the perfect crispy chicken is to cook it in a hot pan and quickly brown both sides of the chicken.
And make sure to do so without overcrowding the pan. Otherwise, the chicken will not brown properly and will just cook in its juice.
I suggest you cook them in batches to ensure that the skins are crisp.
Substitutions
This recipe features bone-in chicken thighs, but you can certainly use boneless chicken thighs, chicken breasts, or even skinless chicken thighs if this is what you prefer.
Just keep in mind that the nutrition facts listed are for bone-in chicken thighs with the skin left intact.
You can also make this a keto lemon chicken recipe by using only lemon juice rather than a combination of lemon and lime juice.
Tips On Making A Keto Moroccan Dinner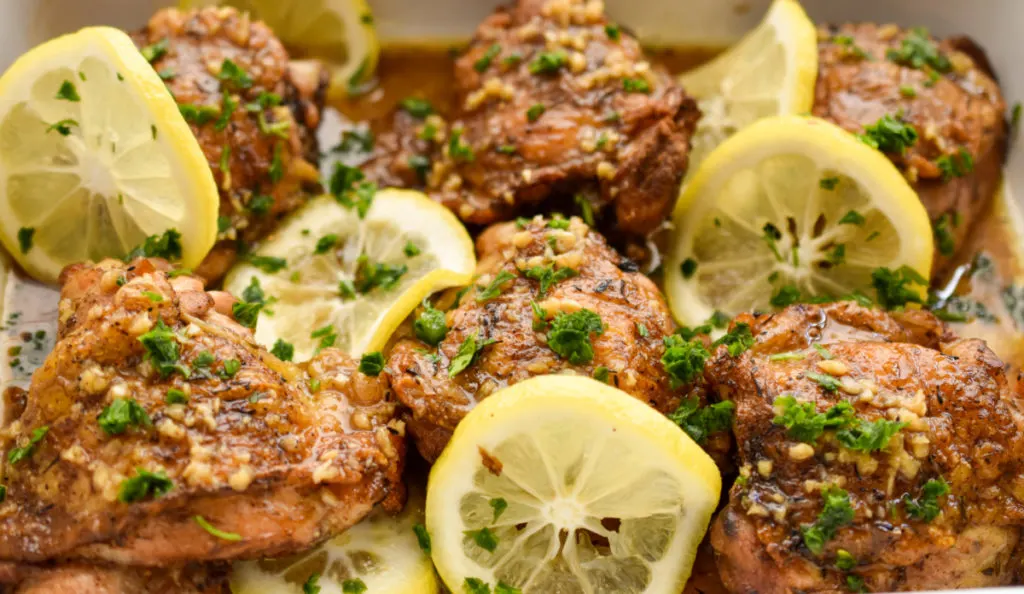 Another mistake that people make is to over-flip the chicken. My suggestion is to flip only once and not to do so until the chicken is crisp.
Once your chicken has browned perfectly on both sides, reserve about four tablespoons of the fat in the skillet to make the citrus sauce later.
Transfer your chicken thighs into a 9×13 ovenproof pan in a single layer and place in the oven. Allow the chicken to cook for about 30 minutes or until the chicken is fully cooked.
It should register 165 degrees Fahrenheit (75 degrees Celsius) internal temperature on an instant-read thermometer.
If you do not own a thermometer, an easy way to check is that all the juices that come from the chicken should run clear and not be pink.
While the chicken is cooking in the oven, make the sauce using the reserved fat in the cast-iron skillet.
To make the citrus sauce heat your cast iron to medium-high and then add the lemon juice and minced garlic to the pan.
Allow the sauce to simmer, making sure you are scraping the bottom of the pan to get all the flavorful burnt parts.
Then you'll add the chicken broth and allow the sauce to reduce by half.
Once the sauce has been reduced, remove the skillet from the heat and season with salt and pepper to taste if needed.
Deglazing using all the browned pieces from the bottom of the pan adds lots of flavor to the dish, and it's a necessary step in making the sauce, so don't skip this essential step.
After your chicken is fully cooked, spoon the sauce over the top of the chicken and garnish it with freshly chopped parsley and lemons slices.
Store the cooked chicken in an air-tight container if you have any leftovers.
Are Carrots Keto?
If you are wondering if carrots are keto since this citrus chicken is accompanied by a carrot salad, I am happy to report that consuming carrots on a keto diet can be enjoyed in moderation.
I am of the belief that carrots are ok to consume on a low-carb diet with careful macro planning.
I invite you to read our article are carrots keto to learn more about why we choose to include carrots in our keto diet.
As a good rule of thumb, the majority of your vegetable consumption on a keto-friendly diet will come from above-ground veggies, with occasional below-ground vegetables.
Tag Us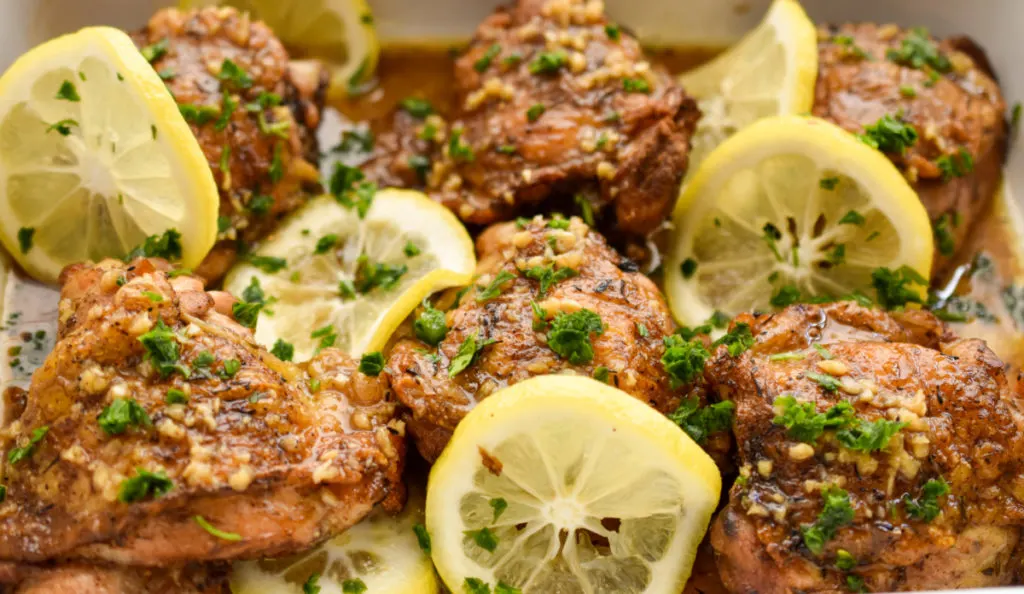 If what you are looking for is a low carb meal that isn't boring and is an easy recipe, then next time, consider making this keto Moroccan dish because it's packed with flavor and makes a lovely presentation.
Not to mention that at 1.9 net carbs per serving, it is a low carb dinner you can enjoy while doing a keto diet.
There is absolutely nothing boring about this dinner. I make chicken quite often at home, but when I presented this to my family, it became an instant favorite.
I sure hope you will give this recipe a try. Once you do, make sure you remember to tag us on Instagram and Facebook. It's what keeps this girl encouraged to keep sharing and perfecting her recipes.
Also, check out our Amazon Store for our recommendations. You might be surprised by how many great keto options are at your disposal.
Check Out Our Products
We have authored two books for you, Essential Keto Bread and Essential Keto Desserts, both inspired by your requests over the years. It's my prayer these keto cookbooks will help make keto a delicious breeze for you.
In addition, we have a Keto Recipe App that makes keto an easy, delicious breeze!
Join Our Jesus And Keto Movement
Looking for an online support system to help you stay the course on keto? As a family, we came to the keto diet looking at it from a Christian perspective. As believers, we live our lives supported by God's grace.
So when the Holy Spirit led us to combine our Christian faith and the keto diet, we did so in hopes of finding lasting transformation. When we followed the Holy Spirit's prompting, we got on the path to real transformation.
Knowing firsthand the benefits of this decision, we have created a closed Christian group that is using the keto diet to transform their lives.
We invite you to join our Private Facebook Group and see if it's not the key you have been missing.
Be sure to request our FREE Jesus and Keto E-Book (First 7 Days). We hope it blesses you.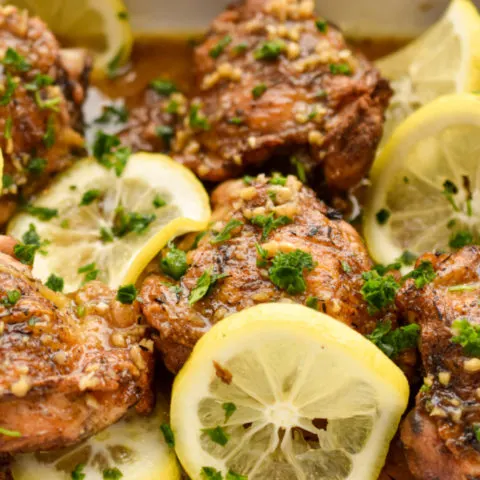 Keto Citrus Chicken
This keto citrus chicken is a flavorful Moroccan dish that is low in carbs and keto-friendly. When paired with carrot salad, it's the perfect weeknight meal!
Ingredients
Keto Citrus Chicken
6 bone-in, skin-on chicken thighs about 3 pounds
1 teaspoon sea salt
1 teaspoon dried thyme
1/2 teaspoon pepper
1/4 teaspoon ground allspice
1/4 teaspoon ground nutmeg
¼ teaspoon smoked paprika
2 tablespoon olive oil
Citrus Sauce
4 cloves garlic, minced
1 cup chicken broth
1 large lemon, 2 limes (about 1/3 cup of juice)
1/2 teaspoon of salt
1/4 teaspoon of black pepper
Garnish
Two lemons sliced
1/2 cup of freshly chopped parsley
1 teaspoon of fresh lemon zest
Instructions
Keto Citrus Chicken
Preheat oven to 375 degrees Fahrenheit.
Prepare the Keto Morrocan Carrot Salad.
In a large bowl, season the chicken thighs with dried thyme, ground allspice, nutmeg, smoked paprika, salt, and pepper.
Heat the two tablespoons of olive in a large cast-iron skillet or large skillet pan over medium heat-high heat.
Add the chicken, skin-side down, and sear both sides of the thighs until golden brown, about 3 minutes per side. While browning your chicken, be sure not to overcrowd the pan to ensure proper browning.
Reserve 3 tablespoons of fat in the skillet to make the citrus sauce later.
Transfer the browned chicken thighs to a 9x13 ovenproof baking dish.
Place the chicken in the oven and allow to cook for 30 minutes or until the chicken is cooked to an internal temperature of 165 degrees F.
While the chicken is baking, proceed to make the sauce.
Once the chicken and sauce are complete, spoon the sauce over the chicken and garnish with 1/2 cup of chopped parsley and two thinly sliced lemons, and the lemon zest.
Serve your citrus chicken with the keto carrot salad.
Store any leftover chicken in the refrigerator for up to 3 days or freeze without the lemon garnish for up to 3 weeks.
Citrus Sauce
Heat the cast iron skillet with the reserved fat.
Add the citrus juice and minced garlic to the skillet and allow to simmer, be sure to scrape the bottom of the pan as the sauce simmers to get all the burnt parts.
Add the chicken broth and allow to reduce by half.
Remove from heat and taste the sauce. Season with additional salt in pepper to taste if necessary.
Notes
The nutrional facts for this dish is only for the keto citrus chicken. For the nutrional facts for the carrot salad refer to the full recipe for my keto Moroccan carrot salad.
Recommended Products
As an Amazon Associate and member of other affiliate programs, I earn from qualifying purchases.
Nutrition Information:
Yield:

6
Serving Size:

1
Amount Per Serving:
Calories:

510
Total Fat:

28.9g
Saturated Fat:

8g
Trans Fat:

0g
Cholesterol:

315mg
Sodium:

739mg
Carbohydrates:

1.9g
Net Carbohydrates:

1.9g
Fiber:

0g
Sugar:

0g
Protein:

85g