Who Needs Jiffy When There's Spoon Me Nut Butter Blends?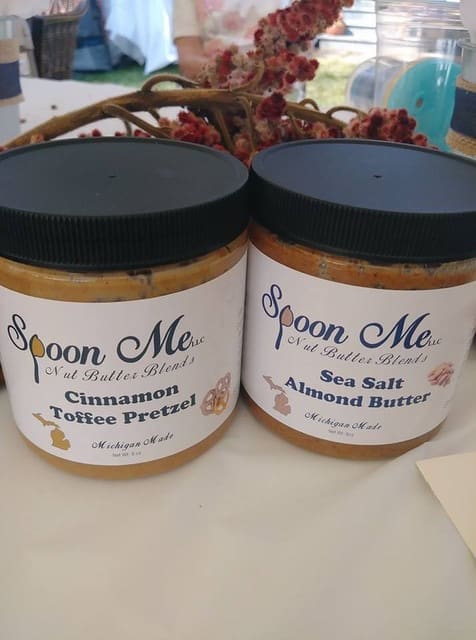 Recently, I reached out to Katie Miller of Spoon Me Nut Butter Blends, to do a review on her hand-crafted nut butters. I wanted to see if her nut better blends where a good choice for the low carb keto community.
Katie has a growing following of fans and I was curious about all the rave reviews I was hearing on social media about her creations. To my delight, Katie graciously sent me two of her 8 oz., nut jars to test for myself and share my thoughts with you our readers.
The Spoon Me Nut Butters Blends could not have arrived at a more perfect time. She sent them to me right before hurricane Irene was forecasted to affect South Florida.
This meant we had yet another two items that were low carb and keto-friendly to add to our emergency food pantry.
When we lost power for five days, let's just say it was reassuring to have a couple of yummy, nutritious treats that didn't require refrigeration.
What's more we had a houseful of people who took refuge with us during the storm and they too were able to taste Katie's Spoon Me Nut Butters Blends. This allowed for an unbiased review.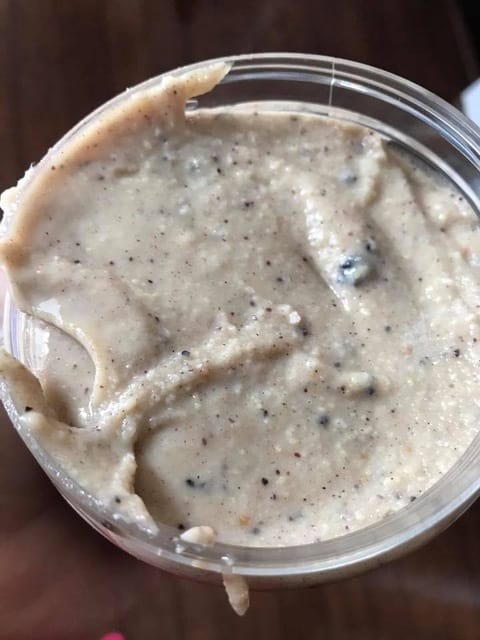 So, was all the hoopla about her handcrafted nut butters valid? The flavors Katie sent me to try where strawberry cheesecake and red velvet cake, the names alone where intriguing.
The question I wanted answered, is if they were as yummy as so many were saying.
Let me start off by sharing how smooth Spoon Me Nut Butter Blends are.
Have you ever tried to make your own nut butters at home? Even though the process seems simple enough thanks to all the videos and DIY articles out on the web, it's not that easy.
Why? Because for one you need a very powerful blender, that is unless you don't mind burn yours out.
Plus you need to keep at it for a while before you get anything that remotely looks like a nut butter.
Yeah, it's easier said than done. So, this girl gave up on making her own a bit ago.
What about the taste of Spoon Me Nut Butter Blends? Well, let's start off with her strawberry cheesecake flavor.
I certainly could taste the flecks of freeze dried strawberries and the cheesecake flavor was certainly in play.
I love that Katie's nut butter blends are not too sweet. As someone who has made keto a lifestyle, I appreciate that it has just enough sweetness.
In my opinion, this allows for the nut flavor to take center-stage, with just the right amount of flavor to know that it's not your average nut butter blend.
Spoon Me Nut Butter Blends Options
The red velvet flavor was probably my favorite. Maybe, because I had not tasted red velvet anything in years and was excited about the prospect of bringing this flavor back into my life. Update: I have since created a red velvet brownie recipe you might want to try.;)
I really enjoyed having a nut butter that had a flavor twist that reminded me of red velvet cake.
So, did Katie's Nut Better Blends live up to their growing fame? Let's just say ummmm YES!
I thoroughly enjoyed them and what's more so did those who were in my household during the storm. For obvious reasons, I didn't get a chance to bake with them, although I am sure it would have made for a tasty treat to have done so.
Below I am including part of Katie Miller's story and bio so that you can learn more about her and her lovely brand.
BIO: Katie Miller, of Spoon Me Nut Butter Blends
I was born and raised in Michigan. I consider myself a busy-bee who loves to stay active and continues to educate myself on health, nutrition and active living.
I became a nut butter addict long before I even knew there was such a thing.
My love for peanut butter started as far back as I can remember. I don't exactly remember how eating peanut butter out of the jar with a spoon came about, but I do remember doing so many times.
Growing up I had plenty of thick, peanut butter and raspberry jelly sandwiches my dad would make my twin brother and I. It was a staple in our home. My dad ALWAYS made that peanut butter layer, SUPER thick, that was my favorite part.
A few years ago, I started taking to running pretty seriously. Somehow, I came about the term "nut butter addict", after seeing many runners/athletes post about their pre-or post-race fuel, and nut butter was commonly listed.
I began collecting many different brands, combinations, etc., and started taste-testing. I of course had my favorites, and not so favorites.
I took what I liked about the ones that satisfied my taste buds, and what I didn't like about the others and I started creating a recipe in my head for my own. After MANY handmade, small batches, I finally came up with a good base. Note: it takes approximately 15 minutes to make 2, 8 oz. jars.
Thousands of jars later, I am still formulating new blend ideas by constantly researching, marketing and really getting people's opinions. I love that our product can cater to a wide audience, except those with nut allergies unfortunately.
The Ketogenic community, as well as people with diabetes have especially taken a liking to our product because of our sugar-free, low carb options. We even have some blends that contain a higher amount of protein.
If you are interested in trying Katie Miller's handcrafted nut butter blends, know that you have many delightful options to choose from.
Spoon me offers gluten free, dairy free, sugar free, vegan, low sodium, higher protein options. They use a wide variety of nut options such as; almond, peanut, walnut, pecan, pistachio, macadamia, and cashew.
Their prices range from $12-$14 per 8 oz. jar. What's more they frequently offer specials allowing you to stock up on your favorites or try a new flavor.
Spoon Me Nut Butters can be found locally at the Farmers Market in Portland, MI. Or you can order directly from their site here. You can follow Spoon Me on Instagram, where Katie likes engaging with her fans.
SaveSave
SaveSave
SaveSave
SaveSave
SaveSave
SaveSave
SaveSave
SaveSave
SaveSave
SaveSave
SaveSave