Just Give Me Low Carb Coffee Crumb Cake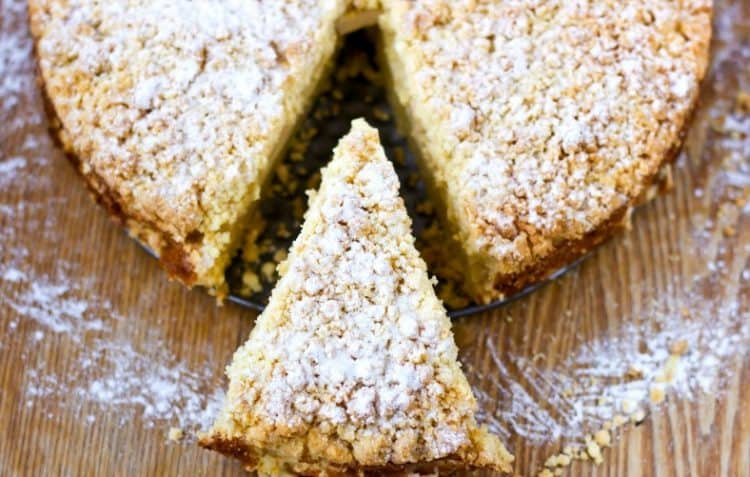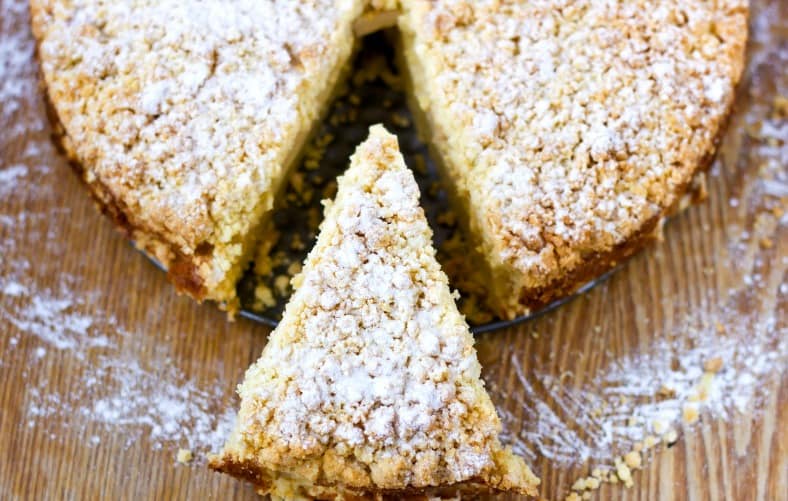 Am I allowed to say how much I love this recipe? It's coffee cake people! Not just any coffee cake, a low carb coffee crumb cake! I don't know about you, but I have always loved coffee cakes. I believe my love for coffee cake stems from my first experiences with coffee.
I remember as a teenager how grown up I felt ordering coffee after a meal. Can I confess that I didn't fall in love with coffee immediately?
Truth is, that it wasn't until I could accompany this ritual with a sweet treat, that I genuinely fell in love with coffee. Unfortunately, that little habit turned me into a pre-diabetic a few years ago.
Thankfully, today my A1C levels are perfect and no longer is diabetes a threat. Yet one more reason I love this low carb lifestyle and why a low carb coffee crumb cake makes so much sense in my world.
Save Room For Dessert
A little something sweet after a meal seems harmless enough until you begin doing this after each and every meal and it starts to spiral out of control.
There was a time in my life I would have preferred dessert over the most luscious main course. These days I have no problem passing up dessert, especially if it's a high carb one. Boy has this girl changed.
Thankfully, I can still safely indulge with recipes like this low carb coffee crumb cake and not put my health in danger.
In case you don't know I have a complete list of Keto Cakes that any cake lover doing keto would enjoy exploring.
No More Regular Baking At Our Home
Don't get me wrong I still enjoy dessert but it must be a low carb option to get me to even taste it. What's more, I won't create regular desserts for my friends and family. I started this about a year into doing this low carb keto lifestyle and I have no regrets.
Sure I sometimes get family members who wish I would bring some of those sugar-laden desserts back. But for the most part, they don't even fuss about it.
I truly believe it's because they can't deny how much good this lifestyle has been for Randy and I. If anything I think it inspires them to try to eat a diet that is lower in carbs. Of course, it doesn't hurt that if they are coming over for coffee they are going to get one of my low carb desserts.
Share A Low Carb Treat Instead
Can I encourage you to not only bake for yourself this low carb coffee crumb cake but to share it with others? Instead of caving in and baking a traditional high carb recipe, why not let them taste a healthy option. Who knows you may just inspire them to clean up their diet too.
Imagine the reaction your family and friends will have when they realize that a low carb coffee crumb cake can be hearty and delicious. I know that one of the ways we have been able to see so many of the people in our lives to join us in this lifestyle is by sharing my treats with them and using it as an opportunity to educate.
Conclusion
So the next time you have company coming over or you are invited for dinner, why not show up with a low carb keto option. You may just find yourself making these low carb treats a lot more often.
UPDATE: Since making this first low carb coffee cake, I've made three other recipes you might also enjoy.
My Favorite Keto Hack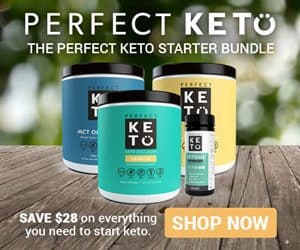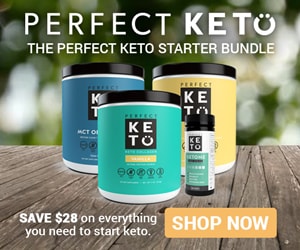 Are you looking for a way to jump-start your low carb keto journey?
Can I share with you the number one tip our Fittoserve Group Community Group is using and seeing consistent results with?
The use of Perfect Keto's exogenous ketones supplement.
Exogenous ketones allow you to drink your ketones and put you into a state of ketosis in under 59 minutes.
Until now to get into a state of ketosis required days, perhaps weeks of very strict keto dieting.
However, with the ability to now drink ketones you can see the results you want to accomplish consistently. Quickly, you can experience what it feels to be in ketosis.
Why is ketosis the goal? Because once you are in ketosis you don't have as many cravings and your appetite diminishes significantly. In addition, you have more energy and focus on helping you to stay committed to the plan.
In the long run, having a tool like this makes the lifestyle easier.
Feel free to reach out to us to assist you on your low carb keto journey. It's our desire to see you do well.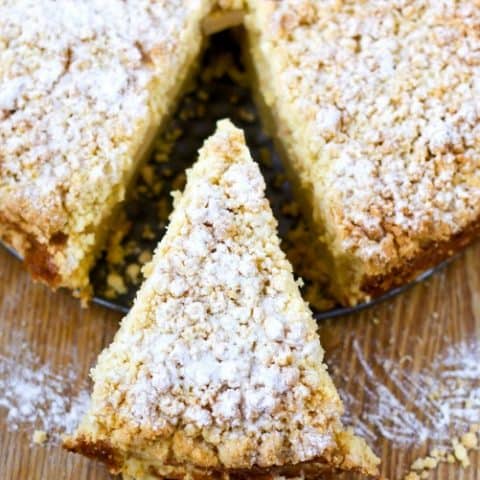 Keto Coffee Crumb Cake
This recipe for low carb coffee cake is delicious, easy and keto-friendly.
Ingredients
Keto Coffee Cake
1 cup of almond flour
½ cup of coconut flour
1 cup of sugar substitute (I use Swerve)
1 tsp baking powder
¼ tsp of sea salt
4 eggs
4 oz cream cheese
4 tablespoons of softened butter
1 teaspoon off vanilla
Crumb Topping
1 cup of almond flour (I used finely milled)
½ cup of coconut flour
½ cup of sugar substitute (I used Swerve)
½ cup of your favorite low carb nuts (I used pecans)
¼ cup of sugar-free coconut flakes
1 stick of cold butter sliced thinly
2 teaspoons of ground cinnamon
¼ teaspoon of sea salt
Instructions
Preheat oven to 350 degrees
Coffee Cake: In a large stand-up mixer bowl beat on high the butter with the sugar substitute until light and fluffy and well incorporated. Next add the cream cheese and vanilla and mix well. Add the eggs one at a time making sure to mix well after each addition. Add all the dry ingredients until well combined.
Crumb Topping:
In a small bowl combine all the dry ingredients and add the sliced cold butter and combine well until crumbs form.
In a well-greased cake 10 inch pan spread the batter. Lastly add the low carb crumb and spread evenly over the top of cake.
Bake for 40 to 45 minutes until golden brown on top and a tooth pick inserted comes out clean.
NOTE: This recipe features a generous amount of streusel crumb topping. For less topping use 1/2 the amount called for.
Nutrition Information:
Yield:

12
Serving Size:

1
Amount Per Serving:
Calories:

240
Total Fat:

21.6g
Saturated Fat:

8.2g
Cholesterol:

5.1mg
Sodium:

106mg
Carbohydrates:

4.9g
Net Carbohydrates:

2.5g
Fiber:

2.4g
Sugar:

0.9g
Protein:

6.8g
SaveSave
SaveSave
SaveSave
SaveSave
SaveSave