If you're wondering if there is such a thing as keto cornbread stuffing, have I have great news for you. Because it certainly is possible to enjoy stuffing, or dressing if that's what you call it while doing keto.
That's right. You can enjoy a keto stuffing sidedish without sacrificing the flavor or texture. And here you probably thought that going keto was going to deprive you of this Thanksgiving favorite.
You see the key is to make sure the "bread" base is low in carbs, keto-friendly, and able to stand up to the cooking process. Thankfully, both my easy keto cornbread made out of almond flour and my keto coconut flour cornbread work perfectly in this recipe.
Neither of my low carb cornbread recipes has actual corn or cornmeal in it, but your taste buds will tell you otherwise. I told you I had great news for you!
This keto cornbread dressing recipe will allow you to enjoy all the flavors you have come to love from traditional stuffing yet without the high carbs that kick you out of ketosis.
I can't wait to share this much-requested recipe with you all to enjoy with your loved ones this year.
Keto Cornbread Stuffing
Grain-free, low carb cornbread dressing made with either one of my keto "cornbread" recipes allows you to enjoy a seasonal treat and not feel the least bit deprived. A major win for anyone trying to do a keto diet during the holidays.
After baking the cornbread it's lightly crumbled and spread on a cookie sheet to toast. This helps dry out the bread in preparation for all the delicious additions.
Once your cornbread is ready to go, you'll need to brown the sausage. To this pan add some butter and then saute the celery, onion, and garlic.
At this point, it's just a matter of tossing all the ingredients into a large bowl along with the chicken broth, herbs, and spices. Then you'll spread the mixture into a 9×13 buttered baking dish and place it back into a hot oven for about 30-35 minutes.
This will allow all the liquid to be absorbed and for the stuffing to lightly toast.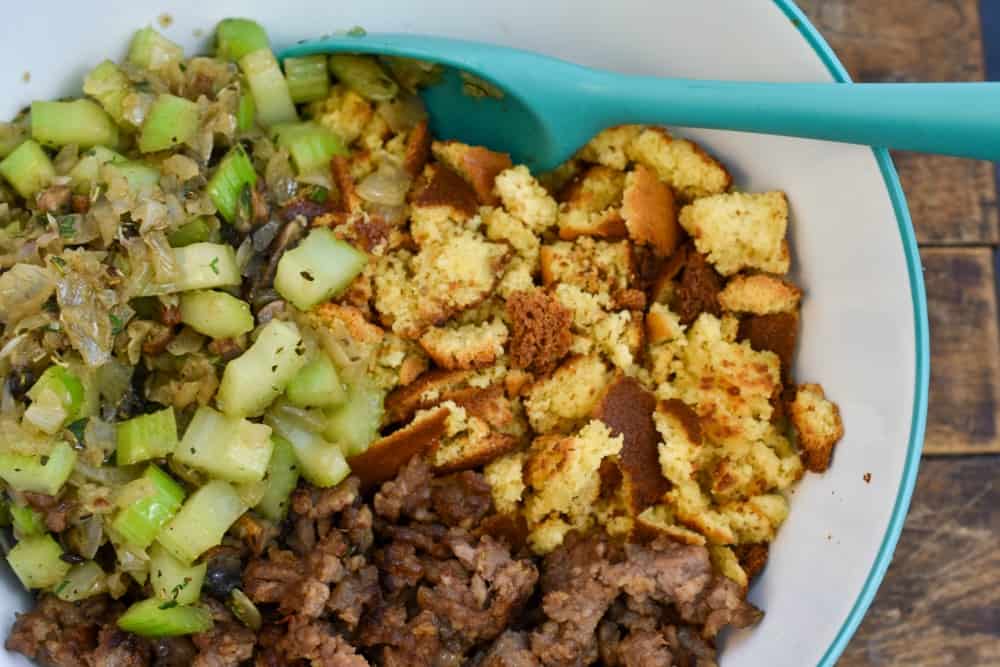 Tips On How To Make Keto Cornbread Stuffing Or Dressing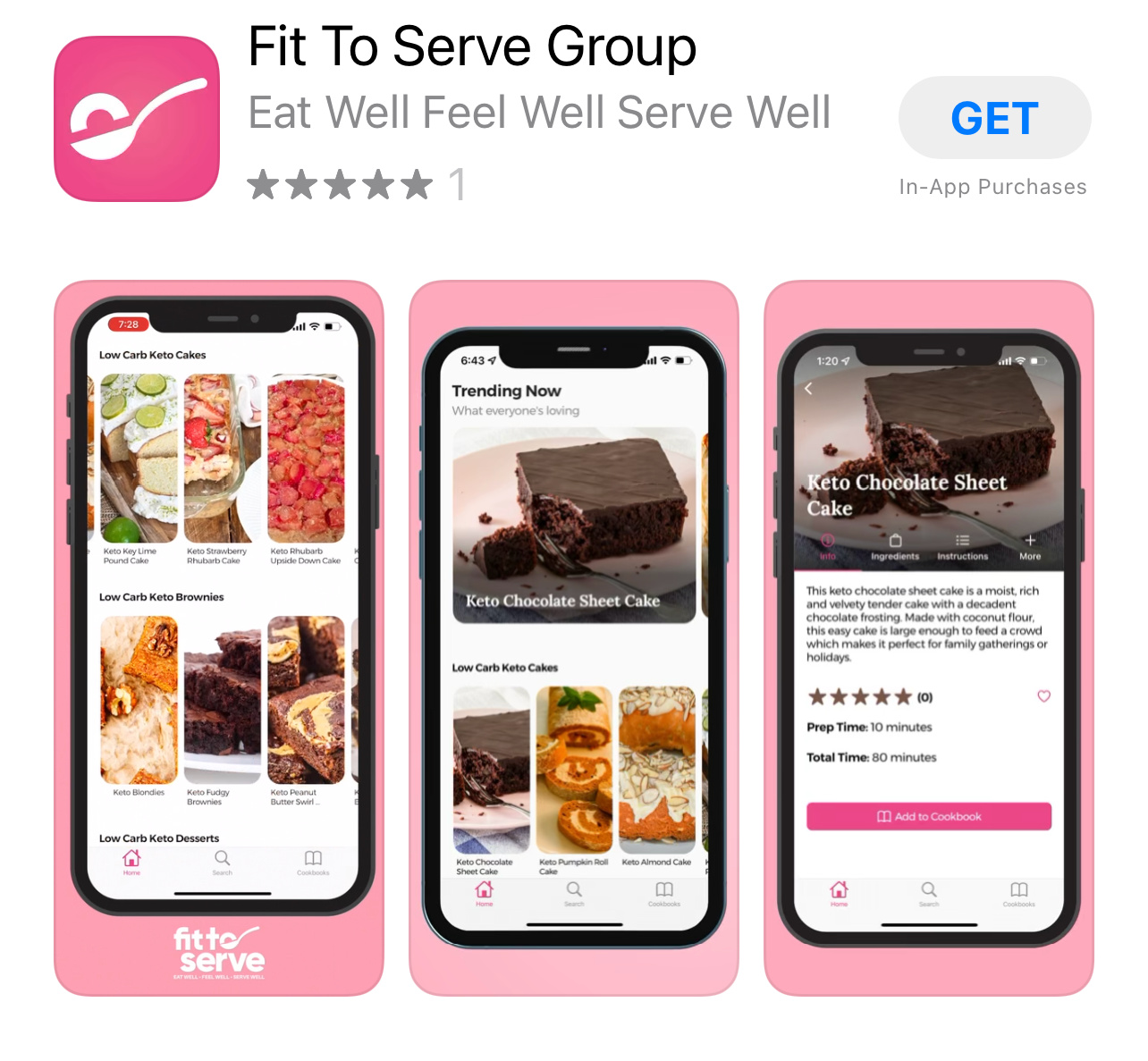 Disclosure: Some of the links below are affiliate links, meaning at no additional cost to you, I will earn a commission if you click through and make a purchase.
Although some recipes do not call for toasting the bread, I find that this step is necessary because it helps to dry out the crumbs giving it the perfect texture for stuffing. To save time you can, however, do this step a day ahead. Just do not refrigerate them so they stay dry.
Note that my keto cornbread recipes tend to be on the sweeter side. It's what most people would consider a Southern cornbread.
This is why for this savory dish, I encourage you to either leave out the sweetener completely from the "cornbread" or add only one tablespoon of your favorite sugar substitute.
Ingredients & Materials For Keto-friendly Stuffing
The following are the lists of both the ingredients and materials you will need to make this recipe. Note that the complete printable card is at the bottom of the page.
Ingredients
Ground Italian sausage, no casing
Unsalted butter
Onion
Celery
Mushrooms, baby Bella
Chicken stock
Eggs
Dried basil
Fresh Thyme
Dried rosemary
Fresh parsley
Fresh sage
Garlic cloves
Salt
Pepper
Materials
What's The Difference Between Stuffing And Dressing?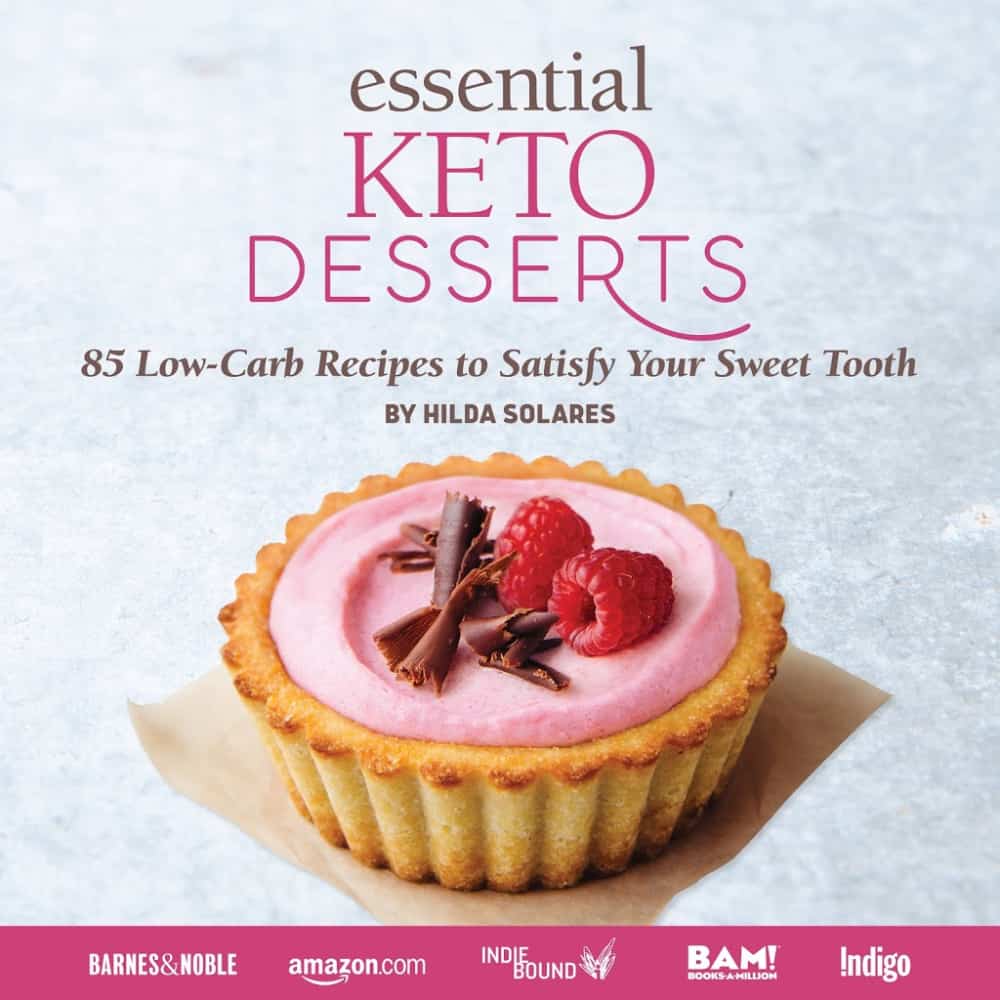 Well, I use the terms stuffing and dressing interchangeably. But I know that the culinary distinction basically comes down to where you live. Southerners tend to call it dressing while the northern folks refer it to stuffing.
But to further confuse things, there is also a technical difference between how stuffing or dressing is cooked. According to the majority of dictionaries, stuffing refers to "a mixture used to stuff another food, traditionally poultry before it's cooked".
While "dressing is cooked outside of the turkey cavity in a separate pan".
All I can say is that whether you call it dressing or stuffing this iconic dish is part of what many consider a staple during turkey day and it would be difficult to stay keto without an option like this.
So I truly hope you give it a try.
Keto Bread For Stuffing
This keto southern cornbread dressing recipe is made with my "cornbread" but if you prefer using a "white" bread you can successfully do so with the following keto bread options.
Some of these recipes use a combination of almond and coconut flour, while others use only almond or coconut flour exclusively.
Similar to this low-carb stuffing recipe you'll need to bake a batch of the bread then slice it into small pieces, and toast in the oven to help draw out the moisture before adding the dressing ingredients.
Using Cornbread Extract In Keto Cornbread Stuffing
I found a great cornbread extract that gives this cornbread stuffing more of a cornbread flavor profile.
Using a keto cornbread extract simply amplifies the flavor of "corn" in this almond flour-based stuffing.
It's a way to further fool your tastebuds. The use of corn extract is really effective in getting the flavor of cornbread without the use of any corn. Pure genius!
OOOflavors cornbread flavored concentrate has managed to create a cornbread extract that has zero calories, zero sugar, and zero carbs.
Since it's a highly concentrated extract a tiny amount is all you need to get the flavor of corn.
I recommend using 3-4 drops in this recipe and see if it elevates the flavor further.
Although you can certainly make this without the cornbread extract, this brand does a fantastic job of mimicking the flavor.
Tag Us
It's my prayer that you will take time out of your busy schedules to pause to give God thanks for his many blessings.
If my recipe for keto stuffing has the honor to grace your family table, please remember to tag us on Instagram, Facebook, and Pinterest. It's what keeps this girl encouraged to keep sharing and perfecting her recipes for you.
Since this recipe is made with almond flour and it's what you prefer to use, I recommend you visit our keto almond flour recipes for more delicious options.
Also, check out our Amazon Store for our recommendations. You might be surprised by how many great keto options are at your disposal.
Grab Our Books!
In case you don't know we have authored two books for you, Essential Keto Bread and Essential Keto Desserts both inspired by your requests over the years. It's my prayer these keto cookbooks will help make keto a delicious breeze for you.
Join Our Jesus And Keto Movement
Looking for an online support system to help you stay the course on keto? As a family, we came to the keto diet looking at it from a Christian perspective. As believers, we live our lives supported by God's grace.
So when the Holy Spirit led us to combine our Christian faith and the keto diet, we did so in hopes of finding lasting transformation. When we followed the Holy Spirit's prompting to we got on the path to real transformation.
Knowing firsthand the benefits of this decision we have created a closed Christian group that is using the keto diet to transform their lives. We invite you to join our Private Facebook Group and see if it's not the key you have been missing.
Be sure to request our FREE Jesus and Keto E-Book (First 7 Days) We hope it blesses you.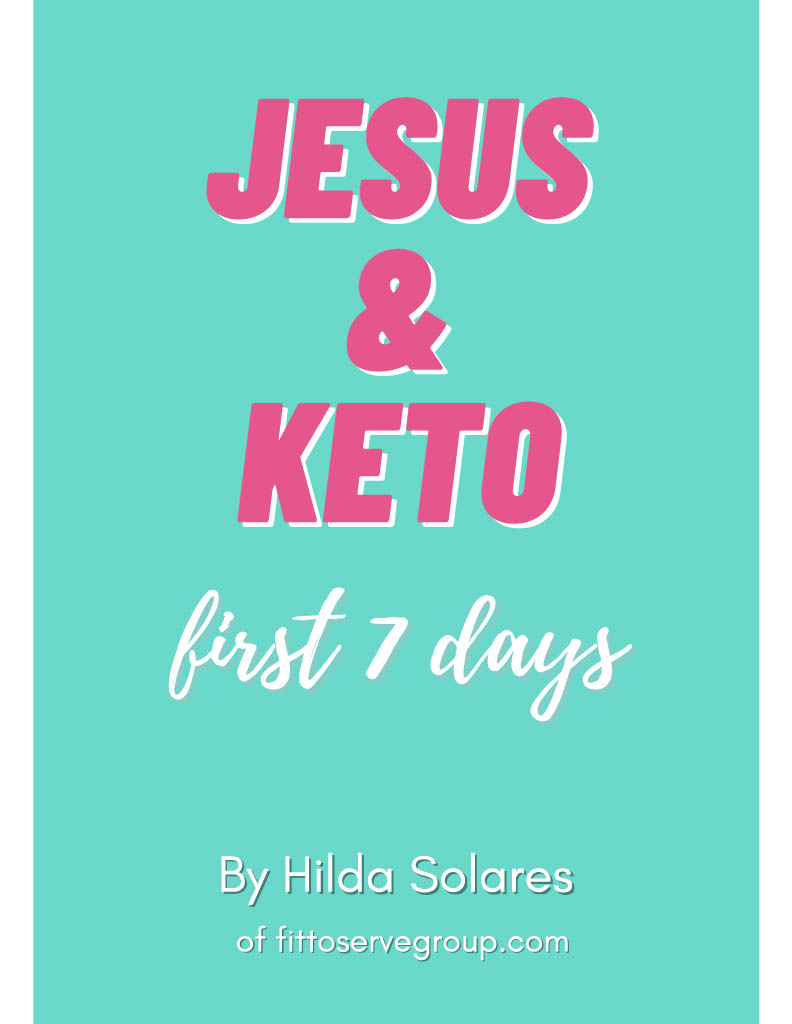 Fittoservegroup Keto App
Looking for a fast way to access our keto recipes? We got you covered. There's an app for that. Yup, there's a Fit To Serve Group App and it's going to make your keto diet a delicious breeze!
Access hundreds of recipes that are all sugar-free, gluten-free, and keto-friendly.
Enjoy early access to recipes before they go live on the website. Plus, bonus recipes that are exclusive to the app. Make your own personal cookbooks that you can use to organize your favorite recipes.
Search recipes by title, ingredients, keywords, and categories, and of course every recipe shows complete nutritional facts. Get the Fit to Serve Group App for easy-to-follow keto recipes made with easy-to-source ingredients.
The app is loaded with hundreds of yummy recipes for breakfast, lunch, dinner, snacks, and even desserts!
Learn more by visiting our Fit To Serve Group App Page.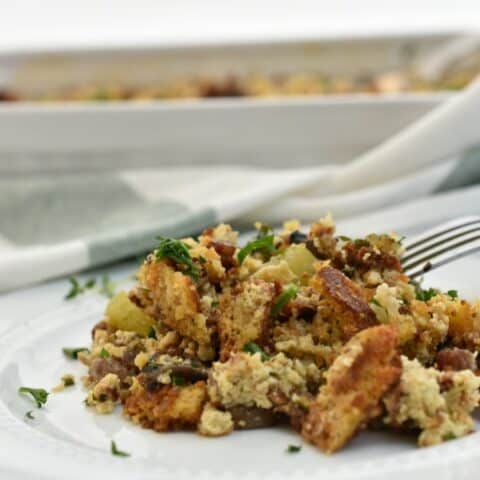 Keto Cornbread Stuffing
Total Time:
1 hour
15 minutes
This keto cornbread stuffing recipe will allow you to enjoy all the flavors you know and love from traditional stuffing yet avoid the high carbs.
Ingredients
1/4 cup butter
2 large eggs
1 medium onion, chopped
2 cups chicken or turkey stock
3 celery ribs, chopped
1/2 teaspoon dried basil
2 teaspoon fresh thyme
1 teaspoon of dried rosemary
1 cup fresh parsley leaves, chopped (reserve a 1/4 cup for garnish)
2 teaspoons of finely chopped fresh sage
1 teaspoon salt
1/2 teaspoon freshly ground pepper
3 garlic cloves, finely chopped
3/4 lb of ground Italian sausage, no casings
1 cup of chopped mushrooms, I used baby Bella
Instructions
Bake one pan easy keto cornbread (almond flour) or keto cornbread (coconut flour) per instructions.
Crumble lightly the prepared keto cornbread and spread it on a large cookie sheet.
Bake the crumbled cornbread at 300 degrees for 25-30 minutes to allow the bread to toast and dry out. This will allow cornbread to soak up the added ingredients better. Place in a large mixing bowl the cooled bread crumbs.
In a large non-stick skillet, cook the ground sausage until fully cooked and browned. Remove the sausage and add to the large mixing bowl with the bread crumbs. Do not mix yet.
To the large skillet with the pan, drippings add the butter and then sautee the chopped onions, celery, mushrooms, and garlic until softened. Add this mixture including the drippings to the large mixing bowl but do not combine yet.
Pre-heat oven to 350 degrees.
Add all the dry spices and fresh herbs to the large mixing bowl with bread crumbs, sausage, cooked onion, celery, and garlic and combine the mixture well.
In a small bowl, whisk together the eggs. Add the eggs to the mixture and combine well.
Next, pour 1-2 cups the chicken or turkey broth to the combined mixture depending on how moist you want your stuffing. The mixture should be moist but not soggy.
Pour the mixture into a buttered large 9x13 inch baking pan.
Bake uncovered for about 30-35 minutes in a pre-heated 350-degree oven. All the liquid should be absorbed and the stuffing should be lightly brown and toasted on top.
Refrigerate any leftovers for up to 3 days.
Nutrition Information:
Yield:

15
Serving Size:

1
Amount Per Serving:
Calories:

470
Total Fat:

40g
Saturated Fat:

21.9g
Cholesterol:

160mg
Sodium:

625mg
Carbohydrates:

6.9g
Net Carbohydrates:

3.1g
Fiber:

3.8g
Sugar:

1.5g
Protein:

14.2g