How To Become A Runner One Step At A Time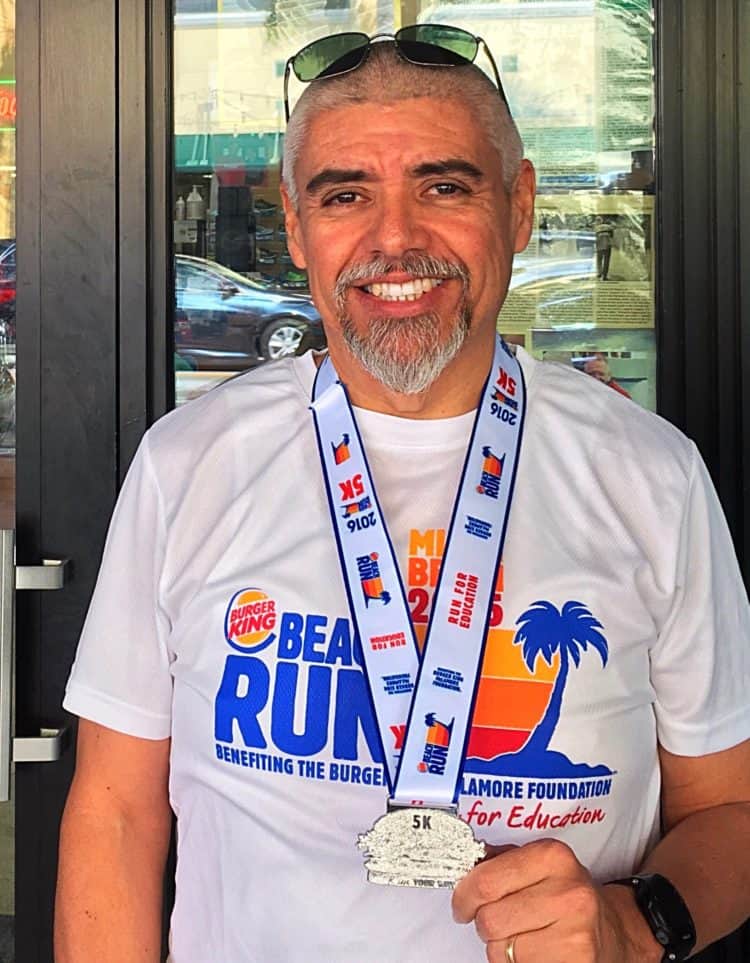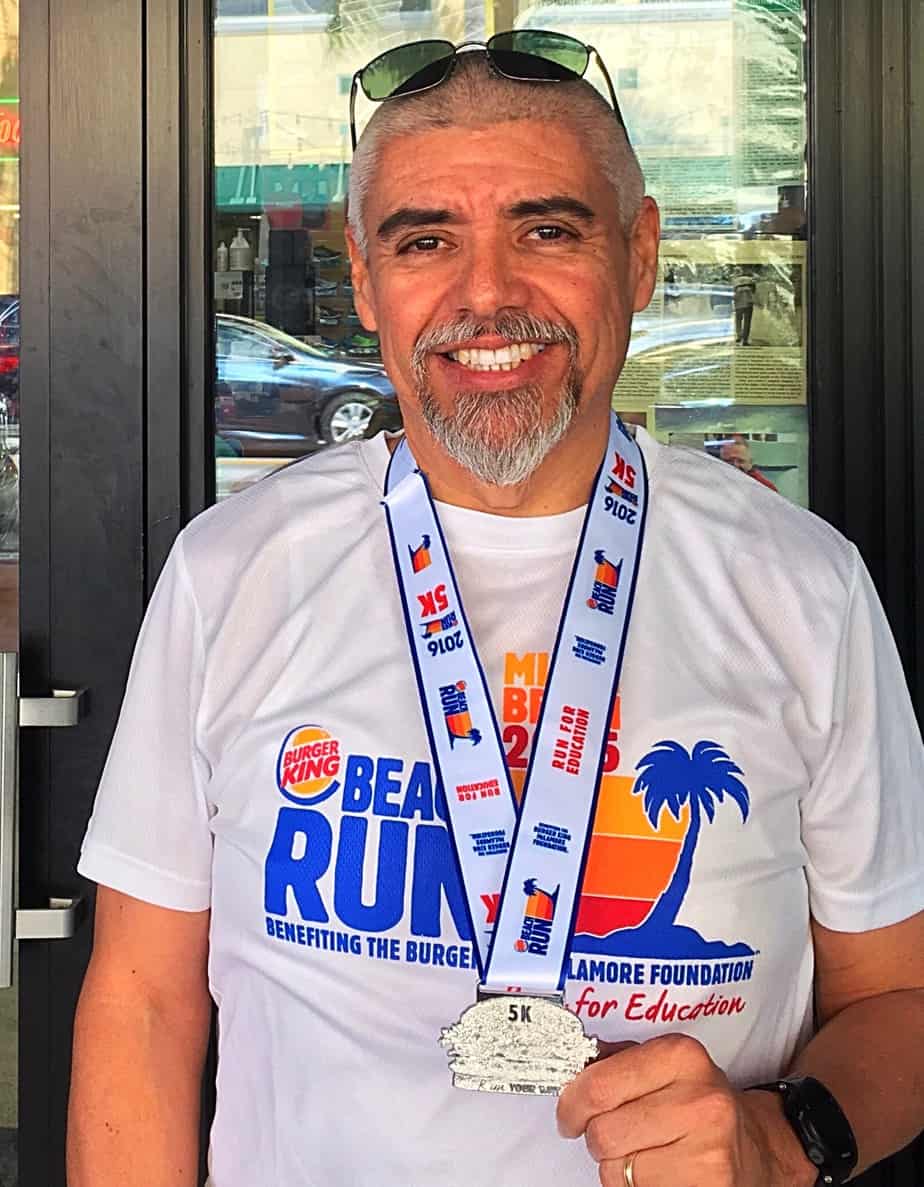 When Randy embarked on his journey to get healthy, it came with a few surprises. As his weight began to drop a runner started to emerge. With his rising health came a new found confidence. As his wife I had a front-row seat to his amazing transformation. May this interview inspire you to take the necessary steps to get healthy and learn how to become a runner one step at a time
Question: Randy can you tell us exactly when you started running and how often you run?
Answer: I started running in August of 2014 after I lost 50 pounds eating a low carb keto diet. I make an effort to run anywhere from 4-6 days a week.
Question: We often hear how people are encouraged to exercise in order to lose weight, was this your motivation to exercise?
Answer: I knew that exercise was important but my excess weight did not make it easy to do so. Which is why I waited until I lost some weight before I began to exercise regularly.
Question: That's interesting, why do you think waiting till you lost some initial weight made sense for you?
Answer: I firmly believe that before you can get your body in shape you need to get your mind in shape. I needed to work on my mindset before I could tackle exercise. The initial weight lost gave me the confidence to start. What's more because I lost some weight before I began running it was less stressful on my body. I believe it helped prevent unnecessary injuries.
Question: Earlier you mentioned that you needed to to get in the right mindset. What did you do to get mentally prepared to lose the weight and start running?
Answer: The most important thing I did is I began to meditate on the word of God, and used scriptures that focused on renewing my mind like Romans 12:2 Do not conform to the pattern of this world, but be transformed by the renewing of your mind.
Then you will be able to test and approve what God's will is—his good, pleasing and perfect will. Meditating on scripture empowered me to believe that with God's help I could transform my health.
Question: Did you ever think you would take up running in this season of your life? What motivates you to keep going?
Answer: No, I didn't think I would become a runner at age 52. But once I started and began to feel so much better, my body began to crave the exercise.
What motivates me the most is that today I have much more energy and stamina than I did when I was much younger.
Question: What do you love most about running?
Answer: I think what I enjoy the most about running is that you can do it anywhere at any time. You don't need any special equipment other than a good pair of running shoes and your able to take off for a run.
I must admit that I am also having fun purchasing the running gear that comes with this lifestyle.
Question: We know that many people choose to run to clear their mind and de-stress, has this been your experience?
Answer: When I run I use this time to pray. It's a good way for me to release any stress and tension from the day, and hand my cares over to God.
Question: Do you have any rituals that make your running more meaningful, if so what are they?
Answer: I enjoying listening to Christian music as I run and pray. The music helps me feel more connected to God and makes running more meaningful.
Question: What's your favorite running story or memory?
Answer: I have several memorable moments, but if I had to pick one it would be my first race at The Run for Joy 5K. As a huge fan of Christian music to be able to do my first race with some of my favorite artists was unforgettable.
It was also very encouraging to see my family cheering for me from the sidelines as I crossed the finished line. After this race I became determined to improve my running time and signed up for others.
Question: How many races have you participated since taking up running?
Answer: I have been part of ten races so far.
Question: Who is your running inspiration?
Answer: That has to be my running cousins and uncles from Guatemala. As long as I can remember they have been runners. Their dedication has always inspired me. It's great to finally say I am one of them.
Question: I understand that recently you achieved a milestone you have been working towards, can you share your experience with us?
Answer: I reached a 1000-mile marker on July 18th it took me 23 months; it was great to see that number come and go.
Question: What's your ultimate running goal (i.e any running event you wish to participate in)?
Answer: It's a goal of mine to be able to run with my family in Guatemala. I know that the elevation will be a challenge but it's something I look forward to doing.
Question: What would you tell someone who wants to start making running their exercise of choice? Any advice on how to start?
Answer: The best advice I can give someone who wants to start running is to begin slowly. Don't start running the entire distance immediately, but instead do a combination of walking and running.
It's what I did to build up my stamina and it's the easiest way to eventually become a runner.
Conclusion
If you have been wanting to start exercising and the idea seems daunting, it is my hope that Randy's testimony will encourage you.
A ministry that helped Randy in the very beginning when he embarked on this running chapter was the ministry of Run for God They aim to teach people to run while making a connection between endurance and faith.
It's my hope that Randy's interview will serve as inspiration on your journey to wellness. His determination encourages us all to keep working towards our goals and that it's never too late to become who you want to be.
SaveSave
SaveSave
SaveSave
SaveSave
SaveSave