Ultimate Ketosis Chocolate Chip Cookies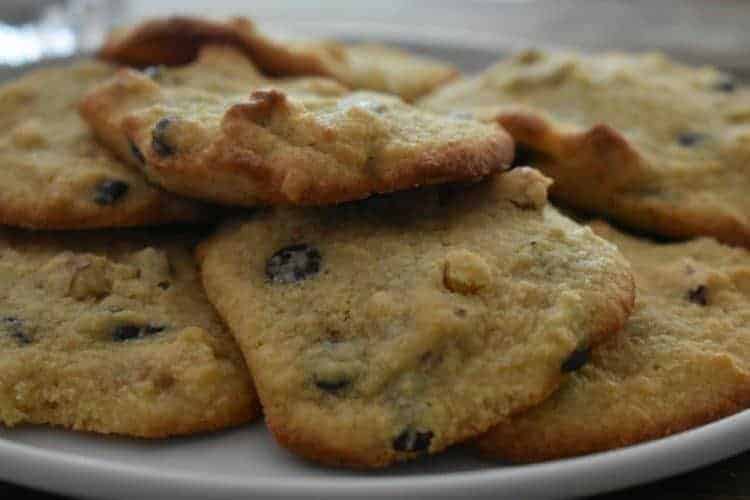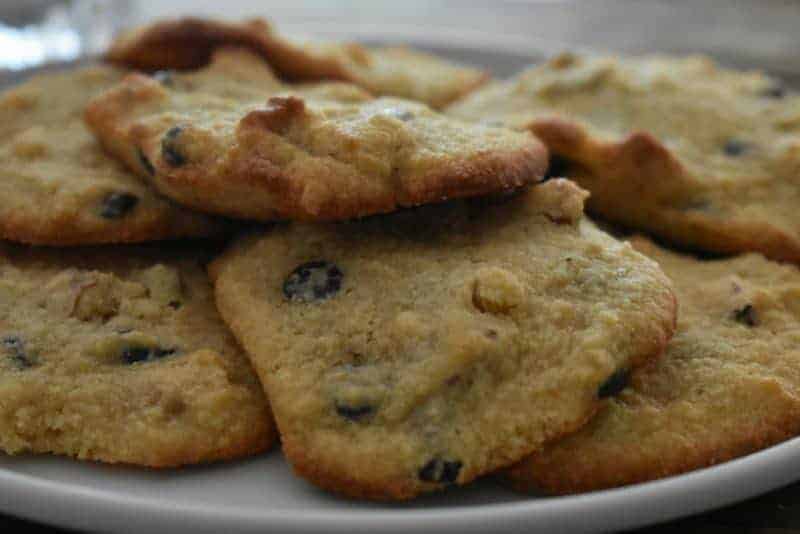 Ketosis chocolate chip cookies are the perfect low carb keto chocolate chip cookie recipe that keeps you compliant while doing a ketogenic diet.
Have you been wondering how you can create a delicious recipe for ketosis chocolate chip cookies? Well, search no more, because I've worked hard to perfect these  keto chocolate chip cookies and I am confident you're going to love them too.
Once again, I was challenged by our daughter to create a keto recipe to replace one of her traditional high carb favorites. Seems like our Michelle is enjoying putting her momma to the test.
Thankfully, this recipe for chocolate chip keto cookies passed her challenge and the test allowed for another easy recipe to add to our list of growing low carb keto recipes.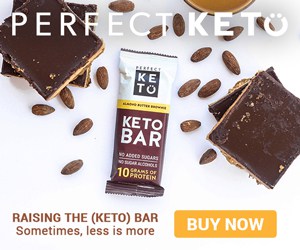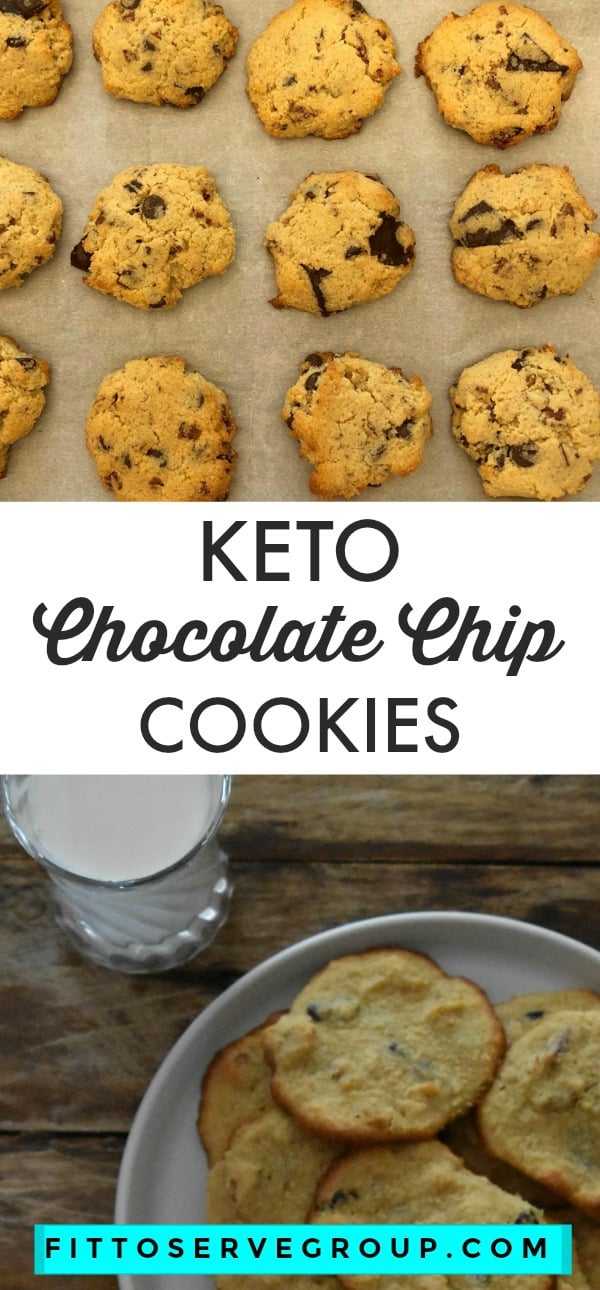 Creating recipes like this ketosis chocolate chip cookies, is important if you want to ensure that you are doing a keto diet and don't want to risk being kicked out of ketosis.
There are keto hacks to get into ketosis quickly and we are fans of these tips because it makes the ketogenic diet more sustainable.
BUT ultimately the goal is to not get kicked out ketosis to begin with.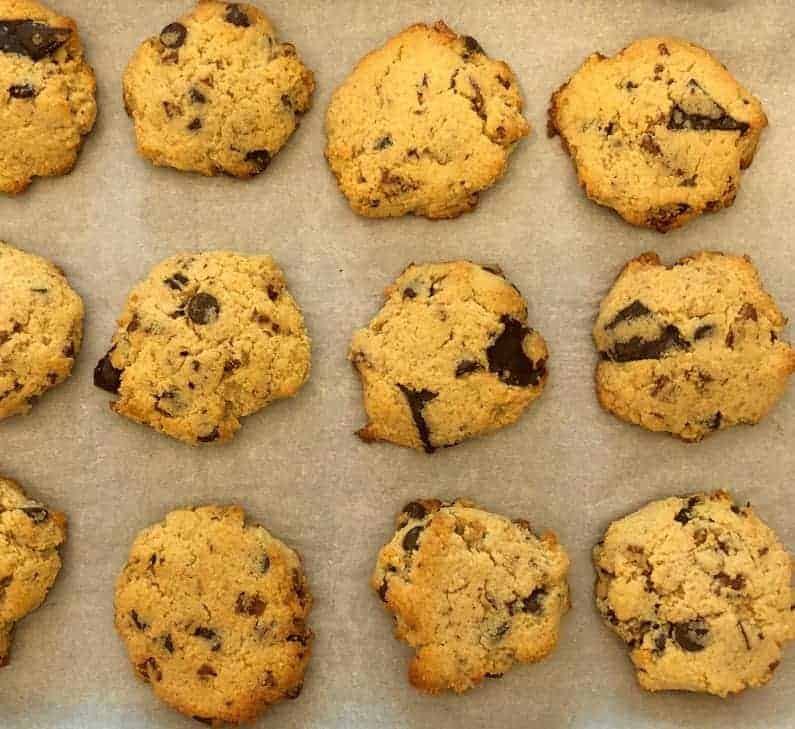 This time she wanted a Keto chocolate chip cookie option.
If you've seen our recipe for Michelle's Keto Brownies, then you know she likes to raise the keto baking bar on her momma.
I don't mind a challenge, in fact, I kind of welcome it. Why? Because it forces me to bring my A game.
Bring it on Michelle!
Here's the thing, when it's one of my children who is presenting me with a challenge, I kind of feel the pressure and become even more determined.
Not only do I want them to be proud of their momma, but it's a chance to teach them to bravely embrace opportunities and not to shy away from them.
Plus as far as I'm concerned, a little friendly competition is good for the character.
When Michelle dared me to create a brownie recipe that could rival her cherished traditional one, I delivered what we now consider our best keto brownie.
At the time I was pretty intimidated with the prospect of creating something that would meet her high standards. Thankfully, I didn't disappoint her.
Don't get me wrong we have several great brownie recipes, including our first, that also happens to be a nut-free option. So do check those out too.
Confidently Braving Another Keto Baking Challenge
Feeling rather confident I boldly asked her to throw me another keto baking challenge. I wanted to see if doing so would motivate me to produce another great treat for you all.
Ok mom, then why not create a keto chocolate chip cookie recipe? I've checked and I don't see one on the blog?  You have a low carb chocolate chip cookie bar recipe, but where are your ketosis chocolate chip cookies?
Ugh she got me! Seems like Michelle knows me well, because I will admit that I had been avoiding a low carb chocolate chip cookie recipe for a while now.
Why was I shying away from a ketosis chocolate chip cookie recipe? For fear that it would not turn out perfectly.
So I admit, that I don't like failing. But who do you know that does?
With another keto baking challenge issued, I had to face my fears and not disappoint her. After all, I'm still trying to teach my children to not be afraid of taking risks.
Just because they are now grown adults doesn't mean I I've stopped looking for teachable moments.
Making Great Ketosis Chocolate Chip Cookies
Once I stopped second guessing myself, I rolled up my sleeves, said a prayer and began to experiment.
Oh you think I am joking when I say I pray before I create my recipes? Well know this, if it weren't for my prayer life, not a single recipe or post would ever be shared. Because this girl leans heavily on her Christian faith to make things happen.
Here's the thing, if I was going to share a recipe for ketosis chocolate chip cookies, I wanted to make sure that they would be exceptional. I didn't want them to be average.
My first attempt at making a low carb, keto chocolate chip cookie was good, the taste was definitely there.
But it was not exactly what I was looking for. Mainly, because the cookie didn't have the right structure.
AND remember, I also had the added pressure that I wanted  to impress Michelle. So, I had to aim higher. This was after all a challenge.
If At First You Don't Succeed…
You should know that it's very important to me that my ketosis recipes are easy to execute and turn out as promised.  I never want to hear that a recipe I have posted has failed to deliver.
Besides the obvious embarrassment, the idea of perfectly good keto ingredients landing in the trash, really is not cool with me.
Disclosure: Some of the links below are affiliate links, meaning at no additional cost to you, I will earn a commission if you click through and make a purchase. 
Products from Amazon.com
‹
›
So I went back to the drawing board in an attempt to perfect my recipe for ketosis chocolate chip cookies.
My second attempt at creating the ultimate ketogenic chocolate chip cookie recipe proved to be the winner. Yay me!
This time I decided to add a tablespoon of gelatin powder to help give the cookie a little added structure. Guess what? It worked!
My keto chocolate chip cookies include an added tablespoon of sugar-free pancake syrup. Why? I was trying to get the brown sugar flavor profile without having to use the extra carbs from say something like molasses.
It also features Surkin Gold, a brown sugar-free substitute. This stuff is amazing and one I will use more in coming recipes.
Products from Amazon.com
‹
›
Can I tell you that combining Surkin Gold with a little sugar-free pancake syrup turned out to be brilliant idea? It made a huge difference in creating the proper ketosis chocolate chip cookie flavor.
Products from Amazon.com
‹
›
Mission Accomplished
Looks like Michelle is going to have to give her momma another keto baking challenge, because these ketosis chocolate chip cookies are one for the record books.
Or maybe you all want to be next? How cool would that be?  So don't be shy and send them my way.
I sure hope you will give this recipe a try. Once you do, make sure you remember to tag us on Instagram and Facebook. It's what keeps this girl encouraged to keep sharing and perfecting her recipes.
Michelle understands the benefits of being in ketosis because she has seen firsthand the power of ketones has had on her parents.  You can read more about our ketosis transformation here.
Keto Hack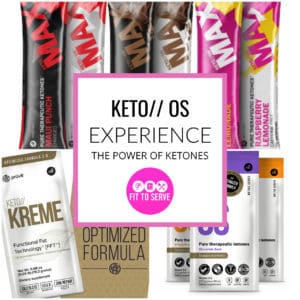 There are times that our low carb keto lifestyle can use a little assistance.
This is especially the case when starting a keto diet or when you hit a weight plateau.
We recommend the use of exogenous ketones as a tool to boost your ketone levels.
It is not a replacement for doing well-formulated ketogenic diet, but simply a tool to train your body to use ketones as fuel.
Keto//OS  is the brand we use and what we share with our local community group.
If you are not familiar with this form of supplementation, I encourage you to watch this quick 4 minute explainer video and to read more about ketosis and it's benefits.
Scientific Studies On The Benefits Of Ketosis
Long-term effects of a ketogenic diet in overweight patients
Ketogenic diets and physical performance
Effects of exogenous ketones on cognition 
Dietary ketosis enhances memory in mild cognitive impairment
Ketones suppress brain glucose consumption
Ketone Testing
If you are wanting to do a keto diet effectively, don't forget to test your ketone levels.  Although ketone strips work well initially, the Gold standard is the blood ketone test. This test is taken just like the glucose test that diabetics use to track their sugar levels.
After 10 seconds the ketone meter will give you an accurate reading. Testing is not necessary in order to do a ketogenic diet, but it is the best way to know if you are truly in ketosis. Allowing you to better tweak your macros in order to see real progress.
Perhaps what you need is to participate in a keto challenge. The  Keto reboot  is a 60 hour program that can help you reach your ketosis goals faster by combining intermittent fasting with ketone supplementation.  Read more about the Keto Reboot Here.
For detail information on which plan can best suit your needs read more here. 
Ready to place your order? If so click the button below.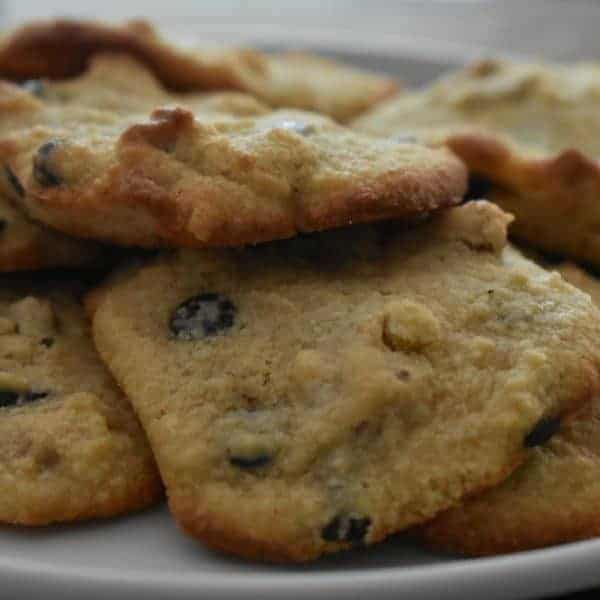 Ketosis Chocolate Chip Cookies
A recipe for ketosis chocolate chip cookies. The ultimate low carb keto chocolate chip cookie recipe.
Ingredients
¼ cup of coconut flour
2 teaspoons of baking powder
3/4 cup of butter (1 1/2 sticks) room temperature
2 large eggs
1 tablespoon of sugar-free maple syrup
1 cup of chopped walnuts
¾ cup of sugar-free chocolate chips
1 ounce of 85% cocoa chocolate roughly chopped (optional)
Instructions
Pre-heat oven 350 degrees
Line a cookie sheet with parchment paper
In a large bowl beat the room temperature butter, sugar substitutes, and tablespoon of sugar-free pancake syrup.
Mix until light and fluffy.
To this mixture add the eggs one at a time and beat well.
Then sprinkle the gelatin powder and combine well.
Next mix in the almond flour, coconut flour, baking powder, and salt.
Lastly, add the sugar-free chocolate chips, and walnuts.
Drop the dough by heaping tablespoons and space about 2 inches apart. Flatten the cookie slightly.
Bake the cookies for 12-15 minutes.
Nutrition Information:
Yield:

16
Serving Size:

1
Amount Per Serving:
Calories:

256
Total Fat:

10.2g
Saturated Fat:

7.4g
Cholesterol:

48mg
Sodium:

78mg
Carbohydrates:

4.5g
Fiber:

2.1g
Sugar:

0.9g
Protein:

4.1g