Keto Jalapeno Bacon Cheese Bread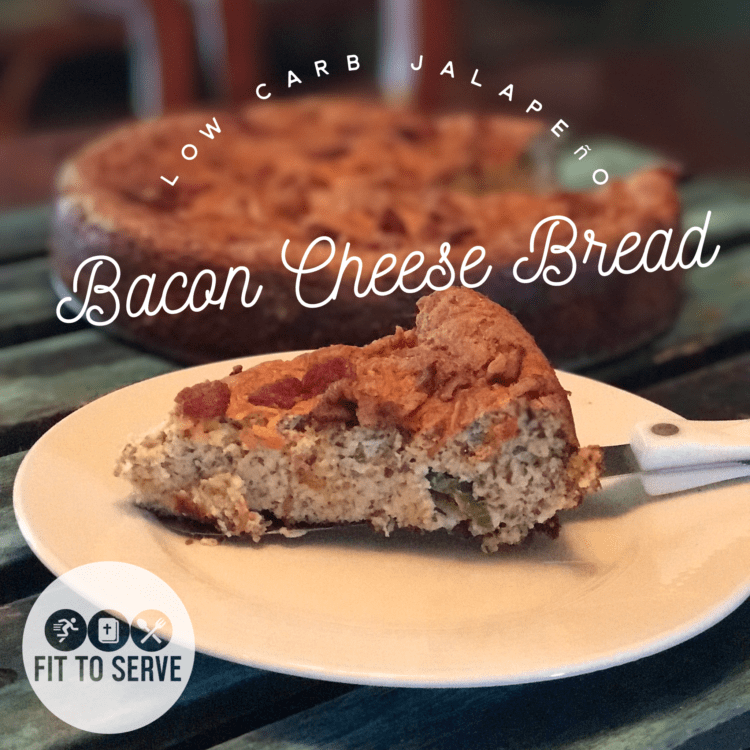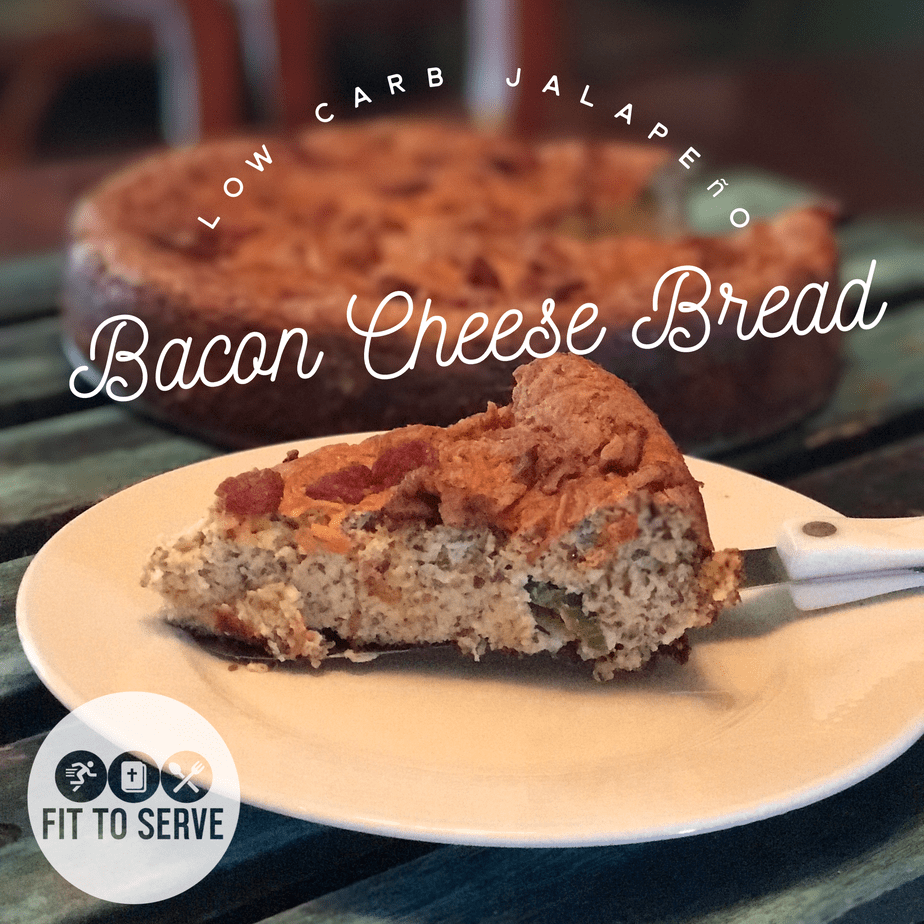 Keto Jalapeño Bacon Cheese Bread, packed with flavor and nutrients 
The very first time I shared my keto jalapeño bacon cheese bread was at a church picnic and it disappeared rather quickly. Based on the fact that nothing but the crumbs stayed behind, I think it's safe to say it was a winner.
I love that in our church we have a growing group of congregants who are embracing the low carb way of eating because of our community group FITTOSERVE.
People at  WOF  are well aware of the benefits of a low carb keto plan and certainly are more conscious about what they choose to eat because of our group.
It's an exciting thing to see the lives of people transform before your eyes. Not only are they growing spiritually, but they understand the value of taking care of their temples.
When ever our church does a function that involves food,  I always like to make sure that there are healthy options available.  It's an easy way to avoid temptation and it's my way of demonstrating that this way of eating is very doable.
You always get the curious looks from those who don't necessarily eat this way and inevitably they want to try the low carb food options we provide.
This keto jalapeño bacon cheese bread can pass for regular bread any day. I think that's why it's such a favorite with our FITTOSERVE community group A delicious keto jalapeno cheese bread. Made with coconut and flax meal making it a perfect nut free option. .
If eating low carb has left you desiring some bread, this recipe might be exactly what you need. Give our keto jalapeño bacon cheese bread a try!
You can check out our entire category of bread for more recipes.
This recipe is made with flax meal and coconut flour so it's a great low carb option for those who cannot eat nuts.
Keto Jalapeño Bacon Cheese Bread
Low Carb Jalapeno Bacon Cheese Bread
---
Hilda Solares
Yields 16
15 minPrep Time
50 minCook Time
1 hr, 5 Total Time
Ingredients
1 cups flaxseed meal
¾ cup of coconut flour
2 teaspoons baking powder
1 teaspoon salt
1/4 teaspoon of black pepper
2 tablespoon sugar substitute
1/3 cup diced pickled jalapeno
2 tablespoons of jalapeño pickle juice
8 ounces cream cheese, softened
4 whole eggs
3 cups mild cheddar cheese (reserve 1/2 cup to add to the top)
3 tablespoon of grated parmesan cheese
1 ¼ cup of almond or coconut milk
2 tablespoons of rendered bacon grease or melted butter
3 slices of bacon fully cooked and crumbled (reserve one slice to add to the top)
Instructions
Pre-heat oven 375 degrees
In a large bowl combine cream cheese and eggs until fully combined.
Add the jalapeño, 2 slices bacon and 2 cups of cheese. Stir to combine until fully mixed.
In another bowl, combine the flours, parmesan cheese, baking powder, salt and sugar substitute. Mix until fully incorporated but do not over mix.
Next add the cream cheese egg mixture, 2 tablespoons bacon fat and coconut or almond milk, mix until just combined.
Pour mixture into a greased 9 inch springform pan or cast iron skillet.
Top the bread with the reminder cup of cheddar and and bacon slices.
Bake in a 375 degree oven for  50 to 60 minutes, or until top is lightly browned and a toothpick inserted in the middle comes out clean.
Remove from oven and place on a wire rack, cool  for at least 15 minutes
7.8.1.2
16
https://www.fittoservegroup.com/2014/11/03/low-carb-jalapeno-bacon-cheese-bread/
Nutrition Facts
Serving Size 16
Servings Per Container 1 slice
---
Amount Per Serving
Calories 210
Calories from Fat 151.2
% Daily Value*
Total Carbohydrate 3.2g
1%
---
*Percent Daily Values are based on a 2,000 calorie diet. Your daily values may be higher or lower depending on your calorie needs.
My Keto Tip
Have you been searching for a way to jump-start your low carb keto journey? Does a plateau have you feeling frustrated?
Can I share with you the number one tip our Fittoserve Group Community Group is using and seeing consistent results with?
It's the use of Pruvit's exogenous ketones. Keto//OS is the first therapeutic ketone supplement.
Prüvit's Keto//OS allows you to drink your ketones and put's you into a state of ketosis in under 59 minutes.
Until now to get into a state of ketosis required days, perhaps weeks of very strict keto dieting.
However, with the ability to now drink ketones you can see the results you want to accomplish consistently. Quickly, you can experience what it feels to be in ketosis.
Why is ketosis the goal? Because once you are in ketosis you don't have as many cravings and your appetite diminishes significantly. In addition, you have more energy and focus helping you to stay committed to the plan.
In the long run, having a tool like this makes the lifestyle easier.  Meanwhile, I invite you to read more about the success we are seeing in our community group here. and to consider giving it a try.
Learn More About Keto//OS
You can learn more about the science behind this amazing supplement in this 4 minute short explainer video .
For detail information on which Keto//os plan can best suit your needs read more here.
Interested in purchasing a 5 Day Trial? Make your request known here.
When you choose to order from any of our affiliate links you help support the cost of running our blog. It's my goal to always share the easiest and most delicious keto recipes with you, as well as proven tips to assist.
Know that I am grateful for each and every affiliate order you place and thank you for your support and encouragement in advance.

Without delay feel free to reach out to us to assist you on your low carb keto journey. It's our desire to see you succeed.
SaveSave
SaveSave
SaveSave
SaveSave
SaveSave
SaveSave